Meet Amaryllis, a fashion oriented WooCommerce theme.
Posted On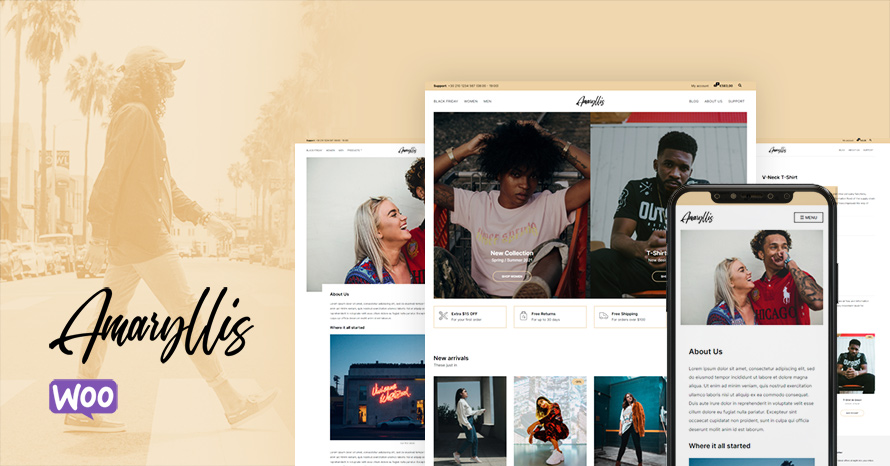 The collection of Ignition Framework based themes is growing constantly. After Aegean, Convert and Beat it's time for you to meet Amaryllis, a gorgeous eCommerce theme for WordPress with a deep love for fashion related retail businesses. Read on to learn more about the theme.
The Ignition Framework
Let's put in a few words for the framework first in case you haven't worked with it yet. It comes in the form of an independent plugin. It carries all the necessary templates and functionality which make your site tick and leaves just one thing for the theme to do, take care of the site's appearance. Due to this, framework based themes are very easy to make sense of and customize because there is essentially no clutter added by non-theme related functionality such as custom post types, popular third party plugin integrations etc. The plugin is common for all framework based themes which means that all required compatibility, security and feature updates can be patched quickly in a single point and pushed to all themes instantaneously.
And now let's move on to some key theme features.
Customization
Through the familiar interface of the WordPress Customizer you'll be able to tailor the theme to your needs. We have integrated dozens of color controls, both global and for particular site sections like the header, menu and footer alike. The same goes for typography customization which can also be found here. From the Customizer one can also access customization options for the page title section, blog and single post layouts, modify the appearance of the shop and more.
Flexible Header
On Amaryllis you can display an optional top bar along with the header section. Both feature predefined areas which can display custom content like plain text, HTML or even one of the theme's built in shortcodes like the new one for the WooCommerce login popup or the mini-cart shortcode. The header can be either boxed or fullwidth, and can also be displayed as transparent. Multiple menu layouts are available along with a sticky menu option. Finally top bar, header and menu colors are customizable.
Global Sections
With Global Sections you can easily create and reuse pieces of content on more than 20 key theme locations, such as before and after the header & footer, before and after the content and more. Utilize them to create call to actions, banners, display social feeds and more to capture your audience's attention. The content for a global section can either be created using the block editor or your preferred page builder.
WooCommerce Compatibility
With Amaryllis you'll be able to create a seamless and beautiful shopping experience for all your customers. The theme is aimed at clothing and fashion related retailers but can easily handle any sort of merchandise. This is due to the power and flexibility provided to it by WooCommerce, the most popular eCommerce plugin for WordPress. Customize your shop by choosing the best product listing layout, display alternative product images on listing pages, tailor the appearance of the single product's gallery and more to better showcase your products.
Performance
A great online store can't just look good, it needs to be snappy and responsive as well. To help you achieve this we have built our new framework with performance in mind. No unnecessary assets are loaded at any point. All styles and scripts are served minified and packed where possible and third party integrations do not load unless the affected plugin is present and active on the site.
A great mobile experience
Online shopping via mobile devices is always on the rise. To ensure a great browsing and shopping experience for mobile users we test our themes on real mobile devices to make their stay on your site as smooth and seamless as possible.
Ready for the block editor
All the pages on Amaryllis were created with the block editor using a combination of core blocks and custom ones provided by our free plugin, GutenBee. We tested the blocks extensively and applied styling where necessary to closely match them to the theme's appearance. Of course the theme will work with popular page builders like Beaver Builder, Elementor and more.
Easy to get started
We want everyone to be able to get up and running with their new Amaryllis based site as fast as possible. To help with that we have incorporated a helpful onboarding page and built in one-click demo importing functionality. Additionally all framework based themes will soon get variations which will allow the user to modify the layout and appearance of the theme with just a couple of clicks to better accommodate different niches.
Learn more for Amaryllis and purchase your copy today from the links below.