We are delighted to announce that our latest project is now ready for prime time. During the summer we've been working on a brand new framework which will be the core of all our themes going forward. Today we are releasing the first couple of themes based on the sparkling new Ignition Framework. In this article we will take a look at Convert, the first business theme based on the new framework.
We have designed and built both the theme and the underlying framework from scratch and focused our efforts on performance, ease of use, modularity, security and best coding practices. Keep reading to find out more about them.
The Ignition Framework
The framework comes in the form of an independent plugin which will be common for all future themes. All the necessary functionality, customizability and templates are built into the plugin leaving the theme to manage just the layout and appearance by loading the appropriate styling. This aims at reducing clutter among theme files and making it that much easier to extend and customize. This also allows us to rapidly deploy new feature additions, security and compatibility fixes to all our users since they now will have to be applied to a single point instead of having to be patched in each theme separately.
The new Convert
Let's take a closer look at some of the most important features of the theme.
Customization
The majority of the theme's customization options are integrated in the WordPress Customizer to provide users with a familiar interface to work with. In the Customizer users will find global typography and color controls, and additionally specific ones for the top bar, header and footer. Furthermore the default appearance of the page title section, blog and single post can be modified from here.
Flexible header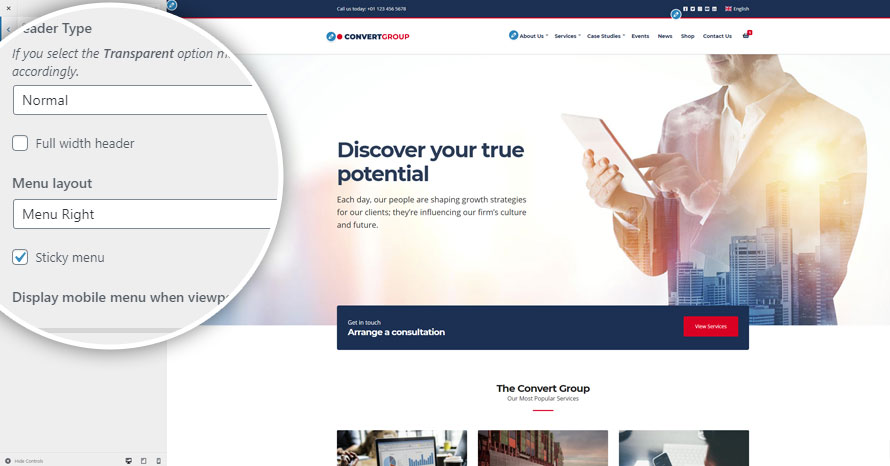 The theme features an optional top bar and a header section. Both come with predefined areas which can display custom content like plain text, basic HTML or even one of our purpose built shortcodes to display a language switcher, a mini cart and more, additionally all of their colors can be customized. The header can be either boxed or fullwidth, and can also be displayed as transparent. Multiple menu layouts are available along with a sticky menu option.
Convert comes with an optional top bar and a header section. They both have customizable colors, feature predefined custom content areas which can display custom content like plain text, basic HTML or even one of the theme's built in shortcodes to display a language switcher, a mini cart and more. The theme's header can be fullwidth or boxed and optionally made transparent. The main menu offers multiple location options and can be made sticky.
Per page settings
Each page can override some general layout settings to make it stand out from the rest. Customization options include changing the page title background image, switching between a normal or transparent header and individually toggling the page title and subtitle.
Custom post types
Convert comes bundled with four custom post types, events, portfolio, services and team. Combined these post types can help create a comprehensive showcase of any business. Presenting information for each of them can be done by using both core and third party blocks to achieve perfect results. Listing pages for all custom post types can be created using the Post Types block provided by the GutenBee plugin or any other post listing custom block.
WooCommerce compatibility
If you are not just looking to create the perfect business site, but also sell your products or services, look no further. Convert and all other themes based on the Ignition Framework are compatible with the latest version of WooCommerce, the most popular e-Commerce plugin for WordPress. Setup a shop and sell your products or services in no time by combining the power of WooCommerce with the beauty, elegance and ease of use of our Ignition Framework based themes.
Performance
It's not enough to have a modern and beautiful website for your business, it needs to load fast as well. This is why we built performance in the core of our new framework. The themes by default serve their assets in a minified and packaged format. Additionally any custom styles the theme carries for various integrations with popular plugins are only loaded if said plugins are installed and active to avoid loading unnecessary files and keep loading times low.
Perfect for mobile devices
All new themes based on the Ignition Framework are tested on multiple real devices to make sure they will look great and work perfectly on the majority of mobile devices out there.
Block editor ready
With our new themes we've embraced the block editor and strive to use it as much as possible to create the stunning layouts found on the theme's demo. Create beautiful and functional landing pages, and listings for all custom post types available in Convert using a combination of core blocks and custom ones provided by our own GutenBee plugin. Popular page builders, such as Elementor will also work with our new themes.
Easy to get started
We want to make the onboarding experience as fast and as smooth as possible for new users, this is why we have built in one-click demo importing functionality. Furthermore users of our new framework based themes will be able to quickly toggle between theme variations and take advantage of different layouts available.
Find out more about the brand new Convert and grab your copy from the links below.