The complete guide to Jetpack – Part 3 of 6
Last Updated On
Index
Part 1 of 6
Part 2 of 6
Part 3 of 6
Part 4 of 6
Part 5 of 6
Part 6 of 6
Continuing on with our overview of Jetpack's modules, today we're going to take a look at the Engagement tab, if you missed the previous post, you can find it here. This one includes all the tools Jetpack provides to help you better engage with your audience such as stats, sharing, likes, sitemaps and more. Let's dive right in!
The Engagement tab
Navigating to Jetpack > Settings > Engagement this are the options presented to us.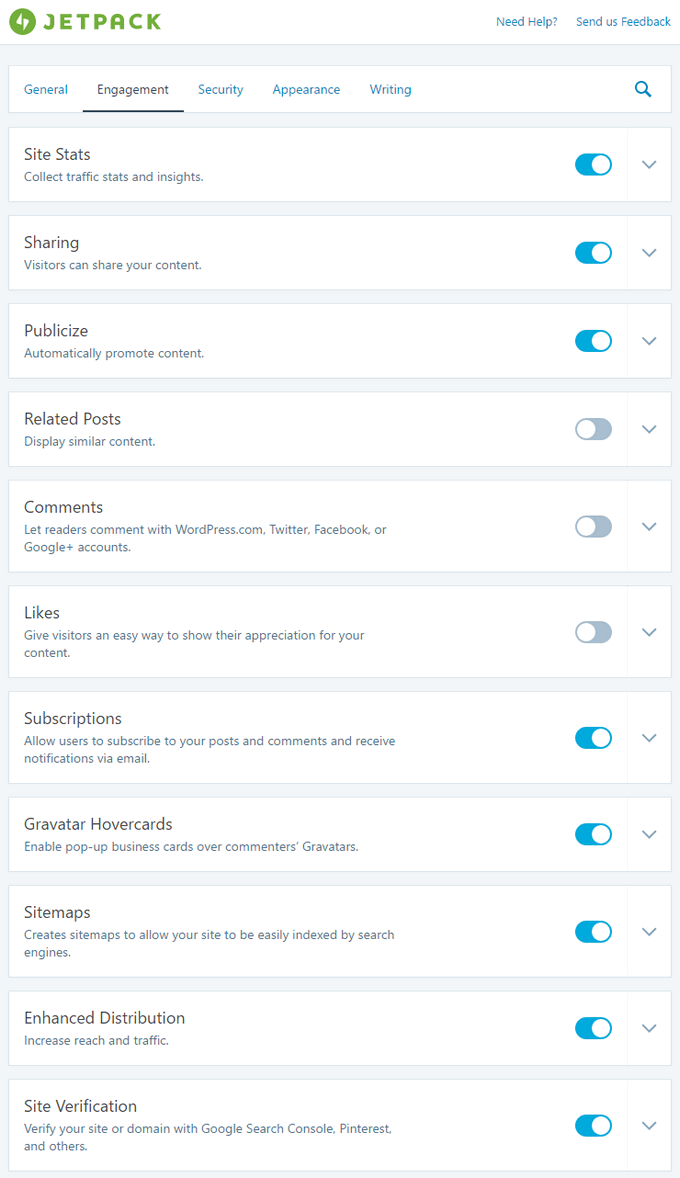 Eleven tools are available to the site's administrator here. They cover a variety of interactions including both between the site and the user and between the site and search engines. Below we'll take a look at them one by one.
Site Stats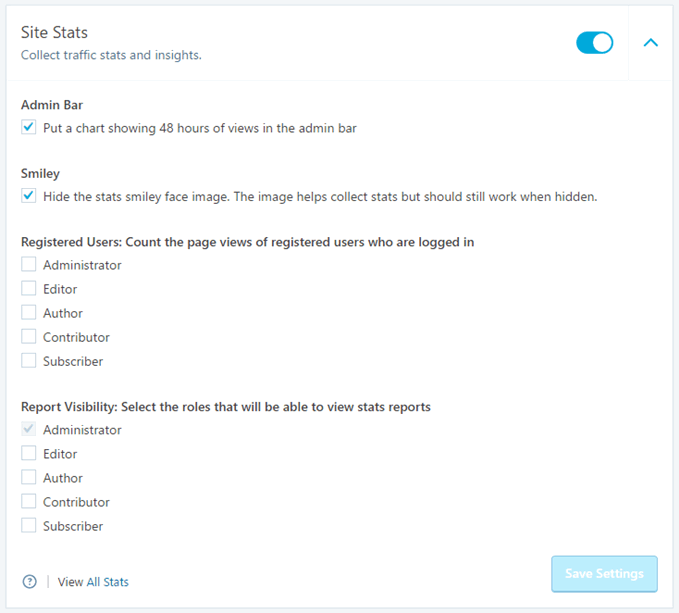 If you want a very simple overview of your site's traffic Jetpack's site stats might be what you need. Google Analytics is a great tool trusted by millions of professionals worldwide, however it is not the easiest tool around for novice users. It offers so much information that it can get overwhelming a times. Need to see how many visits you get on your site and where do the users come from? If these are enough for you, check out Jetpack's site stats.
Sharing & Publicize
These are two great tools that will make sharing your posts to social media, both by you and your users, a breeze.
Sharing will allow you to create buttons your users can click to share content on various social media, such as Facebook, Twitter, LinkedIn etc. These can be added on posts and pages, both on single and listing views.
While Sharing takes care of the way your users can share your posts to social media, Publicize will help you automatically share the posts to your own profiles. Connect it with your Facebook, Twitter, LinkedIn, Tumblr, Google+ or Path profile and it will take care of the rest. Once a post is published on your site it will be automatically pushed to social media.

Related Posts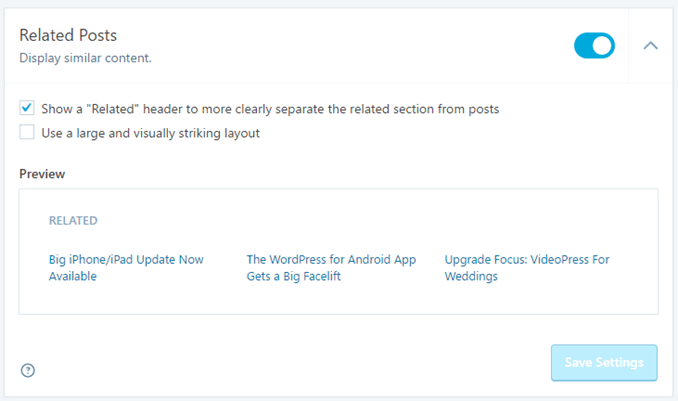 This module will scan your posts and figure out which ones are related based on content, similar tags and/or categories. It will then proceed to display a section below the post's content with posts related to the one the visitor just read. This way if they are interested on what you have to say, they will have similar posts available to them, just one click away.
Comments
After toggling this module on the default comment submission form will be replaced with Jetpack's. Then new form is identical when it comes to functionality but allows users to comment using accounts they already have removing the need to create a new one. Users can comment with Facebook, Twitter, Google+ and of cource, WordPress.com accounts.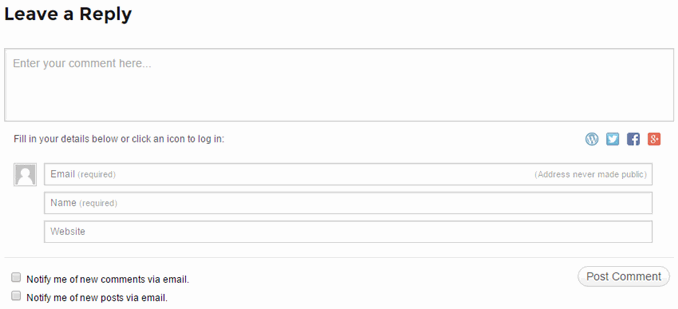 Likes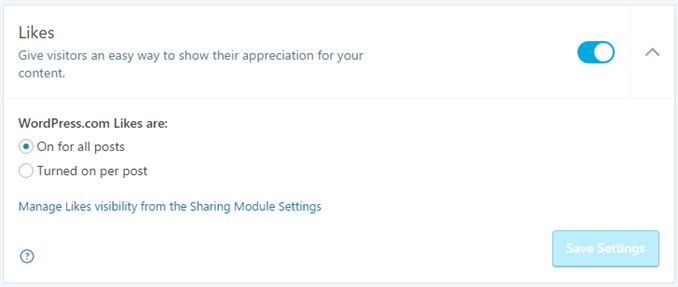 This module adds a like box below your post's or page's content allowing users to "like" it using their WordPress.com account. Visibility can be toggled from the sharing module's settings.

Subscriptions
The subscriptions module provides you with a very easy way to notify your users when a new post is available on your site. Users can subscribe either via a subscription widget placed in any sidebar or via the comment form through the related checkboxes (see above in the comments section). Once a post is published Jetpack will send an email to all of your subscribers to let them know about it.
Gravatar hovercards
Gravatars are another very popular product by Automattic. They are used to provide user information and avatars across the web. You can enable hovercards on your site so if a gravatar is hovered the user will get a pop-up with the post or comment author's information without needing to navigate away. This is what it would look like if you activated it.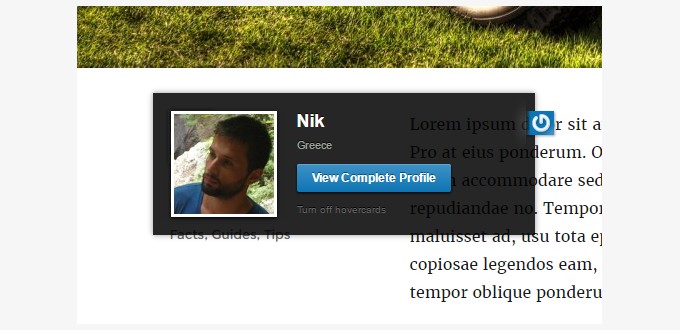 Sitemaps

Sitemaps are files that list all your posts and pages that should be scanned by search engine bots. Jetpack allows you to easily create such files. Just toggle the module on and you are done. The files will be automatically created and placed in the appropriate folders. You will also be able to visit the files through the provided links to inspect them.
Enhanced distribution

Enhanced distribution allows your blog's public content to be included in WordPress.com's firehose, a real-time stream of data that is served to search engines and marketing companies. This allows you to expand your site's reach. No configuration is available for this module, just enable it and Jetpack will handle the rest.
Site verification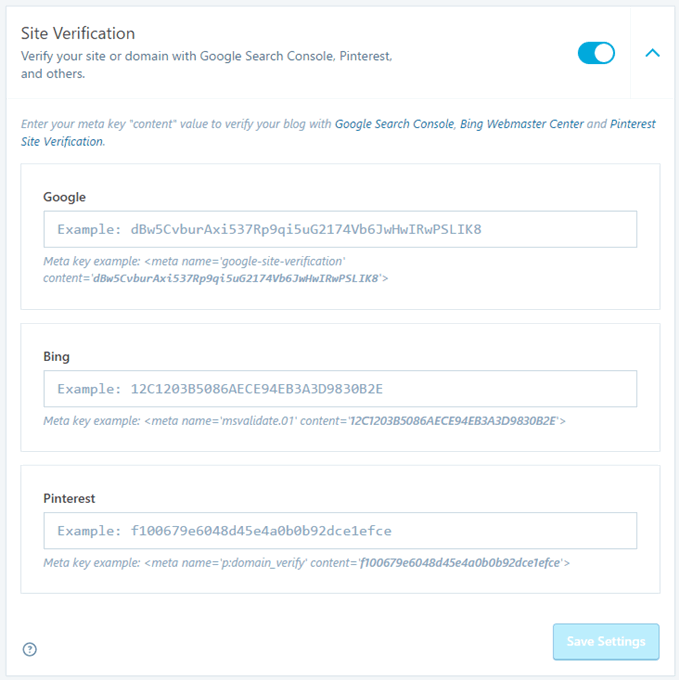 Search engines and social networks often require you to add a meta tag on your site's head section so they can verify ownership. Through this module of Jetpack you can add meta for Google search console, Bing webmaster center and Pinterest site verification. No need to edit any files on your theme. Fill in the codes, save and done!
This concludes the third part of our Jetpack guide and the engagement tab. Coming up is the Security tab.
Stay tuned!