Web Hosting Explained
Last Updated On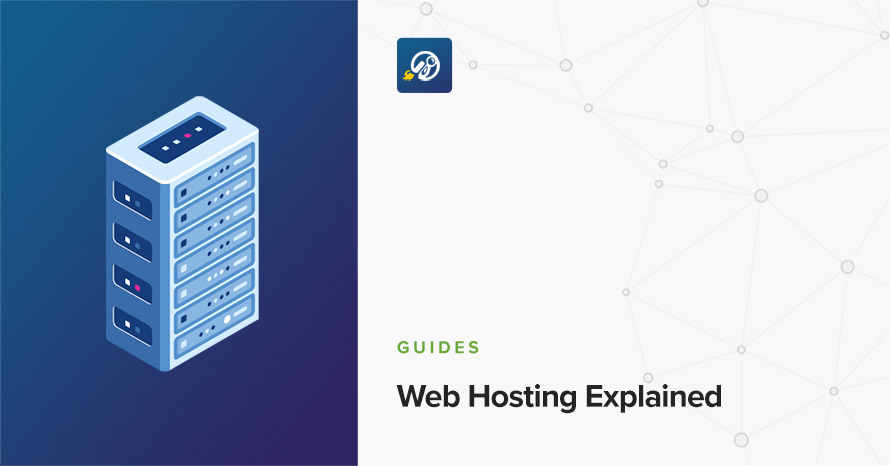 We have recently learned how to create a WordPress website from scratch in seven simple steps. Now it's time to dive deeper into one of the most important decisions we have to make as a web site owner and operator, choosing the right web hosting.
Everything you need to know to host your website
A web hosting server makes your site's files publicly available on the internet.
There are four main types of hosting, shared, dedicated, virtual private servers and managed hosting to choose from depending on your site's needs.
Pick a hosting server based on speed, true available resources and good support, don't focus on price alone and fall for the "unlimited" stuff.
Table of contents
What is web hosting?
First let's try to give a definition to the term web hosting. WordPress, and by extension our website is a collection of files which need certain special software in order to work. Web hosting providers rent out computers running this software, these computers are called servers and their primary task is to make our site's files accessible via the internet and serve them to whoever might ask for them. Once we upload all our site files to the server we need to give the ability to people to access it, this can be done by assigning an address to it, this address is called a domain name and it's the bit that users type in their browser's address bar to visit your site.
In short, web hosting consists of purchasing a hosting plan (i.e. renting some space on a web server), uploading your website files to it, registering a domain name and finally pointing the domain to the web server.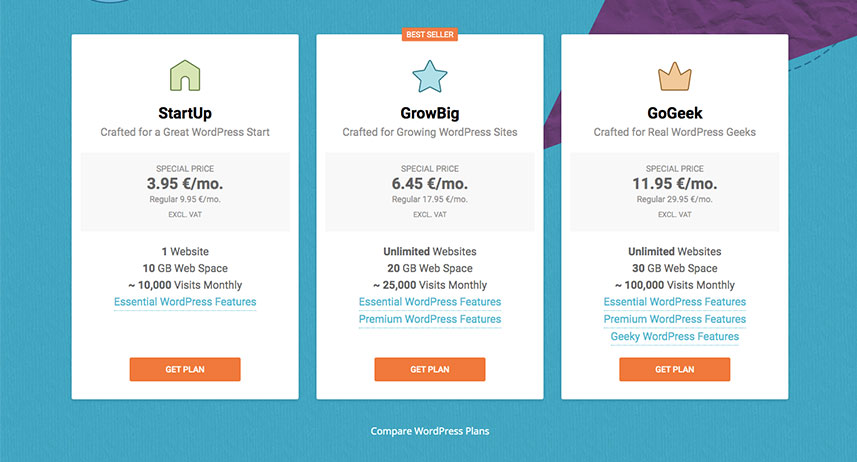 Types of web hosting services
There are many different types of web hosting services because there are many different types of websites. A personal blog or the website of a local small business does not require the same server resources as the site of a global retailer. Resources needed scale depending on the size and the number of visitors a site gets, the more popular it is the more demanding it will be when it comes to server resources.
Web hosting providers offer different types of hosting depending on the type and size of the site in question. Below we will take a look at the most common ones.
Shared hosting
A shared hosting plan is the inexpensive solution to host your website. As the name implies, your site will share the server with many other sites.
Shared hosting accounts are ideal for blogs or small business sites that are just starting out and/or don't expect a lot of traffic.
Shared hosting can cost as little as $4 per month.
Dedicated hosting
Dedicated hosting services offer you complete control over the entire server. As you might imagine these are more costly and are better suited for larger sites with a lot of traffic.
On dedicated hosting the provider gives you complete access to the server. You can tweak and configure it to your liking in order to improve your site's responsiveness, speed and any other parameter that's crucial to you and your business. Furthermore, being the sole user of the server means that you don't have to share its resources with anyone else, 100% of the hardware and software installed on the server is at your disposal.
All this access comes with some increased responsibility though, you are responsible for keeping the server operational, secure and up to date, which means that you either need extensive knowledge of server administration or you need to hire someone to manage it for you.
Naturally dedicated hosting is more expensive and could potentially start from $80 per month and go on from there.
VPS hosting
A virtual private server, most commonly referred to as a VPS is a middle ground between shared and dedicated hosting services.
On a VPS the hosting provider divides the physical server to a certain number of virtual ones and distributes the physical server's resources accordingly. You can then rent out a VPS to host your website, having the same amount of control over your server but at a reduced cost. The drop in cost comes from the fact that a single physical server can house many virtual ones, increasing the provider's income which in turn brings down the final price.
You might wonder how is that different from shared hosting since there are still more than one people sharing the same physical server. Essentially VPS are a type of advanced shared hosting. In the majority of cases on VPS hosting a physical server serves way less customers than a typical shared hosting server, this makes a VPS more powerful. Additionally there is better isolation between VPS housed on the same physical server, making it more difficult for a VPS to be affected from attacks happening on another VPS on the same server. All the above along with the unlimited access you get to your virtual server make VPS the ideal choice for medium to large WooCommerce sites, news portals and anything that expects to get significant traffic.
As a middle of the road solution, VPS prices are, as expected, somewhere between shared hosting and dedicated hosting ones, starting at $20 per month and going up depending on your needs.
Cloud VPS
For the sake of completeness we're going to mention this sub-category of VPS. You might see it referred to as "Cloud VPS", "scalable cloud VPS", "autoscaling cloud hosting" or anything containing the buzzword "cloud" and VPS. Essentially here we have a VPS which is distributed among many physical servers instead of being contained in a single one. This has the advantage of being easier to scale should your site grows and approaches the limits of your VPS hosting plan. Typically prices for Cloud VPS services are higher than regular VPS ones approaching the prices of entry level dedicated hosting, starting at $80 per month and up.
Managed hosting
Managed hosting can be thought like an add-on to VPS, dedicated and some share hosting services. If you need the power and performance of a VPS but don't have know-how, or simply don't want to deal with server administration, this is the service for you. In managed hosting the provider handles server updates, maintenance, security, website optimization and pretty much anything else related to it while you can focus on growing your business.
In managed WordPress hosting the provider will handle everything from server configuration, WordPress & plugin updates, backups, caching and more.
Some of the most known hosts that offer managed WordPress hosting services are: Kinsta, WP Engine, Pagely, SiteGround, Bluehost and DreamHost.
How to pick a web hosting provider
There are thousands of hosting providers out there and choosing one is not easy. Everything varies wildly between them, prices, hardware specs, offered features etc. Let's try to go through the most important things you need to have in mind in order to make an informed decision.
Hosting server speed
Your site needs to be fast and a good hosting service can help with that. When reading up on a hosting plan that interests you find out detailed hardware specs for the server, check out if they are using modern hardware and especially fast drives, SSDs and especially NVMe ones are a great option. Check where the server is located, it's very beneficial to find a server close to your target audience. For example if your audience is EU based avoid using hosting providers with datacenters in the US or Asia, always prefer the ones closer to the majority of your visitors. Many providers offer integration with a CDN, this is a nice bonus if it is available. It can help you serve static resources to remote visitors much faster.
Available hosting server resources
Available bandwidth and storage are two key resources you must check before committing to a hosting provider. Many hosts will claim unlimited resources but you can easily discard that as a marketing gimmick, nothing is unlimited. Unlimited storage usually comes with a limited inode number which renders the claim moot, similar restrictions might apply to bandwidth. It's imperative to look at the hosting provider's terms of service before proceeding with the purchase, the fine print will inform you on most of these restrictions. It's preferable to go with a host that has clearly laid out limits that you deem sufficient for your project and discuss with them what upgrade paths they offer to accommodate future growth of the site. The last thing you need is to have a growth spike and be stuck with a host that either outright can't scale your site or needs too much time to do it. This way you get what was promised and have a plan in place should your site grow bigger.
Support
Good, efficient support should be a prerequisite for choosing a hosting provider. No matter how well hardware and software are configured things might go wrong whether it is human error or a hardware failure. You need to have someone to talk to to help you past any problems that might arise, and this is where a good support team comes in. Check the advertised response time of your potential host and see if their available means of communication work for you. Ask a couple of presale questions to gauge their response times and look around for customer testimonials regarding their support's performance. Even feature-wise mediocre hosting companies can become your most valuable asset if they have good support that helps you overcome any hosting related issues that might arise.
Conclusion
Now you have a rough idea of what hosting is and how it works. You know more about the different types of hosting and also what to look for when shopping for web hosting for your new online project. If you have any questions please let us know in the comments below, and if you liked this article we have more!