The best WooCommerce Gutenberg themes for the block editor
Last Updated On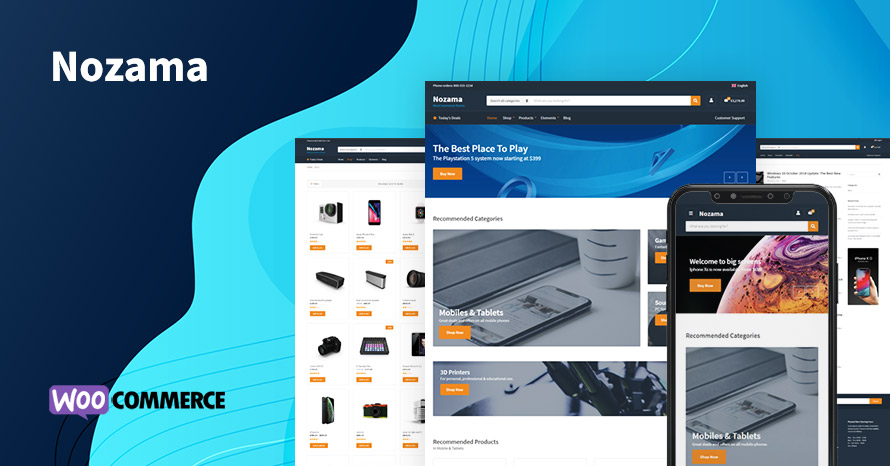 If you are a WordPress user who's starting a business and needs an online store, you need to install WooCommerce. WooCommerce is by far the most popular eCommerce plugin for WordPress with more than 5 million active installations. The plugin offers a simple yet powerful interface with a gentle learning curve and all the features one needs to get started with selling online. Due to its massive popularity there are plugins for almost any additional feature a store might need and a very helpful community which can help with any issues that may arise. All of the above make WooCommerce the go-to choice when dealing with online sales on a WordPress site.
Apart from the WooCommerce plugin, you also need a WooCommerce compatible theme in order to create your online store. Not all WordPress themes support WooCommerce, if you go with an incompatible theme you might run into styling or functionality issues which will make the shopping experience unpleasant for your customers and lead to many abandoned carts. When looking for a theme for your online store make sure the theme developer lists the theme as WooCommerce compatible and check out the shop layout on the theme's demo.
WordPress has entered a new era of content creation with the block editor and WooCommerce closely follows. The plugin now integrates a lot of shop related blocks which allow users to create custom product listing pages using these WooCommerce provided blocks. Combined with the freedom provided by Core and third party content blocks, like our free custom blocks plugin GutenBee, you can create awesome layouts for your site without being constrained by the ones provided by the theme, just take advantage of the general layout and colors and let your creativity flow free.
Table of contents
We have comprised a list of twenty awesome WooCommerce compatible themes which work great with the WordPress block editor (aka Gutenberg editor). In the list you will find both premium themes and free WordPress templates perfect for any new online store based on WordPress and WooCommerce, which can take full advantage on the flexibility provided by the block editor when it comes to content creation.
Amaryllis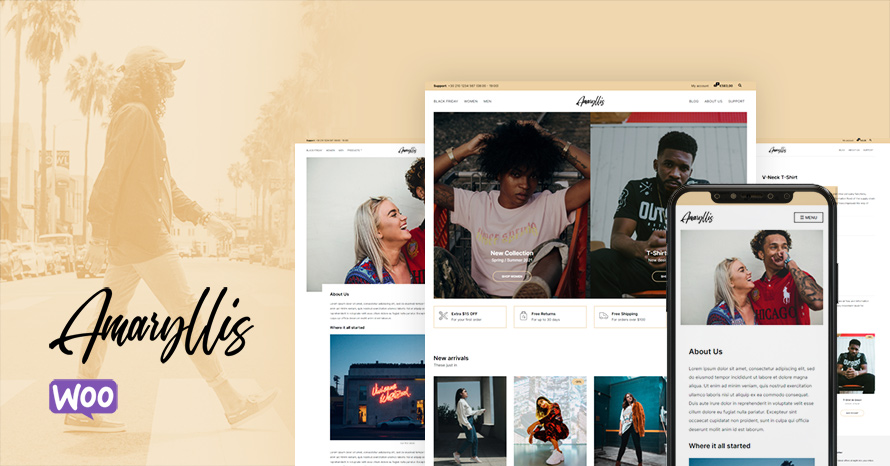 Amaryllis is a beautiful modern and clean WooCommerce theme ideal for clothing, footwear, beachwear and accessory stores. All theme pages and layouts were built using a combination of core and custom blocks provided by the GutenBee free custom blocks plugin. The theme offers customizable layouts, full color options, typography controls and many more. It is responsive, SEO ready and compatible with most translation plugins.
Storefront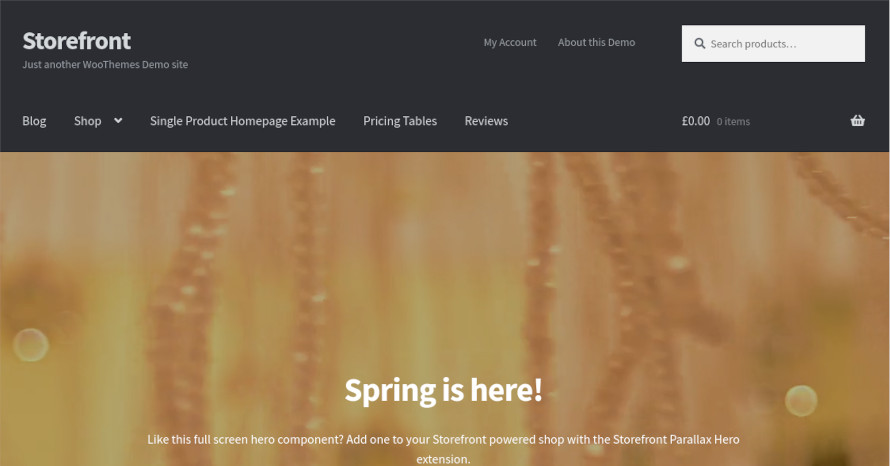 Storefront is a free WooCommerce theme built by the developers of WooCommerce themselves. It offers great WooCommerce compatibility (as expected) it sports a responsive layout and is optimized for search engines. It is a rather bare-bones theme with basic color customization options intended to serve as a solid basis for more advanced customizations. Extension plugins are available for Storefront which give users full control over all theme elements, allow for custom homepage layouts, menus and more. Storefront offers great compatibility with both core and WooCommerce blocks to allow for more flexible layouts on content pages.
Vogue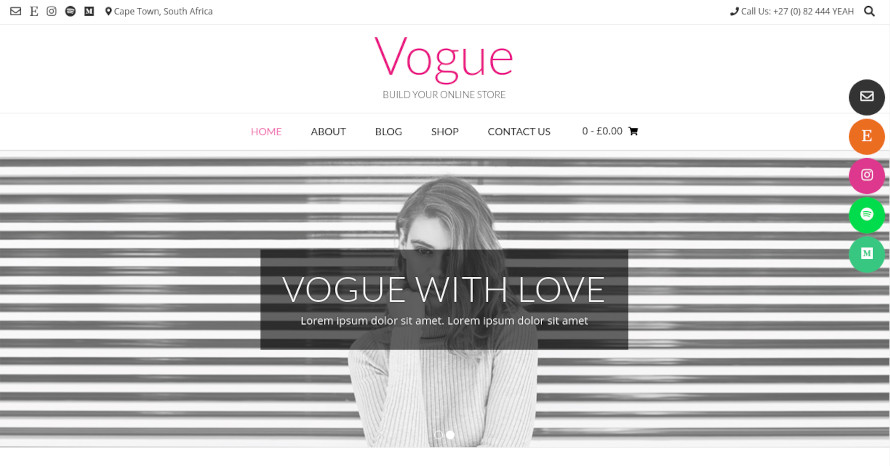 Vogue is another free WooCommerce compatible theme. It is a beautiful, lightweight, fast and responsive WordPress theme. It offers multiple layouts for key theme elements and a custom design for your online store. It fully supports the block editor to help you build all your pages with ease.
Velure
Velure is a WooCommerce compatible theme aimed at fashion, lifestyle and food bloggers. It bundles some trendy features like the Instagram bar and numerous widgets. It offers full color and font customization options built in the Customizer , it looks great on mobile, tablet an desktop devices alike due to its responsive layouts, it is translation ready and built with SEO friendly code. Finally it has been extensively tested to ensure it fully supports the new block editor.
Decorist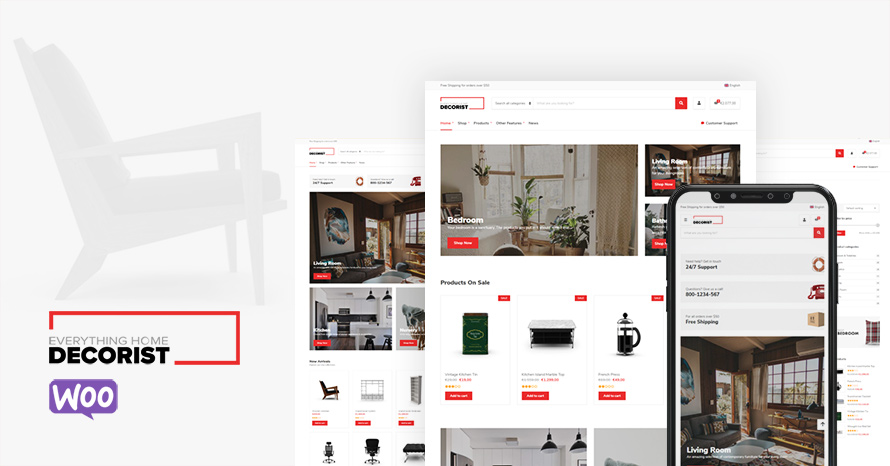 Decorist is the perfect WooCommerce ready theme for online stores selling furniture, kitchen accessories, home appliances, home decor items and more. It offers full control over the theme's color scheme and typography, along with customizable headers, footers and post listing sections. It comes with multiple shop listing and single product layouts to help users create the perfect showcase for their products. It is lightweight, responsive, SEO friendly and translation ready. It was built with tight block editor integration in mind and utilized blocks to build and structure all of its content.
Overline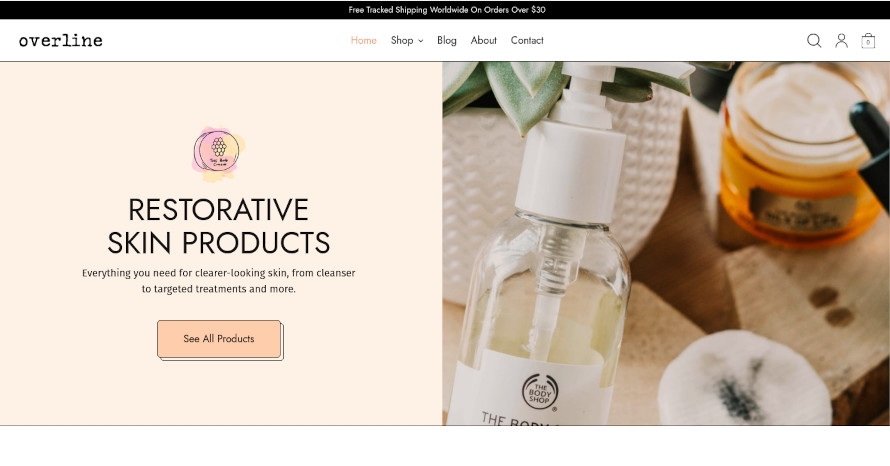 Overline is a WooCommerce ready theme built to help new generation cosmetic makers and influencers easily start their own online store to sell their products. The theme provides custom Gutenberg elements to provide increased flexibility when it comes to content creation.  The theme is fully responsive, retina ready, supports localization and offers extensive color and font customization options.
Flash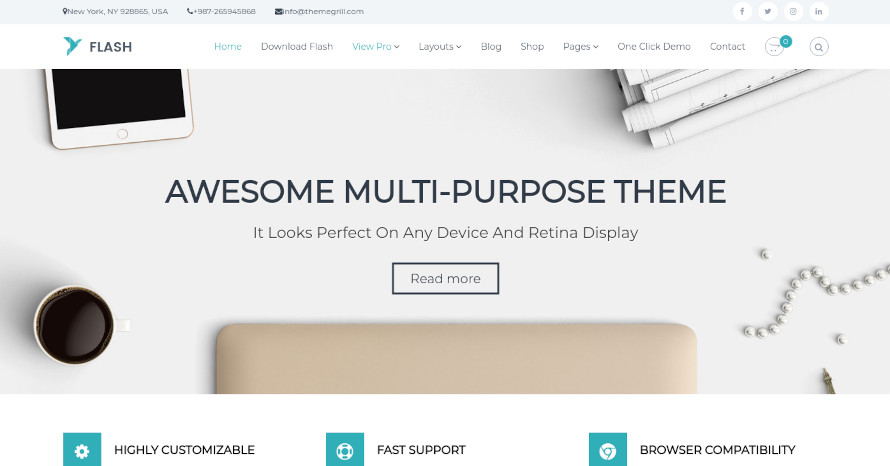 Flash is a free multipurpose theme with WooCommerce support. It is versatile enough to support any type of online store you might want to start. It is a very fast theme with extensive built in color and typography customization options. It offers multiple layout options for your WooCommerce pages and multiple pre-built layouts to import and work on.
Nozama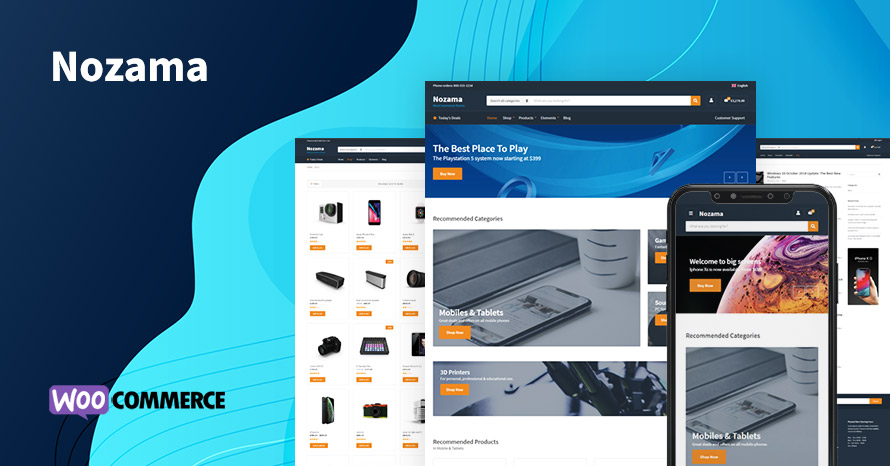 Nozama is the perfect WooCommerce theme for technology and electronic online stores. It features an AJAX powered store search bar in the header which will allow your customers to easily find what they are looking for, a mini cart button in the header for easy access to the cart and checkout pages, multiple product listing and single product layouts, flexible homepages built exclusively with blocks, full color and typography customization, multiple header and footer layouts and many more. It is responsive, translation ready, lightweight and SEO compatible.
GeneratePress
GeneratePress is an extremely popular free WooCommerce compatible theme. It heavily focuses on performance and was built with speed and usability in mind. It takes full advantage of the new block editor and thus gives you more control over the content creation process. It is fully responsive, uses valid HTML/CSS and is already translated to 25 languages. It integrates microdata, 9 widgetized areas, 5 navigation layouts with multiple color presets and more.
Neto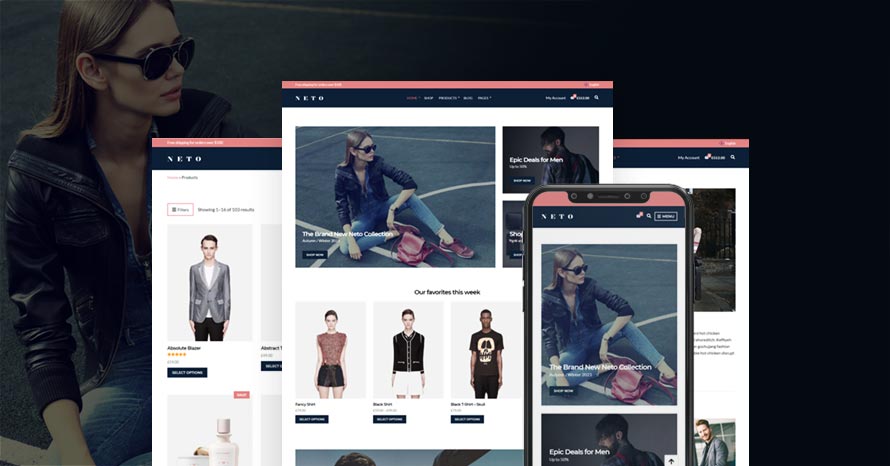 Neto is a classic multipurpose WooCommerce theme. It is ideal for fashion & design related online store such as clothing, accessories, home deco, arts, print stores and more. It integrates dozens of customization options which give users the ability to fully transform the theme to the perfect showcase for their products. Full layout, color and typography controls, among others, are readily available to make sure your store perfectly matches your brand. The theme will offer a perfect shopping and checkout experience to mobile and desktop customers alike thanks to its responsive design. It takes full advantage of the block editor to give its users an unparalleled flexibility when it comes to building their content.
Kadence Theme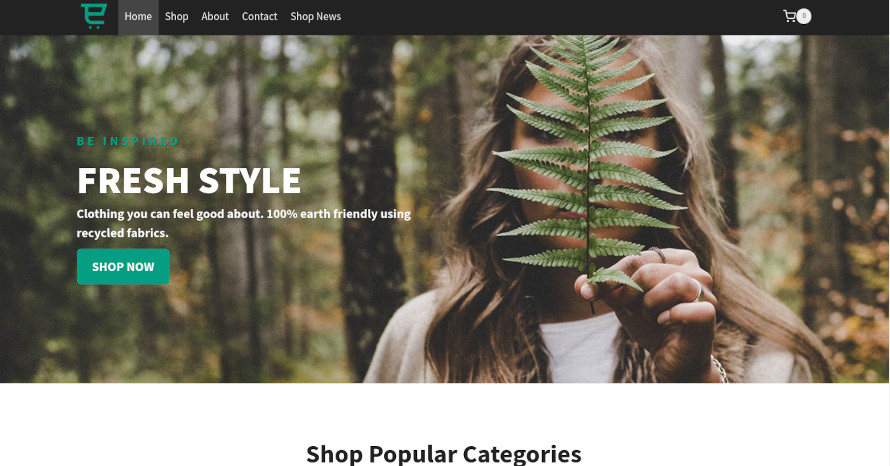 Kadence Theme is a lightweight yet extremely flexible WooCommerce ready free theme for creating fast and accessible websites. It offers starter templates for multiple niches including online sellers, easily customizable color combinations and typography, a drag & drop header and footer layout creator, detailed theme layout settings and many more. The theme fully supports the block editor and provides styling to match the blocks to your theme's layout where needed.
Shopay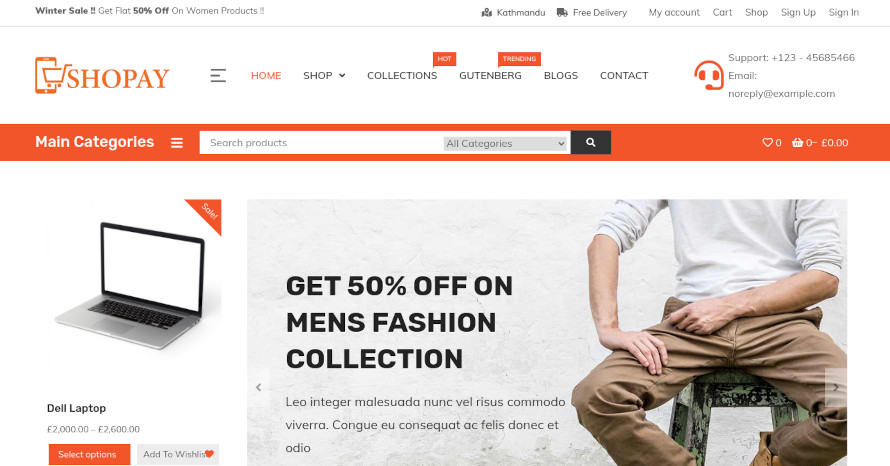 Shopay is highly customizable and beautifully designed free WordPress theme built-in with full WooCommerce support. The theme features color options, multiple homepage widgets , sidebar layouts, header and footer customization and many more. It is fully responsive and optimized for all mobile devices and SEO optimized to help with search engine page ranking.
HomeStore
Homestore is a clean and efficiently designed theme specially crafted for department stores to give them that cozy classic look. It is a child theme of the previously mentioned Storefront theme which gives it unparalleled compatibility with WooCommerce along with all the functionality and customization provided by the parent theme. Of course it also has robust support for core and WooCommerce blocks to make it easier for you to bring your content designs to life.
Neve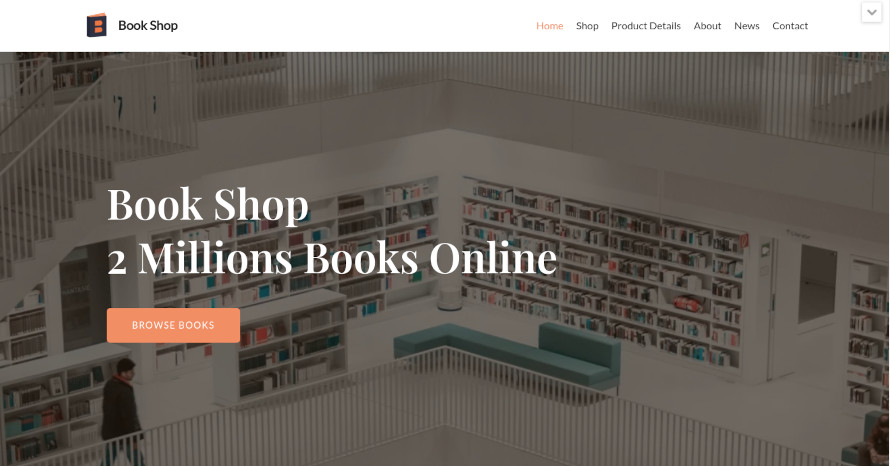 Neve is a super fast, easily customizable, multi-purpose free theme. Due to its compatibility with WooCommerce it is perfect for small businesses who want to built a flexible, beautiful and fast online store. It is fully optimized for AMP, responsive and very lightweight. It features drag & drop customizable header & footer and works perfectly with the WordPress block editor.
Spencer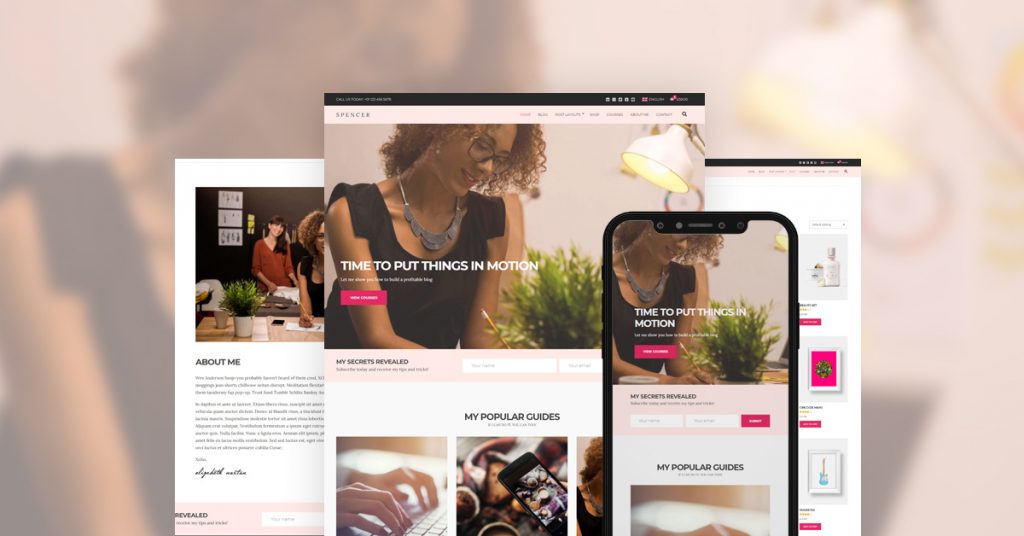 Spencer is a very pretty fast and highly customizable WooCommerce theme ideal for entrepreneurs and serious bloggers. Dive into the dozens of Customizer options provided to create the blog of your dreams. Pick between fullwidth or boxed layouts, move or toggle the sidebars, create grids for your posts listings, design the perfect header with a sticky menu, create unique color schemes and many more. Utilize the theme's deep WooCommerce integration and combine it with its extensive block editor compatibility to create unique showcases for your products and boost your sales.
Virtue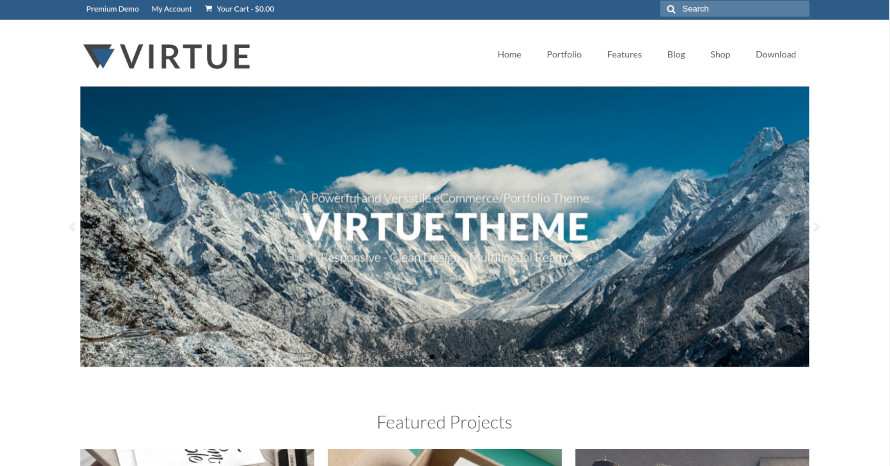 Virtue is an extremely versatile free WooCommerce compatible theme with great customization options. It fully supports the Gutenberg block editor to provide a great content creation flow. It is also WooCommerce ready and bundles all the tools you need to design a great online store. Through its options panel you can modify the homepage layout, sliders, custom fonts and further customize the site's look.
Matthew
Matthew is a Gutenberg-powered WooCommerce theme designed for building a professional online store so that you can sell goods or services online. It sports a mobile first design to make sure mobile customers will get a great shopping experience, customizable fonts, color palette and more, it is built with accessibility, speed and search engine optimization in mind to help you build a functional, fast yet accessible online store.
Proteo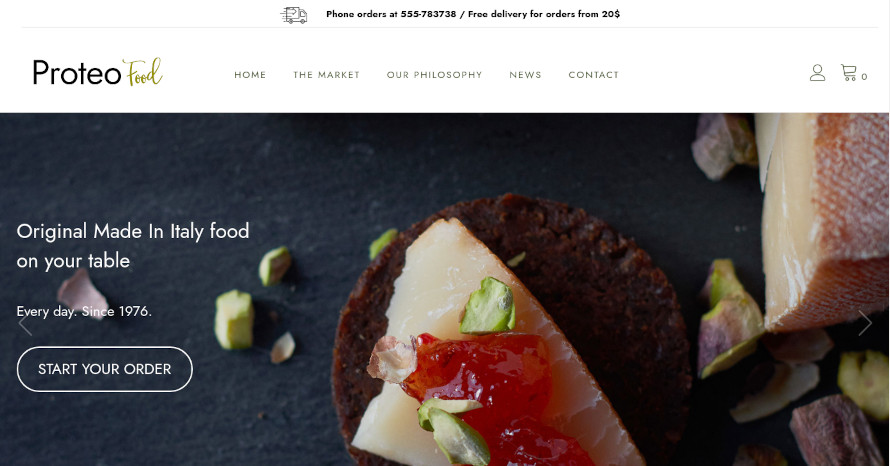 Proteo is a modern, fast and highly customizable free WooCommerce compatible theme. In the WordPress Customizer you will find extensive customization options for all theme sections along with color and typography controls. Utilize your favorite core or custom blocks to build great content with Proteo's support for the Gutenberg block editor. Proteo is fully responsive and will look great on all devices. With the quick importer you can easily recreate one of the available theme demos to easily get started.
Infinity Pro
Infinity Pro is a stylish and elegant WooCommerce compatible theme based on the Genesis Framework. It is Gutenberg optimized to give end users all the tools they need to create beautiful layouts while ensuring consistent appearance between the back and front-end. The options built in the theme customizer allow you to easily tweak theme settings, background images, colors and content and immediately see the effect they have on your site before applying them.
Løge
Løge is the perfect WooCommerce theme for retailers. It is suitable for everyone from high-street fashion sellers to beauty products, or home accessory vendors. It unique, modern and beautiful design will make your online presence stand out from your competitors. Løge offers multiple product listing layouts and a minimal product page which will let your products do all the talking. It offers comprehensive color control to make sure the final result perfectly matches your style and your brand and is fully responsive and optimized for search engines. Its deep integration with the block editor will allow you to combine both core and custom blocks to create unique layouts for your landing, content pages and posts.
Wrapping up
That was our handpicked list of Gutenberg ready WooCommerce compatible WordPress themes. Our selection was a mix of free and premium themes which will help anyone create a beautiful and functional online store in a very short amount of time with little to no prior experience required.