Sell more with Decorist – Our brand new WooCommerce theme
Last Updated On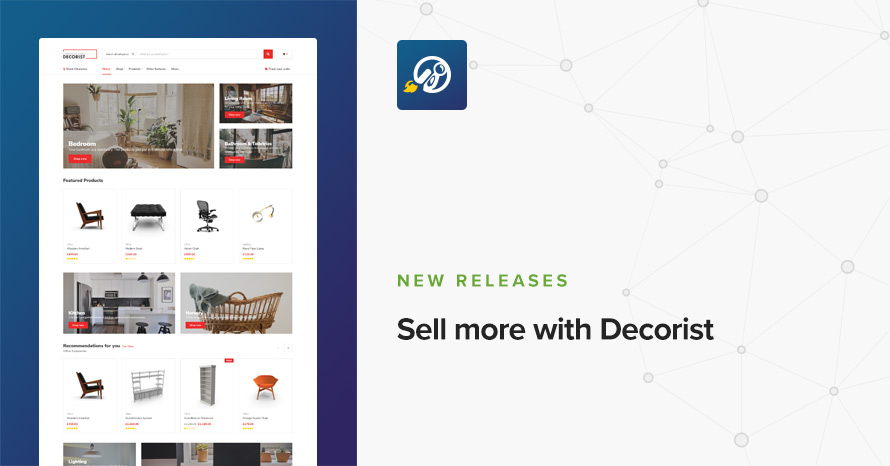 We have just released another premium WooCommerce theme for WordPress. Decorist is a minimal eCommerce theme best suited for home equipment, decoration, fashion related, or any other type of store that sells physical products. Read a quick introduction to the theme below.
Tight WooCommerce integration
You can 't have a proper eCommerce theme without support for WooCommerce the #1 eCommerce plugin for WordPress, Decorist was built from the ground up with that in mind. It will get you up and running as fast as possible, your customers can't wait. With the themes continuous updates you don't need to worry about compatibility with future versions of WooCommerce, we'll take care of that and you will just enjoy the added security and functionality.
Customizable storefront
The appearance of your eCommerce site is of the utmost importance. Well designed sites tend to keep the customers more engaged and thus generate more revenue for the business. With Decorist you can customize the layout of the shop's page with movable sidebars, drawer-style product filters, and adjustable column numbers to get the optimal appearance for your shop.
Flexible content creation
Creating the perfect content for your site is pretty easy with Decorist. You can use page builders, like the very popular Elementor, and take advantage of the theme's built-in custom elements, or even use the new block editor introduced in WordPress 5.0, we've made sure that all default blocks will play nice with the theme. Additionally you have the theme's custom widgets and shortcodes at your disposal, further adding to your flexibility to create content.
Easy customization
As usual we have built in more than 100 customization options in the WordPress customizer. Through it you can quickly and easily change layouts, colors, select available payment methods for your store, choose social profiles to display, and many more.
Built for mobile shopping
Mobile users are getting more by the day. You can't have an eshop that's not up to par when it comes to mobile experience. We know that and we've built Decorist in a way that allows your mobile customers to navigate the site and make purchases effortlessly.
Get your copy today!
The holiday season is almost here and people will be out looking for the best deals. Help theme buy great gifts by updating your WordPress eCommerce site with Decorist.