Say hello to Oikia, our first real estate theme for WordPress
Last Updated On
Maintaining a real estate website can be a great way to showcase your properties and connect with potential buyers. When building a site, it's important to prioritize features that make it easy for visitors to navigate and search for homes for sale arlington tx. This could include a user-friendly interface, detailed property descriptions, high-quality photos, virtual tours, and up-to-date listings that accurately reflect the current state of the market. In addition to these core features, it's also important to regularly update your site with fresh content, such as blog posts or community resources, to keep visitors engaged and informed about the local area. By creating a site that is both informative and visually appealing, you can increase your visibility and attract more qualified leads.
Our long anticipated first real estate theme is finally out! Oikia is designed to help you promote your properties in an efficient yet simple as possible way.  Let's have a look at some of its features.
Drag & Drop Homepage
Oikia's homepage is built using powerful custom widgets that we've specifically designed. Using them you can fully customize the most important part of your website (your homepage) to be truly unique and perfectly laid out.
There's a standalone widgetized area designated for the Homepage, here's how it looks for our demo setup: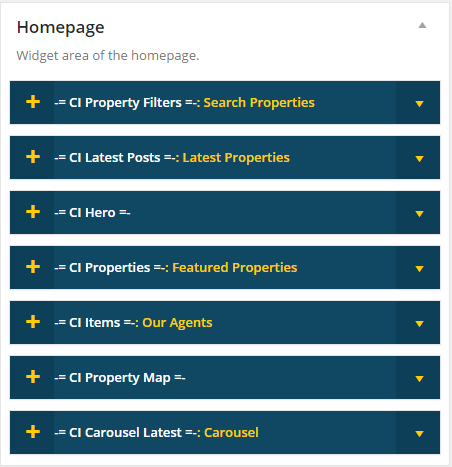 As you can see every section on the homepage after the slider is optional and fully customizable. You can add or remove sections, reorder them and configure their look and feel until your website is exactly like you want it.
Some notable widgets are:
CI Property Filters
This widget will allow you to create a detailed search box to help your clients find what they are looking for very easily.
CI Property Map
This widget will display a fullwidth map with the locations of all your properties.
Carousel
The carousel widget is a user friendly way to engage your users. Display your properties in a fancy, scrollable manner which also works great on mobile devices!
Robust property handling
Adding properties is a breeze and with our custom built properties display panel you'll be able to add any info your clients might need to help them buy their dream home.
Getting your site up and running with Oikia is a really simple process as with all our themes. Make your self at home with our first real estate theme, welcome and have a nice stay!