Revamp your online store with the brand new Nozama
Posted On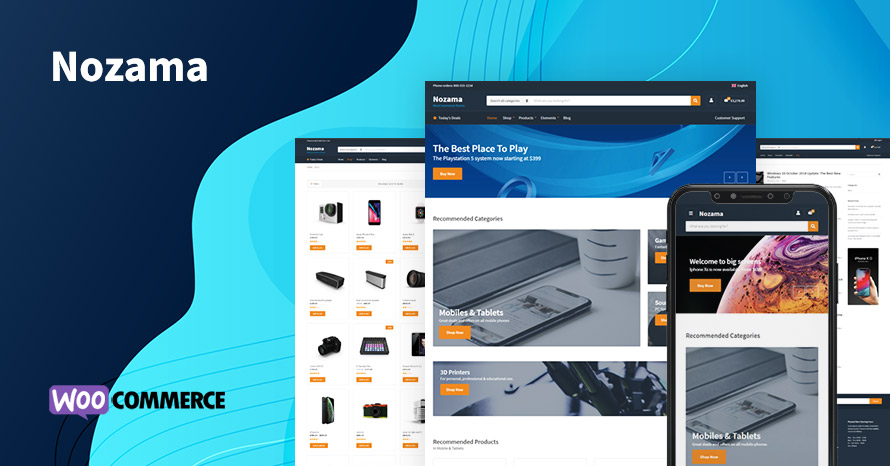 Welcome the new addition to the Ignition Framework based themes collection. Nozama is the sixth theme based on our new framework and was created to help you build a modern, powerful and flexible WooCommerce based online store. Read below to find out more about this new theme.
The Ignition Framework
First let's quickly go through some of the new framework's features for those who are first introduced to it through Nozama. The framework comes as an independent plugin which brings with it all the necessary functionality such as custom post type & sidebar registrations, third party plugin integrations, all necessary templates and more. This leaves just one thing for the themes to do, provide the styling. The process makes the themes light and very easy to manage and customize due to the lack of clutter. Finally the framework plugin is common across all themes which makes that compatibility with third party plugins, security and feature updates can be patched quickly and released one fell swoop.
And now let's move on to some key theme features.
Customization
Built in the WordPress Customizer you will find dozens of customization options to help you tailor the theme exactly to your business' needs. You can easily modify the theme's layout by moving or toggling the sidebars, change the site's width and column layout, create unique color schemes, customize the typography, change the appearance of individual sections such as the header and footer, fine tune the information shown on the blog and single posts and many more.
Tight WooCommerce Integration
Nozama is at its core a WooCommerce theme. It was built from the ground up to provide the smoothest and more intuitive shopping experience for any potential customer. It harnesses the power of the most popular eCommerce plugin available for WordPress today to help you sell anything, whether it is physical or digital products.
Multiple shop layouts
One key area of customization in which Nozama excels is the appearance of the product listing pages. You can easily toggle between a fullwidth shop page with a collapsible drawer which houses filters and other shop related widgets, or go with the more traditional route of a content/sidebar layout for your shop listing. The amount of products shown on each shop page can be easily altered by modifying the number of columns and rows displayed on each page. You also have the option to display an additional image per product when hovering each product's featured image.
Global Sections
Create banners and call-to-action boxes to promote your best selling products and other offers and easily re-use them using the Global Sections custom post type. Forget about copying and pasting the same content around the site to display it in multiple location. Create in once and display it in more than 20 key theme locations available to you with Global Sections.
Performance
Nozama focuses on performance in order to give your customers a snappy and smooth online shopping experience. All theme assets are served packed and minified to cut down loading times. Additionally any third party integrations are only loaded when their respective plugins are installed and active to prevent loading unnecessary resources.
A great mobile experience
Online shopping through mobile devices increases in volume by the minute, this is why we build and test our themes on real devices in order to provide you and your customers the best shopping experience Nozama can offer.
Create with the block editor
All content on Nozama was created with the block editor using a combination of blocks provided by WordPress and custom ones provided by our free plugin, GutenBee. We test the blocks extensively and fine tune their styling where needed to perfectly match Nozama's appearance. Of course the theme will work with popular page builders like Beaver Builder, Elementor and more.
Get started with just a few clicks
Looking for a solid foundation on which to build your new online store? We have got you covered with Nozama's integrated sample content importing mechanism. With just a few clicks you can get a close approximation of the theme's demo and continue building from there.
All the above and more are available for download today! Learn more, check out the theme's demo and grab your copy in the links below.