Create your next job board with Specialty
Posted On
If you are looking to create a versatile and highly customizable WordPress powered job board website we have great news for you. Our WP Job Manager compatible job board theme, Specialty, has been updated and is now based on our Ignition Framework. Below we'll take a look at some key features offered by the theme.
The Ignition Framework
The Ignition Framework was designed from the ground up to house everything that makes our theme's tick. Whether it is customization options, like color & typography controls, custom post types and their templates, third party plugin integrations, everything lives in the framework plugin. This allows the theme to be lightweight, nimble and very easy to customize since it's completely clutter free. Further more, since the framework plugin is shared among all framework based themes it makes the process of applying compatibility updates, fixing bugs and security issues very easy and fast.
Flexible job listings
Specialty comes with a custom shortcode to help users create job listings on any page. These job listings include AJAX powered filtering for job type and compensation making it a breeze for visitors to narrow down the jobs they are really interested in. The filters appear in a sidebar to the right of the content by default. To give you a bit more flexibility we have made it possible to utilize the framework's built in page templates to change the position of the filters to either move them to the left of the content or house them in a collapsible filters drawer in order to display your job listing as full width.
Find exactly what you are looking for
Once your job board grows in size it must provide an easy way for visitors to find jobs that match their skills and interest them. To help you provide this service to your visitors we have built a custom search shortcode which can be placed in any content area. The shortcode will create a search bar for your users allowing them to search for jobs based on job category, location or even specific key words.
Front end job submissions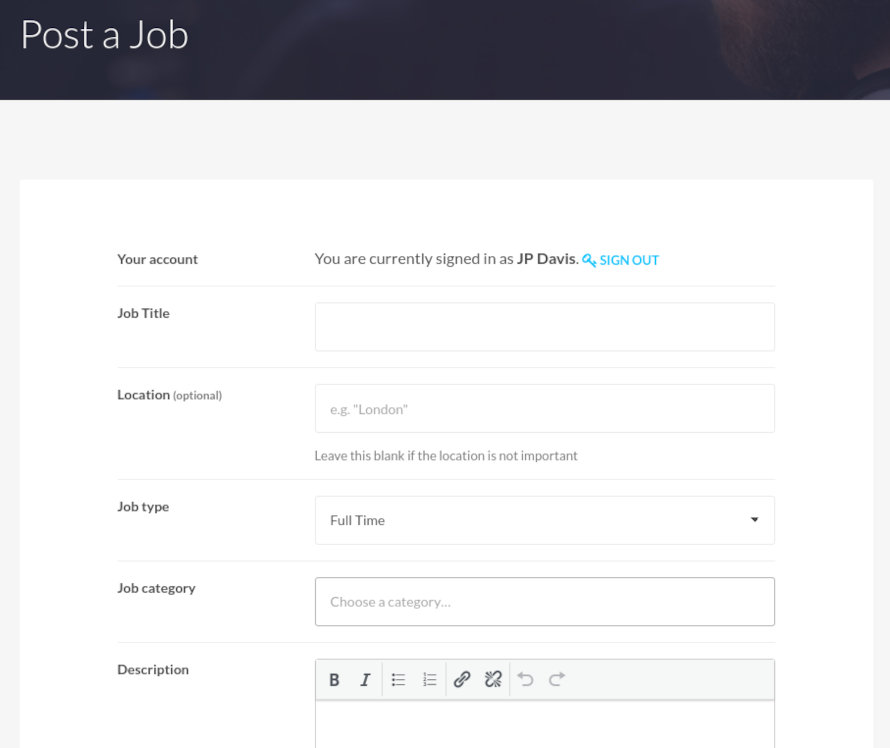 Front end job submissions is a feature that could help you greatly boost the number of jobs hosted on your new job board. Allow interested business owners to create their jobs themselves and take away from you the burden of typing out each new job posting your self. Submitted jobs can be held for moderation to make sure that they are up to par with your set standards before they get published.
Extensive customization options
Specialty comes with dozens of customization options provided by the Ignition Framework. The extensive color and typography controls will make sure that your job board will be unique and stand out while still maintaining a professional appearance. The numerous layout configuration options will help you tailor the site's functionality to suit your needs best and the great compatibility with the WordPress block editor will allow you to publish beautiful and easy to read content.
Wrapping up
Specialty wraps everything a WordPress powered job board site needs, flexible listings, great search functionality and extensive customizability in a neat little package. Learn more about our latest WP Job Manager compatible theme and grab your copy in the links below.