Create one page wonders with Roxima
Last Updated On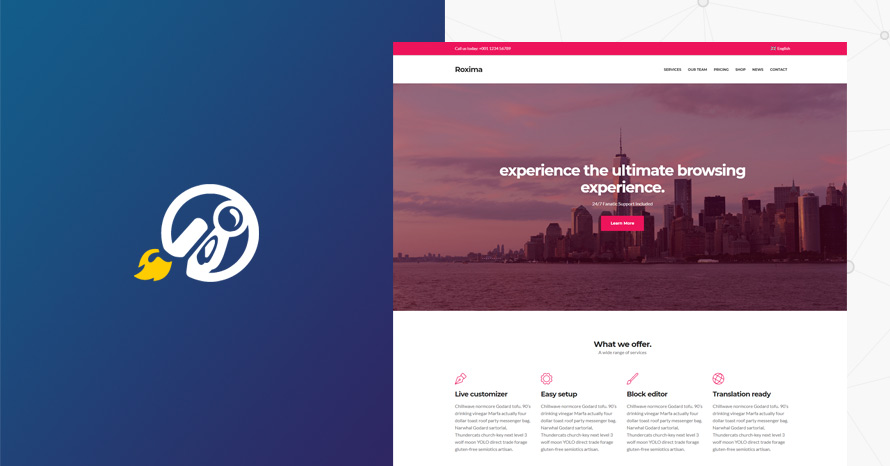 We're excited to announce that our popular single page business WordPress theme, Roxima has been rebuilt from the ground up based on the Ignition Framework. Roxima can create stunning landing pages for accounting, financial and law firms, small businesses or SaaS product online presentations. Let's take a closer look.
Framework based
Since Roxima is based on our very flexible Ignition Framework in packs extensive customization options, including but not limited to, numerous color options, full site layout control, post listing appearance options, multiple page templates and many more. The framework allows the theme to remain lightweight and easy to understand and extend. The shared framework plugin accommodates faster updates and easier implementation of new features.
Unlimited landing page layouts
Roxima might be a one-page landing page template, but the possibilities for unique, professional layouts are endless. The theme offers deep integration with the WordPress block editor (formerly known as Gutenberg). This means that users can take full advantage of both core blocks and third-party custom blocks, like the ones offered by our awesome free custom block plugin GutenBee. Drag & drop your favorite blocks right into the content to build the perfect one page online presentation for your agency's website. We have provided custom block styles where necessary to ensure seamless integration of core and GutenBee blocks with Roxima.
Bring your own typography
Typography is a key element which can make or break a business website. Roxima allows full control over the site's Primary and Secondary font families. Pick the fonts that suit your site best among a vast selection of Google Fonts. Furthermore you can also control the font properties for key theme elements like the headings and widgets. Combine these together to achieve the perfect typography for your one page site.
Flexible header
The header is the first thing visitors will see when they land on your new site. Roxima provides you with all the tools to create a unique and functional header to make a good impression and aid with navigation. Utilize the optional top bar to house contact info, links to social media, site search functionality, local weather and more. Choose between a normal or transparent header, pick the perfect logo/menu layout and enable the sticky header. Of course extensive color controls are there to help you fine tune the colors for the top bar, header, normal and mobile menus.
Translation ready
Many businesses today work on the global market. This often requires having an online presence in multiple languages. Roxima comes with out of the box compatibility for the most popular translation tools like WPML, Polylang, Weglot & Loco Translate to help you create multilingual websites quickly and easily using the tools you are familiar with. It also comes with built in RTL styles so you won't have to deal with styling issues if you translate your site to a right-to-left language.
Out today
If you are looking to create a new, or update an existing landing page for your accounting or law firm Roxima is available today! Learn more about the theme and grab your copy in the links below.