Build your new restaurant site with Korina
Posted On
Meet Korina, our latest WordPress theme for restaurants, bars and cafes. Korina is a modern, stylish, responsive, flexible and highly customizable theme. This means that you can easily reflect your business' character to its online presence making it more appealing to your visitors. Below we'll go through some of the theme's main features.
Based on the Ignition Framework
Korina is the latest theme based on the Ignition Framework. The framework provides the theme with its flexibility thought its dozens of bundled customization options for colors, typography, post listing, header & footer layouts and more. Additionally it brings a multitude of WordPress hooks which allow you to easily modify theme sections or add new ones without having to edit any theme or plugin files, furthermore it takes care of any third party plugin integrations leaving the theme responsible just for the styling of the site.
Menu management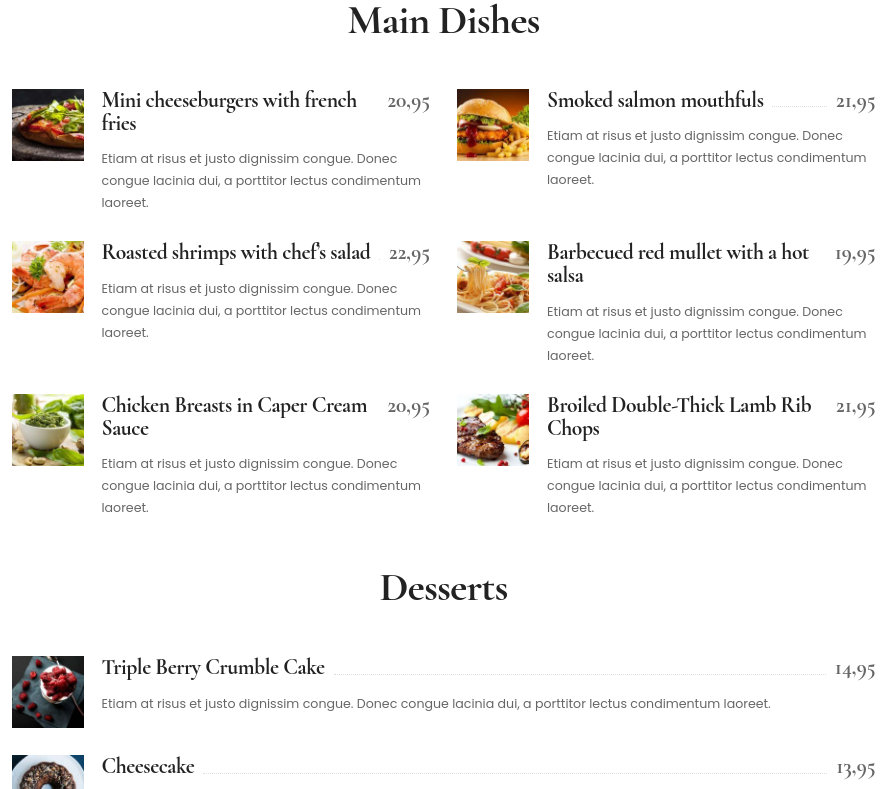 It is very important for your visitors to be able to access your menu and learn more about the awesome dishes, refreshments, beverages, desserts and cocktails you offer. To help you do that Korina works seamlessly with the Food Menu block provided by our free custom blocks plugin GutenBee. With the Food Menu block you can create entire menus in no time right from the WordPress block editor, all you need to do is add an image of the menu item, its name, a price and a small description so customers know what to expect. The number of columns on the menu is customizable to better suit your needs and the block can be used multiple times on a page in order to create a menu card like appearance with separate sections for starters, main dishes, appetizers, drinks and more.
Online ordering & booking
Online ordering and table booking is a very important part of your business. With Korina we made sure we allow you to keep working with the tools you prefer and won't force you to use any one particular service. If you are using a third party table booking service, go right ahead and paste its embed code on any page to continue using it. If you want to manage online orders via WooCommerce and its extensions, Korina is WooCommerce compatible out of the box.
Full color control
We have incorporated all the color options you'll ever need to give the theme a color scheme that perfectly matches your establishment. Control the themes primary & secondary accent colors, the text, button and form colors globally, or focus on specific sections like the header, menu or footer to get the results you desire.
Flexible Page Title section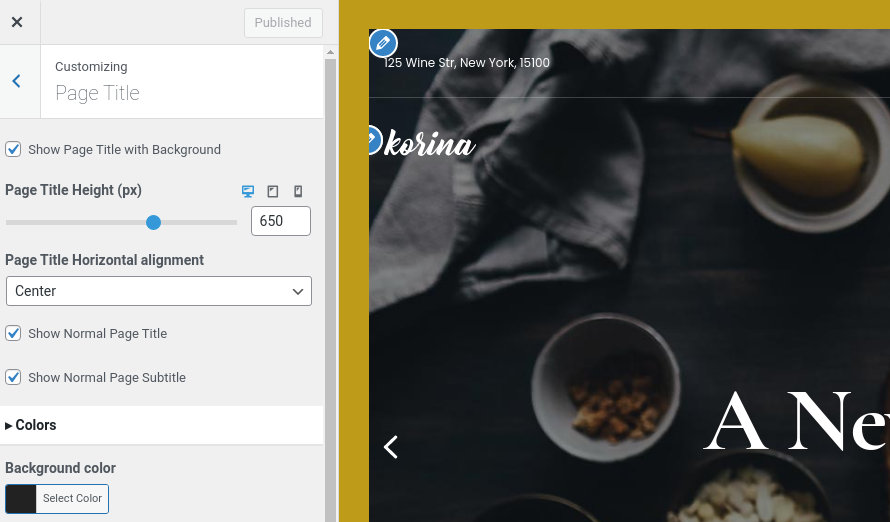 The built in page title section combined with a transparent header allow you use unique background images for each page's header/hero section with customizable titles & subtitles. The page title section is also height adjustable, provides options for the image overlay and the displayed text and can also display the site's breadcrumbs with the help of popular breadcrumb plugins.
Wrapping up
If you are looking to upgrade your restaurant's WordPress based site, Korina is the theme you need. It is fast, lightweight, translation ready and can be customized to your heart's content. Learn more about the theme and grab your copy in the links below.