Welcome to Benson, our latest WordPress theme for photographers. The theme's clean design will not distract users allowing them to focus on your work. Benson can work with many different styles of photography, such as wedding & event photography, family & lifestyle photography, architectural & real estate photography and more. Let's have a brief look at some of the theme's features.
Behind the scenes
Behind the beautiful facade of Benson lies a great foundation. The theme is based on our Ignition Framework which makes it lightweight, flexible and highly configurable. The framework carries custom post type templates, Customizer configuration options such as color, typography and layout options, third party plugin integrations and everything else required to make your site tick. The theme just handles the appearance, this decreases its complexity greatly making a great base for customizations.
Portfolio custom post type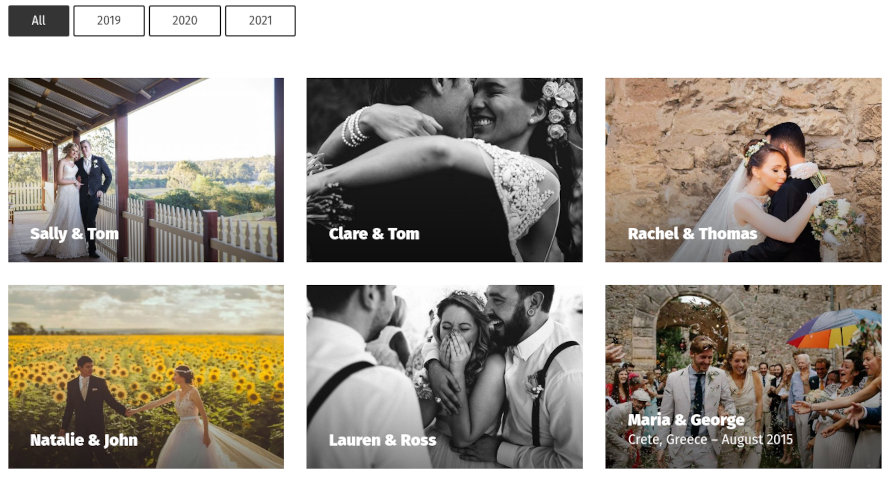 Benson provides you with the Portfolio custom post type which will act as the medium through which your work will get out to the world. The layouts of the portfolio items are under your complete control not restricted by theme design choices. Unleash your creativity and give each portfolio item a style and character as unique as your photography subject. Portfolio items can be split into categories for easier management and presentation. Our free custom blocks plugin, GutenBee provides you with the Post Types block, a handy tool which will help you build beautiful and functional listing pages for all your portfolio items with optional category filtering, or for each portfolio category separately.
Flexible galleries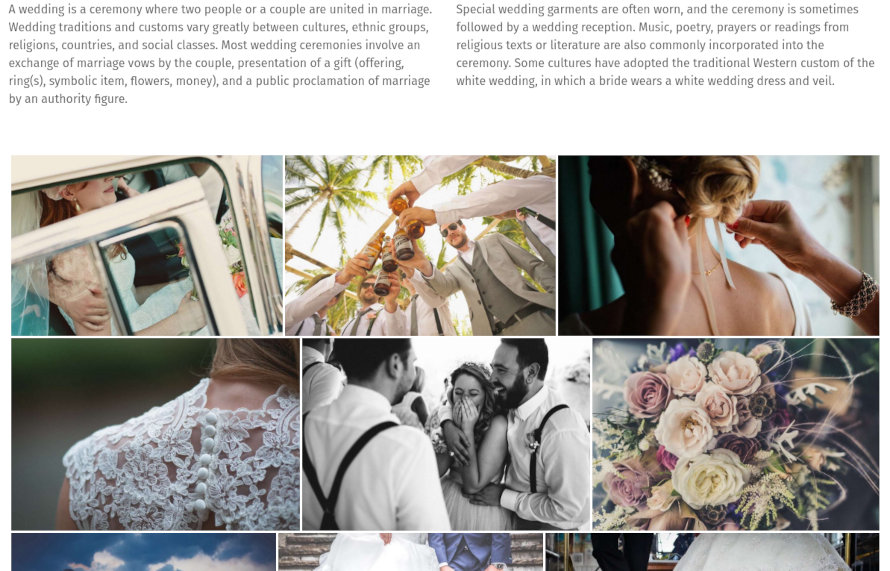 GutenBee also brings the Gallery block to the game. With the Gallery block you can build grid based photo galleries with variable column numbers so you can tailor the gallery appearance based on the amount of content available. Furthermore you can create Justified galleries with flexible row heights, margins and last item alignment. These combined with the block's flexible appearance with configurable background colors, borders & box shadows make the Gallery block the perfect tool with which to showcase your work.
WooCommerce support
Benson supports WooCommerce out of the box. This integration with the number one eCommerce plugin for WordPress makes selling your work a breeze. Easily sell framed or loose prints of your work, or sell downloadable digital copies. If you are in the business of hosting digital albums for your clients you can easily integrate subscription purchasing into your WooCommerce store.
Built for the block editor
Benson is fully compatible with the WordPress block editor. We have provided styling for Core blocks where needed to ensure they will perfectly match the theme's style. The theme's demo has been exclusively built with a combination of Core WordPress blocks and custom ones provided by our GutenBee plugin. This compatibility will give you the tools and flexibility required to make a truly unique site for your photography business. Benson is also compatible with all the major page builders out there for those who prefer to build things visually.
Wrapping up
Benson is the perfect theme for photographers, its flexible content layouts, along with the dozens of customization options and the WooCommerce integration create the perfect set of tools to get you started on your brand new portfolio web site and online store. Learn more about the theme and grab your copy at the links below.