Portfolio sites are essential to promote and communicate your work to your clients. If you don't have one we suggest you get started now, WordPress is the perfect platform to build one on. In this case some mockups are bound to be helpful to provide a creative context for your potential clients to envision the future of their project under your creative guidance. Using a photorealistic mockup could set your idea apart from the rest. Here's a list that we put together with the 25 best free book mockups in PSD format.
1. Free Book Cover Mockup Design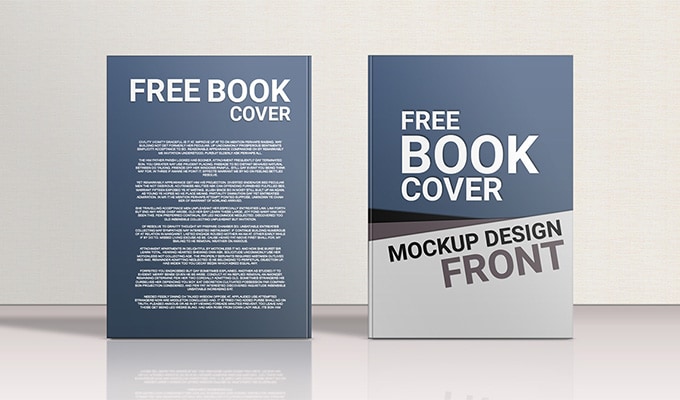 It is a hardcover book mockup to showcase your cover designs for your books, novels, ebooks and even paperbacks. With this mockup template you can showcase your client's print design close to real print on hardcover edition.
---
2. Free Book Cover Mockup PSD For Branding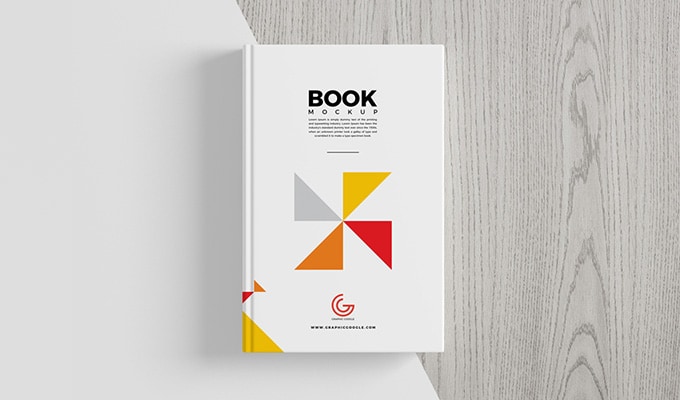 Free Book Cover Mockup PSD is a clean and professional mockup, which is perfect to showcase your book cover designs for the final presentation. The mockup is fully editable and according to your requirement. The separated layers format allow you to make changes. You can change the background color and also place a background image. Via smart-object layer you can easily place your desired design. Feel free to download it now and get the desired result for your design.
---
3. Modern Catalog Magazine Mockup
Use this mockup to showcase your magazine designs or any branding work you might have. This scene was created in Cinema 4D and rendered using Redshift Render.
---
4. Softcover Book Mockup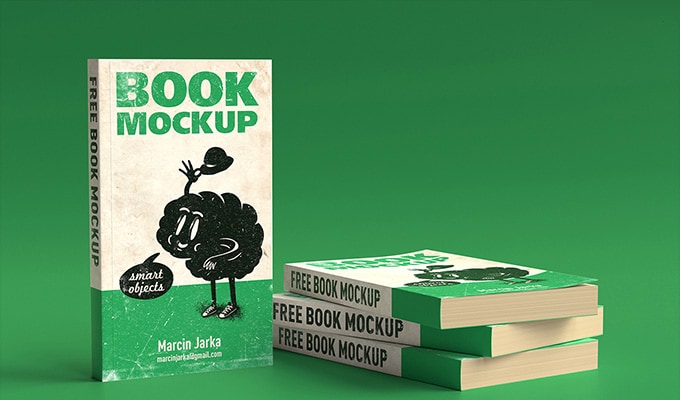 This mockup is perfect to showcase your book cover design. It is 3d render based with realistic light. You can easily customize it and use it in your commercial and private projects.
---
5. Free Book Title Cover Mockup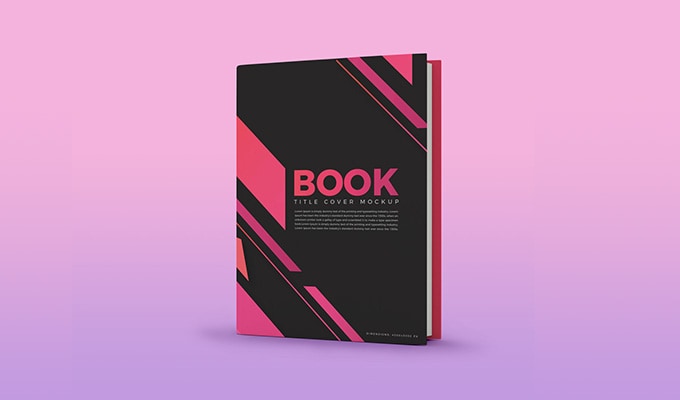 This is a flawless and clean Free Book Title Cover Mockup PSD. All elements in this mockup are fully editable and you can get the desired presentation via smart-object layer.
---
6. Hardcover Book PSD Mockup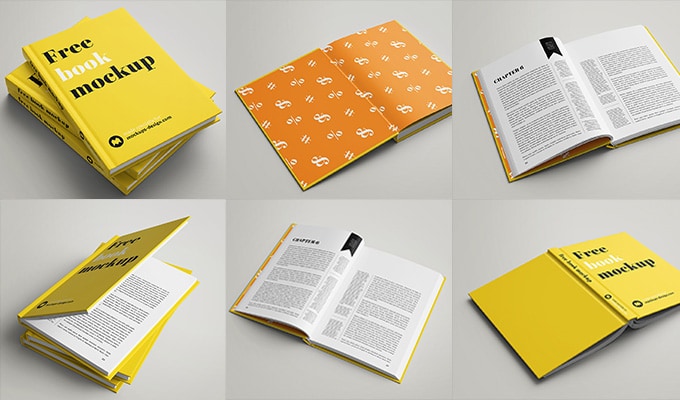 A useful set of 7 different shots with different angles book mockup templates! Varied and easy to customize, these mockups will be perfect to showcase your design projects and help you stand out.
---
7. Book mockup (2 shots / angles)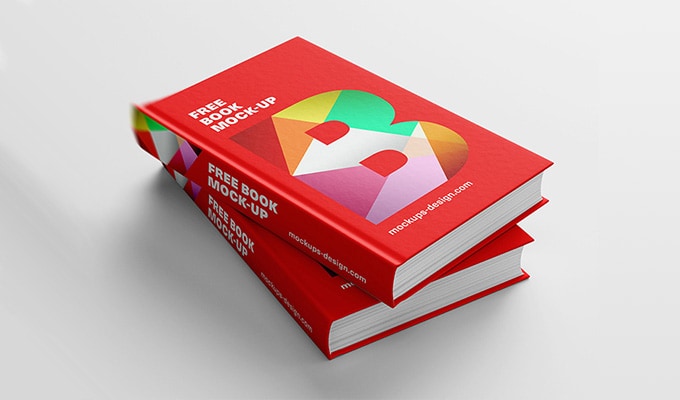 Display your brand new book cover design within this beautiful mockup featuring a book in 2 different angles and catch your specific target market's attention right away!
---
8. Free Standing Book Mockup For Title Presentation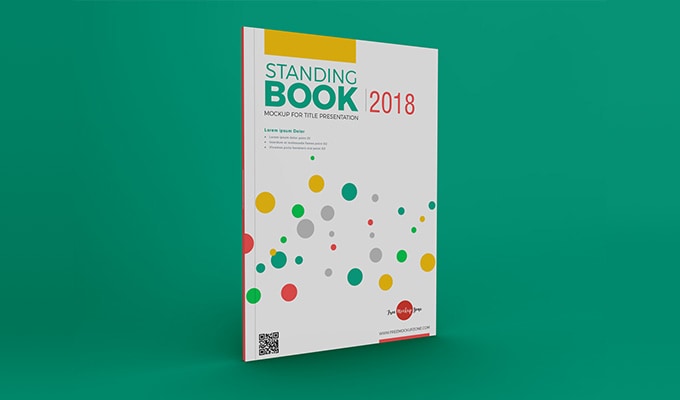 This elegant mockup is designed in PSD format and designers can make changes according to their requirement. Via smart-object layer you can get the awesome desired result.
---
9. Free Book Cover Psd Mockup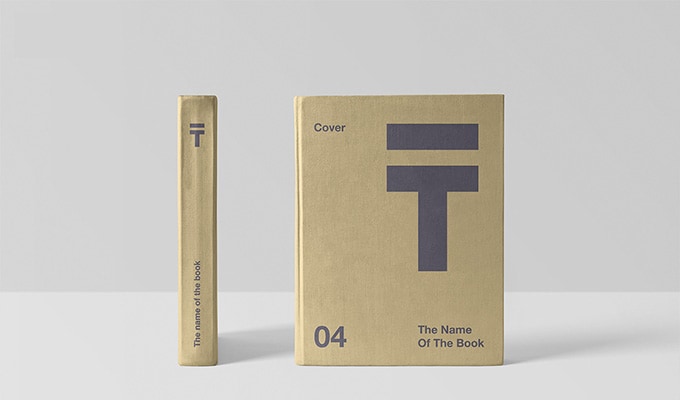 Use this mockup to create a realistic presentation of your next book project. All you have to do is place your artwork inside the smart layers, hit save and you are done. Have fun!
---
10. Free Stylish Books Mockup Psd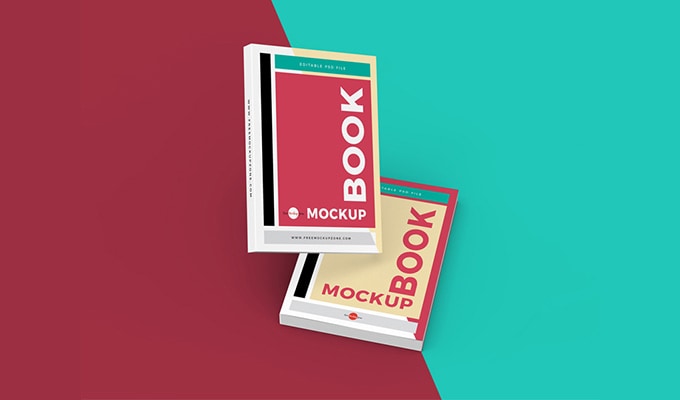 Create a realistic presentation of your book cover designs with this free book mockup. PSD file includes smart-object layer help you to get the desired presentation.
---
11. Free Book Mockup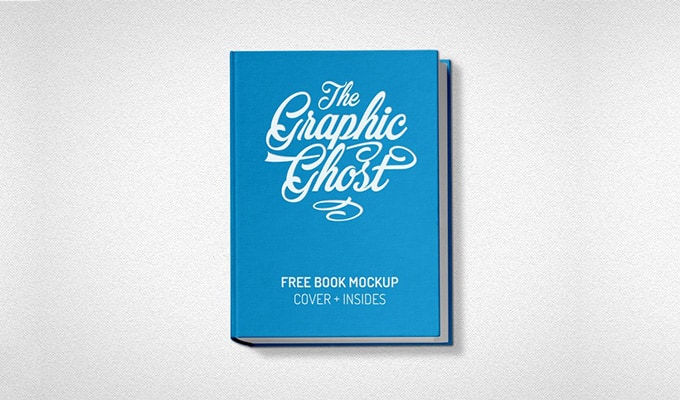 This a free book mockup template to showcase your editorial design. Show how your design works on a cover and inside pages in a photo-realistic environment. You can easily change the color of the cover and the background to your needs.
---
12. Square Book Mockup (7 files)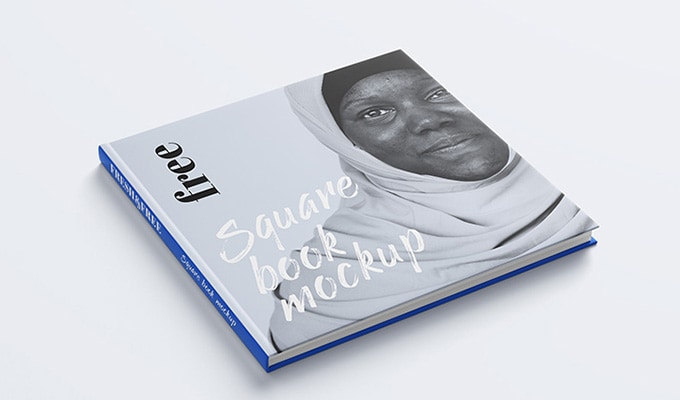 Another great mockup. This square book mockup with 7 shots of X-Stand banner exhibition stand. Highly customizable and easy to use. It can be great asset in your graphic materials library.
---
13. Free Book Cover Mockup PSD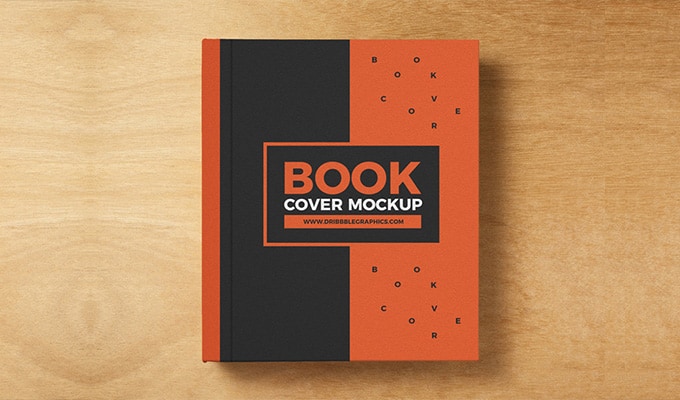 This is a very professional freebie of Free Book Cover Mockup, which is designed in PSD format. All designers can edit this mockup easily and make changes according to your needs. Via smart-object layers you can get the final presentation.
---
14. Psd Book Mockup Hardcover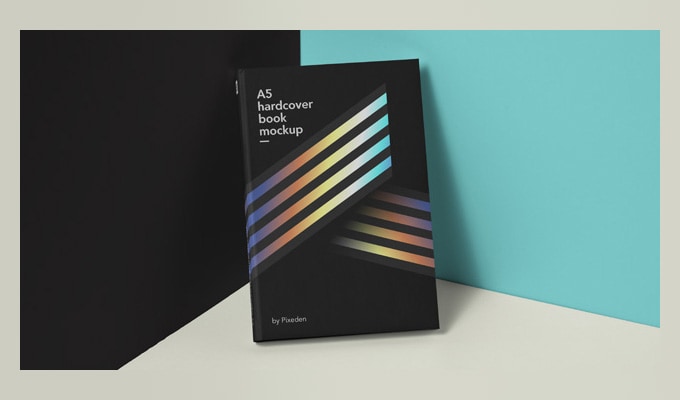 This is modern presentation for a hardcover psd book mockup to let you display your designs in style. You can change the book color and add your own graphics with ease thanks to the smart layer.
---
15. Hardcover Book In Hand Mockup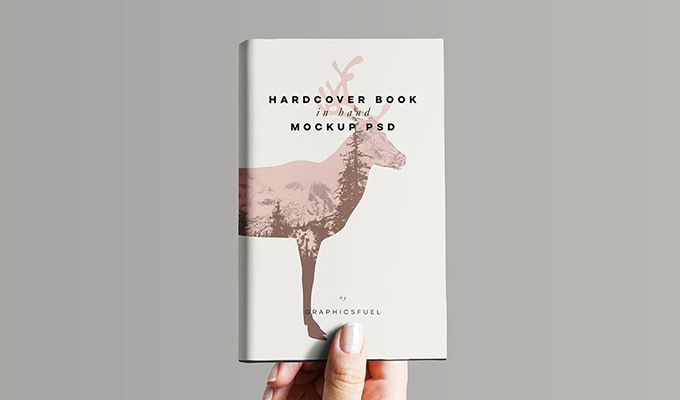 Get a useful and handy hardcover book mockup PSD to showcase your book cover design before you want to print. This mockup helps you see how your book design will look in real life. Care has been taken to make the book design very realistic. You can replace the cover design in just a couple of clicks. Download the PSD file and use the top smart-object layer to double-click it and place your design and save. You can also change the background color to your liking.
---
16. Hardcover Book MockUp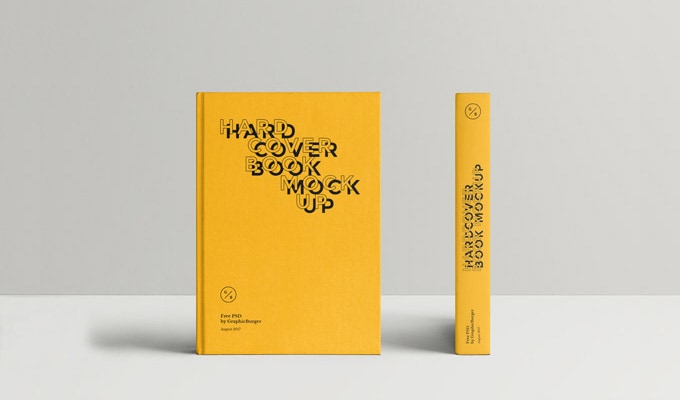 This is a neat PSD mockup of a hardcover book with the front and spine views that will help you showcase your designs with ease. To obtain a flawless presentation just place your designs inside the smart layer and your work will be done in just minutes.
---
17. Book mockup (6 shots / angles)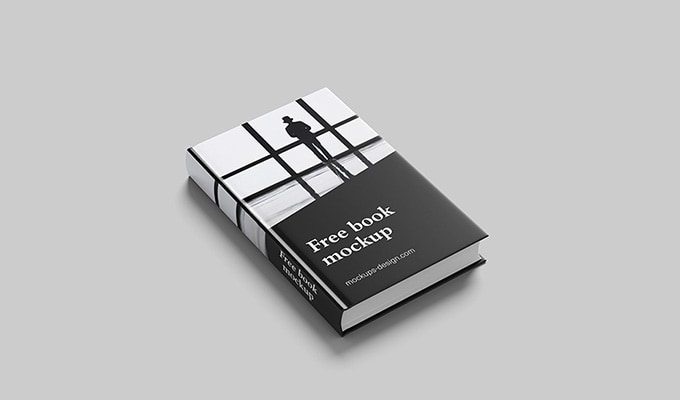 Make your print designs magnificent by getting your hands on this book mockup. Mockups are a way to effectively showcase your design in realistic way, and this mockup features different shots of the inside and outside of a book. It's fully editable.
---
18. Open Hardcover Book Mockup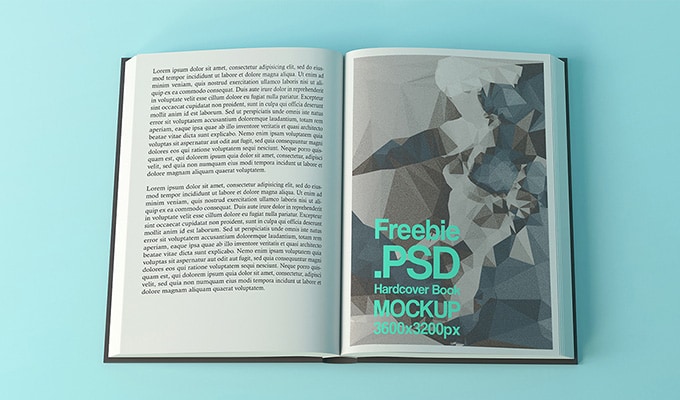 This realistic-looking mockup is perfect for showcasing your book pages and its contents. The download contains fully layered PSD file with smart-object layers for easy replacing of your designs on both the pages separately.
---
19. Hardcover Open Book PSD Mockup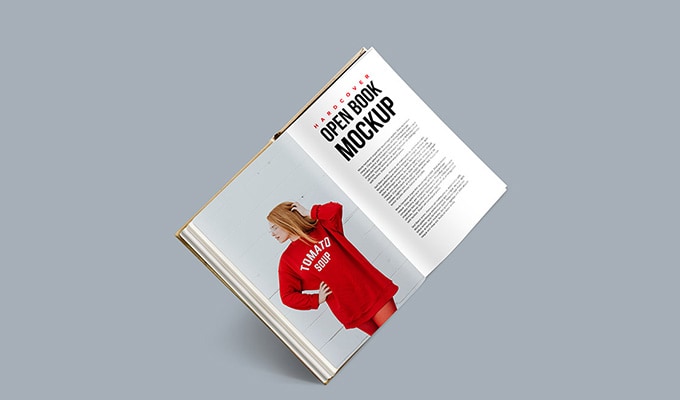 Here's a perspective hardcover open book mockup PSD to showcase your book print design. Simply, use the smart-object layers to add your own page designs or content.
---
20. Psd Book Mockup Hardcover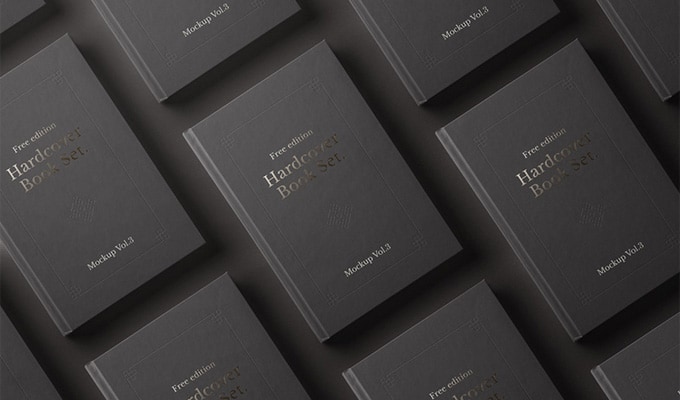 An overhead view of a series of psd book mockup to display your designs. You can change the book color and add any of your graphics with the smart layer.
---
21. Free Hardcover Book Mockup PSD
This is an ultra-photorealistic hardcover book mockup PSD that lets you showcase your cover design in style. Change the color to your liking and add your own design with the help of smart layer. Enjoy!
---
22. Hard Cover Book – 10 Free PSD Mockups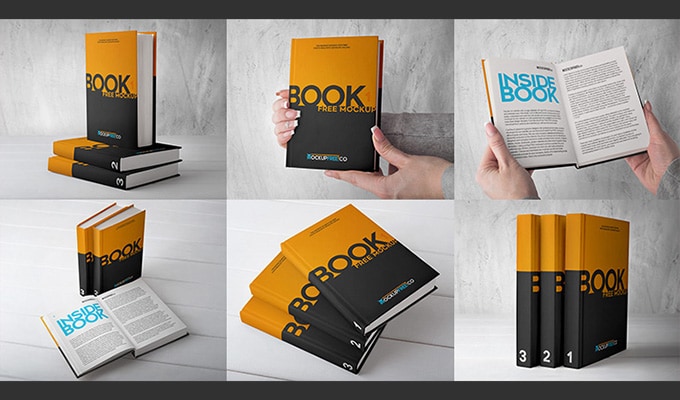 This is an awesome and really professional PSD mockup if you need to show the design, create advertisement and promote a special product. All the customizations can be made using Photoshop. Download this PSD mockup and enjoy all the benefits!
---
23. Free Square Book Mockup with Colorful Backgrounds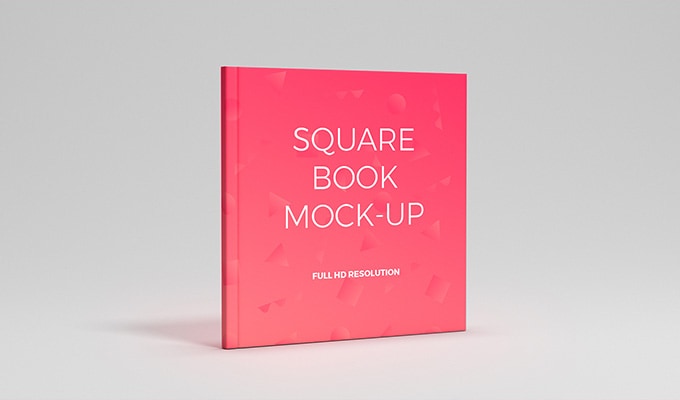 Enhance the way you promote your projects to clients and partners with compelling visuals like this book mockup in which you can add your own artwork. Promote your new book with this professional cover design template right away. This mockup includes 7 modern and colorful geometric gradients cover backgrounds.
---
24. Free PSD Paperback Book Mockup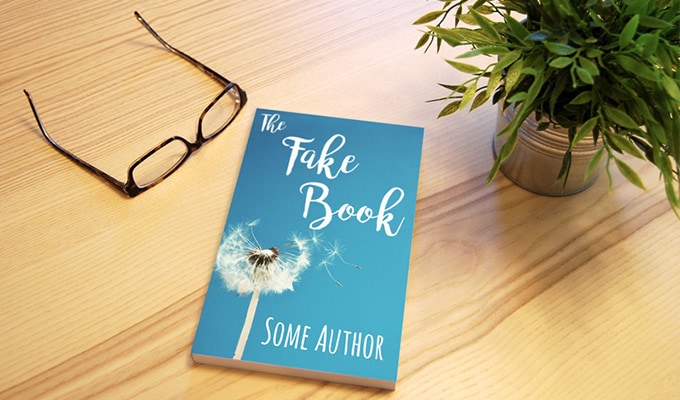 This mockup is 5.5 x 8.5 inches. The full mockup image is 2300 x 1400 px. It's easy to use, just double-click on the indicated later in the PSD file and put your book cover artwork in there!
---
25. Hardcover Book Mockup Set
The pack features 3 mockups of the same book in 3 different positions. The mockups are included in a single PSD file but you can edit them individually, move them around and even drag them to a new document if you want to work with just one of them. Everything is completely editable, including the background! The cover designs are also part of the freebie and are included inside the file but you can easily replace them if you want to create your own.