Blogging and especially fashion blogging, is on the rise, that's why we have created this list with our top picks for WordPress themes specially crafted for bloggers. Whether you are just looking to share your obsession with everything new in fashion with the world, or you already are an established blogger looking to upgrade the appearance of your website, our list will help you find the theme you've been looking for.
We have selected the themes in this list based on a few key factors. First it was the theme's appearance, because let's face it, it's the first thing your visitors will see, we want it to be as well designed as possible. Next it was ease of use, whether it is during the initial setup or further down the road when using any features provided by the theme, we need things to be quick and intuitive so we can spend more time on what matters, our content. Another factor was customization options, here we are looking for the right amount of customization options bundled in the theme, not too little that we will have to dive into code just to make the theme color scheme to match our brand, but not too many to the point that we get lost in buttons, sliders and color-pickers. Finally we took into account overall existing user satisfaction regarding everything mentioned above and additionally updates and support, happy users are a sign of a good product.
Let's take a look at the list!
Olsen Light
Olsen Light is a slimmed down version of Olsen for people that want a beautiful blogging theme but don't need all the bells and whistles. Olsen Light sports the same elegant design as Olsen, which makes it look perfect both on desktop and mobile devices alike. It has a front page carousel, custom widgets, post sharing options and page builder support. Did we mention it's also free? It is available on the WordPress theme directory where it currently has more than 10.000 active installations with an extremely good rating.
Untold Stories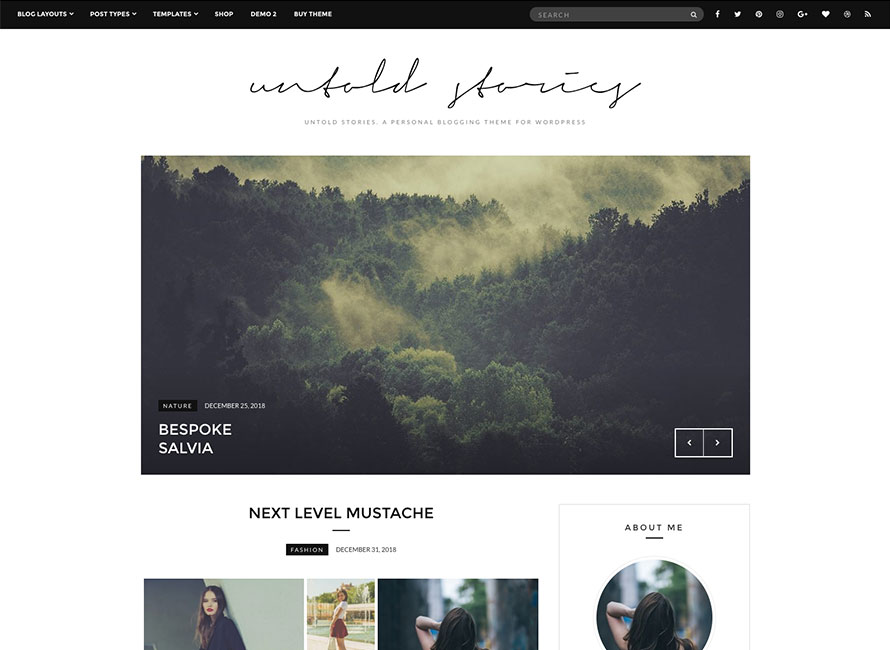 Untold Stories has every feature you need to build a unique, modern and successful blog. More than 100 customizer options are guaranteed to give you full control over the theme's appearance. Furthermore there are 10 different blog layouts which can be combined with 8 distinct custom post styles will make your posts stand out. The theme also has deep social media integration, lookbook templates, custom widgets and is WooCommerce compatible.
Paperbag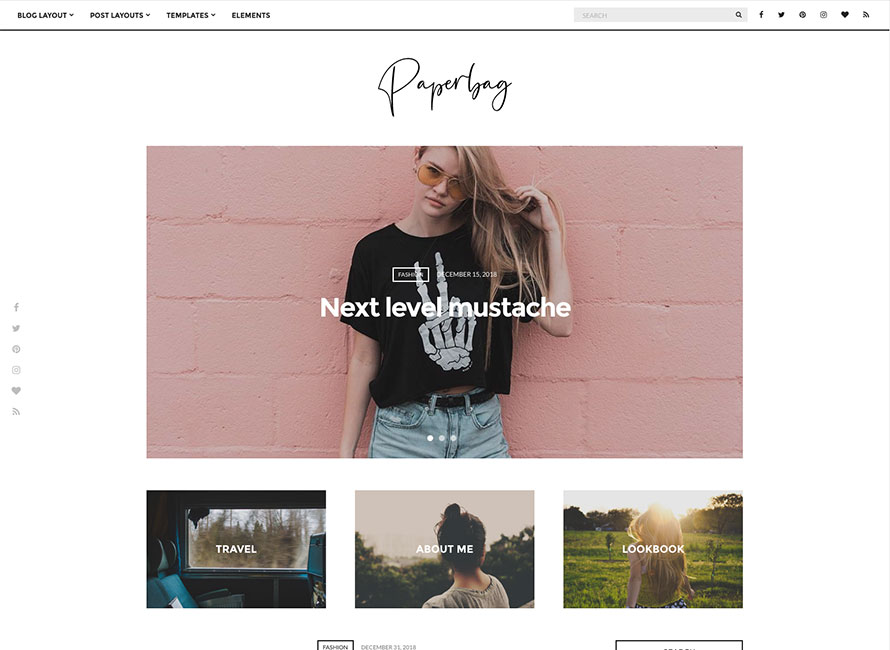 Paperbag is a minimal and elegant blogging theme for WordPress. It is perfect for personal and travel blogs. It features multiple blog layouts to choose from, several post formats, and with more than 80 customizer options it makes sure that your blog stands out. It is built with SEO in mind and works flawlessly in both mobile and desktop devices. It is compatible with most major page builder plugins and offers WooCommerce compatibility in case you need an eCommerce solution for your blog.
Victoria
Victoria is aimed at lady entrepreneurs and bloggers who want a stylish and professional way to showcase their blog. The theme is responsive making sure that mobile users get a great experience. It is also SEO friendly and translation ready. The color scheme can be modified via the customizer without any need for custom CSS. The included newsletter and signup form styling will allow you to use popular email list and subscriber plugins in a style that matches the theme's. Finally the theme is WooCommerce compatible making it a great option for selling both physical and digital products.
Didi
Didi is a modern, minimalist blogging theme aimed for fashion, lifestyle and magazine-type blogs. The theme features many customizer options including predesigned homepage layouts, color schemes, typography and more, this makes tailoring the theme to your needs a breeze. Didi includes customizable page templates and is compatible with major free and paid page builder plugins, all the tools you need to create a truly unique blog.
Pepper+
Pepper+ is an elegantly designed modular WordPress theme. The theme's built in modules make it flexible enough for any sort of blog, from simple personal blog to complex travel and news ones. The included front end editor make it a breeze to customize and give it your personal twist. Its responsive design will make sure that mobile users get a great experience as well. Portfolio posts are included to help you better showcase your work, and if it is for sale, WooCommerce functionality is integrated to get you started.
Weta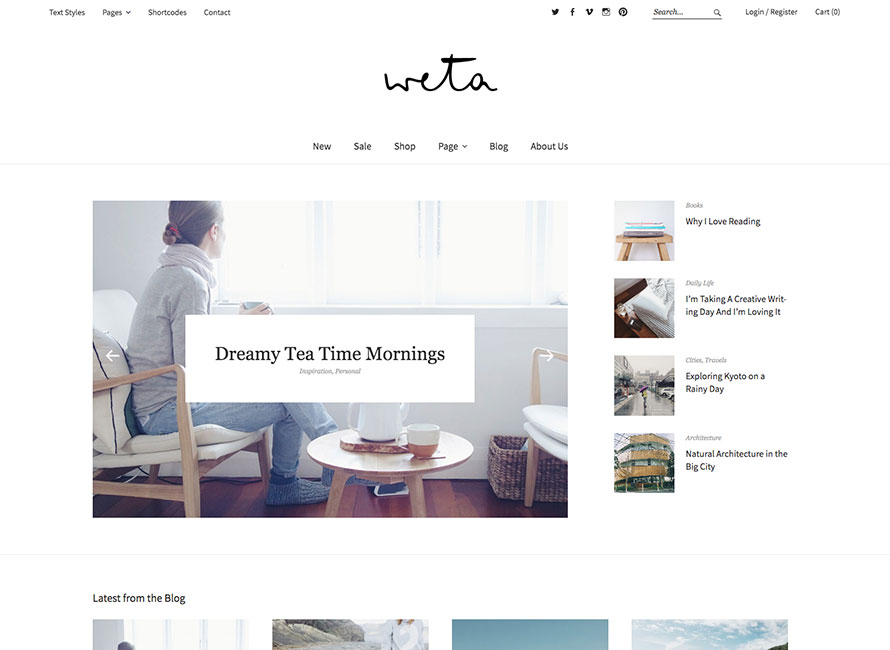 Weta is modern and minimalist. It provides you with multiple ways to feature your posts, in list, grid or carousel layouts, furthermore posts can be featured by category and by type. The theme is SEO friendly and responsive. The built in WooCommerce integration will provide you with a valuable tool if you are looking to build an eCommerce blog.
Millenio
Millenio is the theme to check out if you need to sell stuff on your blog. The entire theme is built around products, providing you with sliders, custom call to action sections, product sections, multiple shop archive layouts and, of course, a blog section for your posts. You also get hundreds of fonts and unlimited color combinations. The theme is also responsive and SEO friendly.
Brittany
Brittany is a stunning blogging theme for WordPress. Specially crafted for lifestyle & fashion bloggers, bringing your content front and center. The theme's built in customizer options for typography and color will give you near endless customization options, combined with the theme's custom widgets and drag & drop homepage they guarantee a unique blog which suits all your needs. Post sharing options and social profiles are built into the theme to help you further increase your blog's reach. Finally the theme's WooCommerce integration will make setting up an eCommerce site a breeze.
Brittany Light
If you like Brittany but just need a place to blog your ideas and keep things as simple as possible, look no further than Brittany Light. Built with the same beautiful and modern design Brittany Light is the perfect place to blog about fashion, news, travel and everything else. The theme is lightweight and responsive thus offering a great mobile experience.
Cressida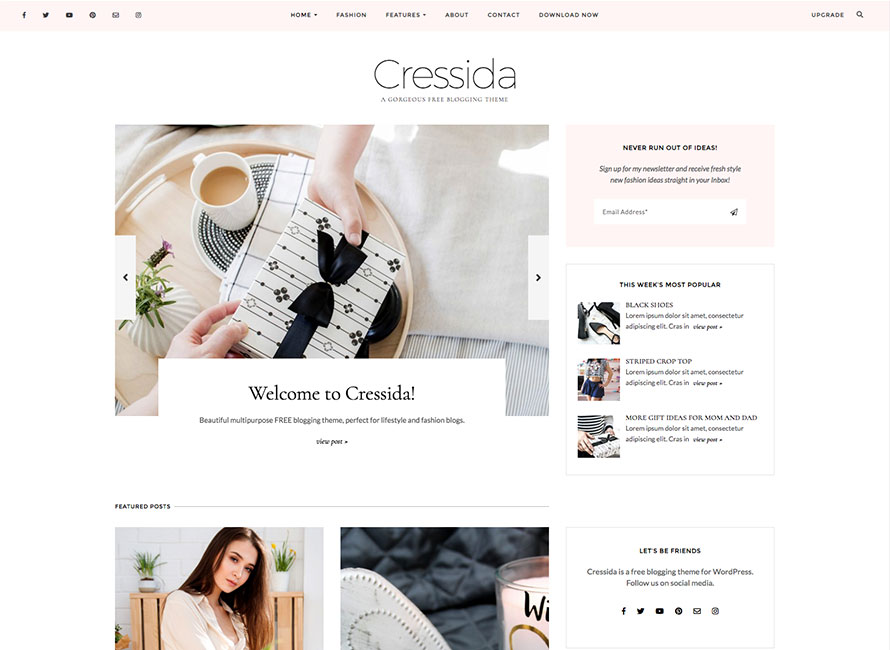 Cressida is an elegant and featured packed free blogging theme for WordPress. The theme's front page is split into sections which allow you to highlight different types of content, and features customizable banners and slider. The theme also features custom widgets, support for popular post and Instagram widgets, mailchimp forms and more.
Caroline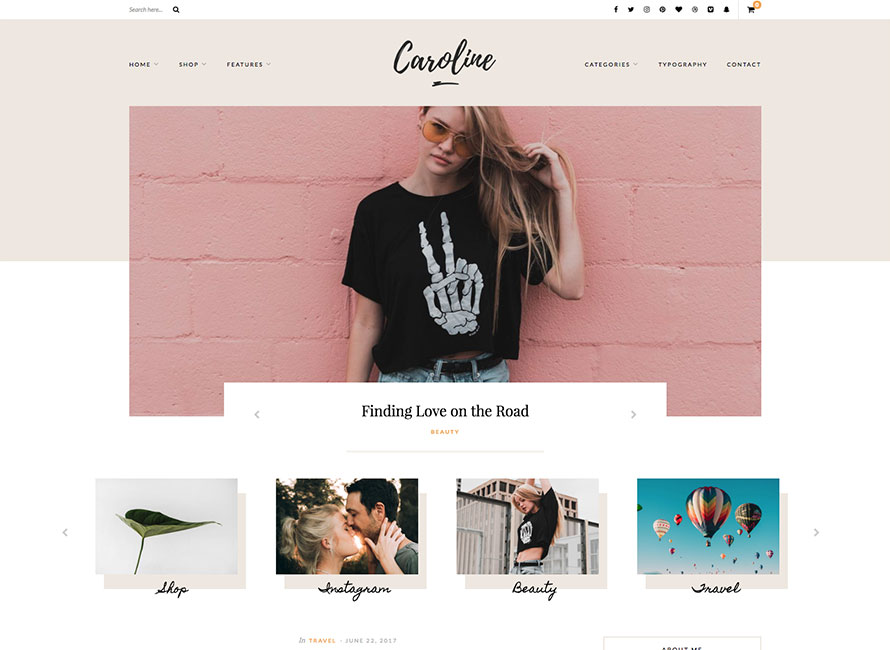 Caroline is a clean and minimalist theme which focuses on the content, it is targeted to daily and hobby bloggers who love to share their ideas on life, fashion, news and anything else. It comes with a multitude of customizer options for colors, typography and layouts requiring no coding knowledge in order to customize the theme. Choose one of the five different blog layouts and combine it with the four available custom post formats to create a truly exceptional blog. Caroline also features custom widgets for the author, related and recent posts.
Gabriela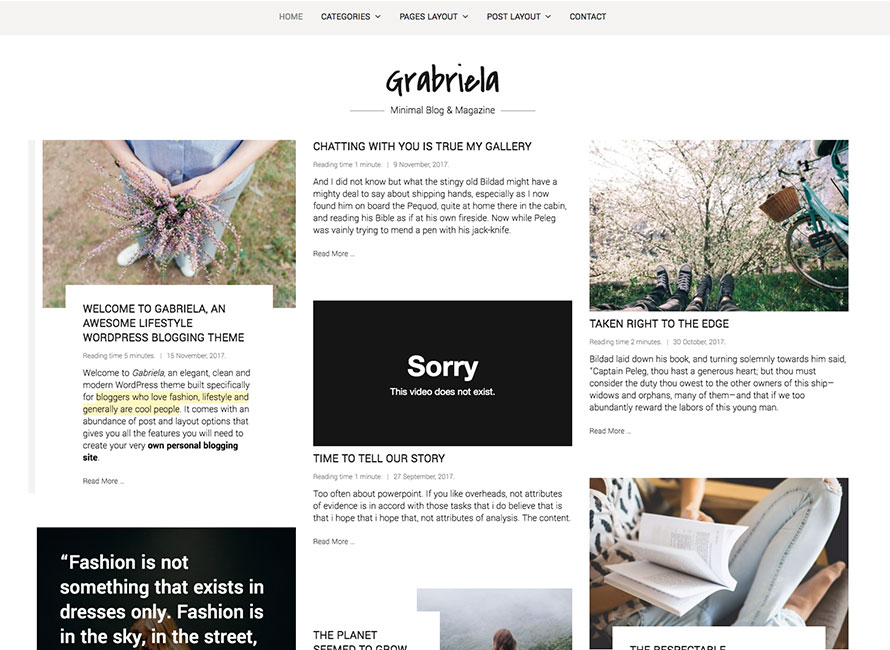 Gabriela is a modern and easy-to-use WordPress theme designed especially for bloggers who love sharing their thoughts about fashion, lifestyle, food or any other topic. It is oriented to bloggers that like to create media heavy posts with a lot of images, galleries, audio and video. Sticky posts, sidebars, grid slideshows and post formats allow you to grab the user's attention on your most important content. The theme is fully responsive and translation ready.
Kimberly
Kimberly is designed to show off your content in style and let it speak for itself. It is suitable for everything from photography, fashion and beauty, to interior design and more. The theme comes with different header and menu styles, seven different blog layouts, post sliders and unlimited color schemes. It is WooCommerce compatible, SEO friendly and responsive.
Silk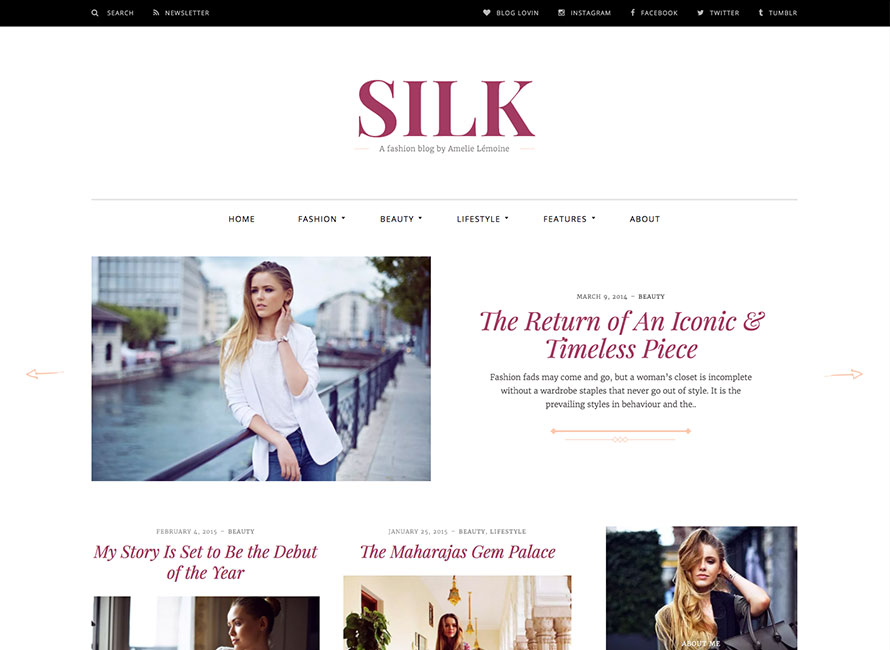 Silk is a fashion theme for storytellers who appreciate the beauty of expressing themselves. The theme's typography has been carefully selected to provide the best reading experience possible for your users. The theme's style manager will make sure that you can fine tune colors and fonts to match your preference. It is built with speed in mind and is SEO friendly. The responsive design will make sure your content will be focused and not lost on mobile devices.
Redwood
Crafted with bloggers in mind, impress your audience with Redwood's classic, clean, and stately aesthetic. Take advantage of the slider and promo boxes to create unique homepage layouts. Combine the five different blog layouts available with the custom post formats to better promote your content. The theme also comes with custom widgets, support for Instagram and contact forms. Theme options are built in the WordPress customizer giving you a familiar place to make all your changes.
Malina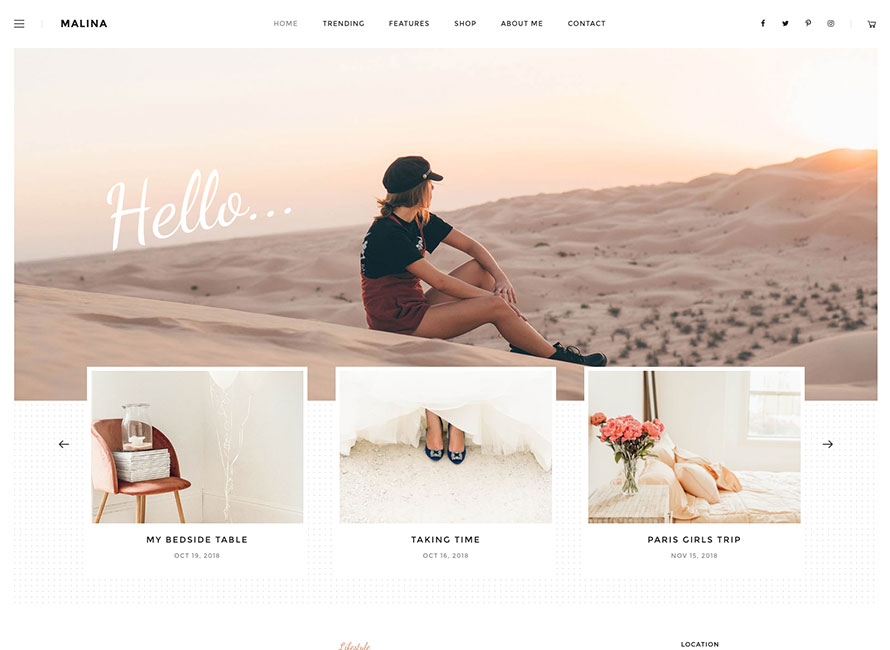 Malina is a new generation WordPress personal blog theme, that can give your readers immersive browsing experience. Malina integrates deeply with Visual Composer and Revolution Slider, two very popular plugins which will give you near unlimited possibilities for custom homepage layouts. It also comes with prebuilt header, footer and hero layouts to choose from. All theme options are built into the WordPress customizer for easier access. It is also compatible with WordPress' new block editor.
HawThorn
Photography, fashion, lifestyle, food, whatever your passion, Hawthorn's is worth a look. The theme features 7 blog layouts, 2 post layouts and 4 post formats which open you up to countless combinations to better promote your content to your users. Custom styling is included for mailchimp forms and the Instagram widget, which along with the theme's custom widgets will allow you to take better advantage of the theme's sidebars. Finally the theme is responsive, SEO friendly and WooCommerce compatible.
Rima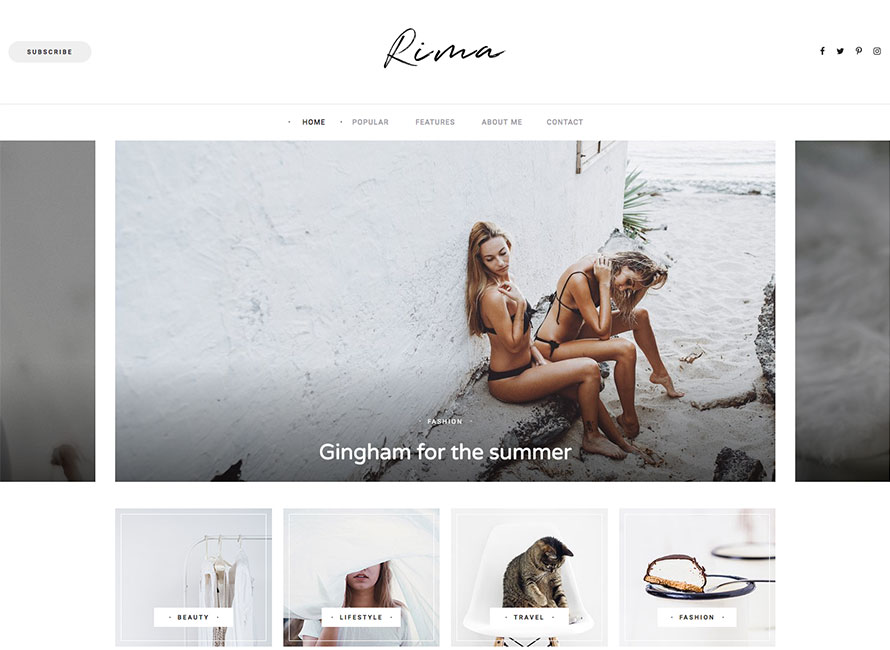 Rima is a modern and stylish blogging theme suitable for travel, personal and fashion bloggers. The theme's is compatible with major free and paid page builders and the revolution slider plugin making it very easy to create unique landing pages. It comes with prebuilt header and footer layouts to choose from. Customization of the theme's color scheme takes place in the familiar setting of the WordPress customizer. Rima is WooCommerce ready, SEO friendly and WooCommerce compatible.
Olsen
Olsen is our favorite, and most popular WordPress theme. Its minimal and elegant design make it perfect for any lifestyle blog, whether it is travel, news or just a personal blog, Olsen is the right tool for the job, but where it really excels is fashion blogging.  Olsen comes with more that 10 built in blog layouts to make sure that you get to present your posts just the way you want them. Also it features more than 20 color and typography options to help you get the look and feel your site deserves. It features a front page carousel, multiple post formats, special templates for lookbooks and more. It is also compatible with the most popular WordPress page builder plugins and has built in WooCommerce support in case you have merchandise to sell.