Your next hotel theme is here, meet Andros
Posted On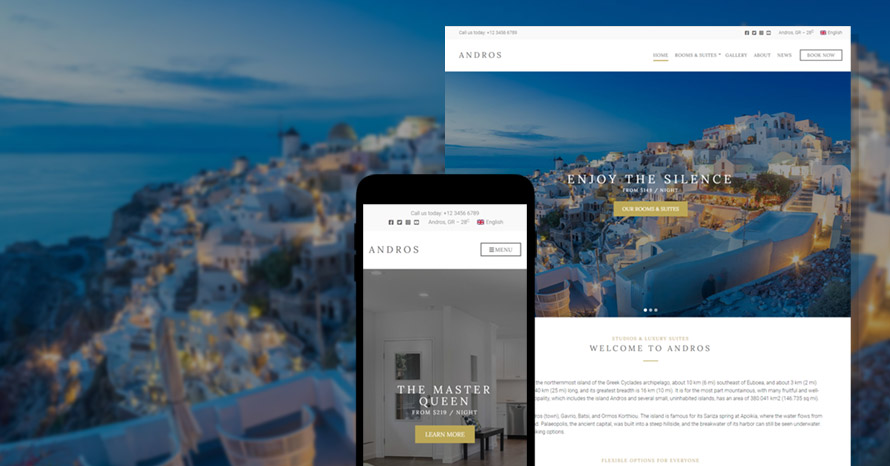 Your search for a great hotel template for WordPress is over. The updated version of our popular hotel theme for WordPress, Andros will offer you a clean and modern for your site and provide you with all the necessary functionality to manage your properties and customize it to match your needs. It is a great match for hotels, resorts, vacation rentals, airbnbs and more. Let's take a look at some key theme features.
Built on a solid foundation
Andros is based on our Ignition Framework plugin which provides the theme with great flexibility and dozens of easily managed customization options. It gives the users great control over global theme sections like the header, footer and archives, provides color and typography controls. The plugin also hosts template files, custom post types and third party plugin integrations to take away unnecessary clutter from the theme, allowing it to handle just the appearance of your site. The framework plugin is common on all our latest themes which gives us the ability to push bug & security fixes, compatibility updates and new features simultaneously to all themes through a single release.
Accommodation custom post type
The accommodation custom post type bundled with Andros is the perfect place to host your rooms, suites, villas, studios and any other type of rental property. Utilize the block editor to create unique showcases for each accommodation item, provide all the necessary information and media to your potential customers beautifully and with great ease. Create listing grids for all your accommodation items with optional category filtering, or for each category separately and place them in separate pages or among the content on others, like the front page, using the Post Types block provided by our free custom blocks plugin, GutenBee.
Flexible booking options
With Andros you are free to use any type of booking option works best for you. You can opt to embed a form provided by your third party booking service, use a purpose built booking plugin for WordPress, take advantage of the theme's built in WooCommerce integration and manage bookings through it, or just use a simple availability request contact form and take care of the rest via email. It's up to you, Andros won't interfere with your choice and will make sure it looks as good as possible.
Unlimited layouts
Andros is fully compatible with the block editor. This gives you ability to take advantage of both Core blocks provided by WordPress, but also custom blocks provided by third party plugins such as GutenBee. Combine these to build stunning layouts for your front page, room listings, info pages, posts and more. The theme also supports all the popular page builders out there if they are the tool of your choice.
Full color & typography controls
Built in the WordPress Customizer you will find a plethora of color options to help you create a color scheme that best matches your business. Control colors globally by modifying primary, secondary, text, button, form colors and more, or just focus on individual sections like the top bar, header, menu and footer. Pick the perfect font pairing among the dozens of Google fonts available and customize font properties for key theme sections like the headings and widgets.
Wrapping up
Andros is a flexible and beautiful hotel theme for WordPress ideal for most professionals in the hospitality business. Learn more about the theme and grab your copy in the links below.