WordPress page builders, do you really need them?
Posted On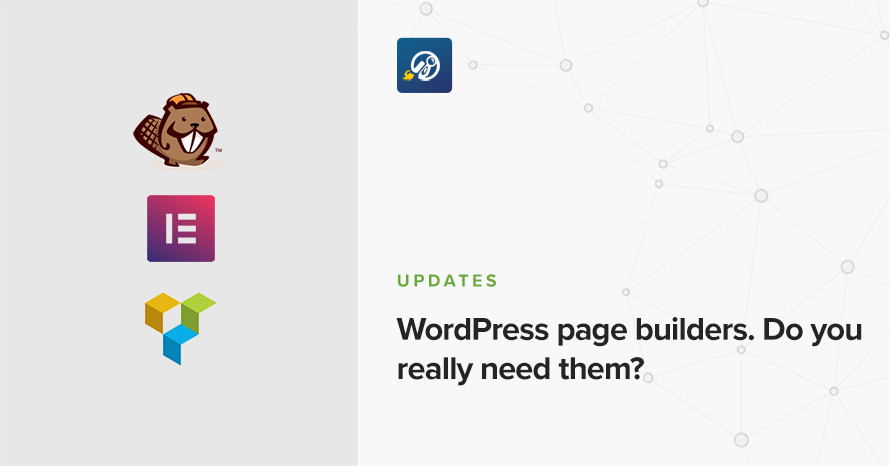 For many years WordPress has been, and still is, the number one platform for site building. Its quick setup and ease of use made it a market leader. However, recently, the rise of build-your-own-site services like Wix, Weebly and Squarespace exposed a weakness in WordPress, the lack of easy drag & drop manipulation of page layouts, this made it difficult for end users and non developers to customize the site's appearance, its layout was entirely dependent on the active theme. Luckily for all WordPress users, plugin developers quickly stepped up and gave us the ubiquitous drag & drop page builders.
What are page builders
As mentioned before, WordPress is a very easy to use. It's built to focus on content generation and eliminate distractions. Most of the things you need to do can be done with a few clicks via the Customizer or the various settings pages. However things get a bit more tricky when you need to create a brand new page template, or want to add widget in places where there are no widgetized areas, tasks like these require getting your hands dirty, creating a child theme and coding your new template, then, applying new styles where needed, as you might imagine these tasks are pretty advanced for the average WordPress user. Enter page builders.
Page builders are plugins which give the user the ability to create unique layouts, independent of the theme's default one, using drag & drop, without having to write any code. They use a grid system as a base and provide the users with building blocks such as headings, paragraphs, images, lists, galleries, widgets etc to build with. Essentially they are like the built-in visual editor on steroids.
Who can use a page builder
The versatility of modern page builder plugins make them a very useful tool for professionals and amateurs alike.
The small business owner, young professional, amateur photographer, or any other person that might be managing their site themselves can utilize the power of page builders to tailor their site to their liking. This allows them to get the required result relatively quickly, without any need for coding knowledge, while saving money by not requiring the help of a professional designer or developer.
On the other hand, WordPress agencies and freelancers can also harness that power to improve services offered to their clients. Landing pages, single use and reusable templates can be created quickly and efficiently cutting down developer hours and decreasing the overall project cost, quick, accurate and cheaper results will keep most clients happy.
Do all WordPress sites need them?
As we've established, page builders can be a valuable tool for site owners and WordPress professionals alike, this fact has lead to the booming growth of page builder plugins in the past couple of years and their somewhat overuse by both groups. As you might imagine overuse is rarely a good thing, page builders are not without their drawbacks, some might impact SEO and site performance, which is something to think about when deciding whether to use one or not. Additionally you might want to consider what happens if at some point in the future you need to move away from one page builder in favor of another. Some page builders strive to produce clean code to make your life easier in such a case, but there are still quite a few popular ones that use shortcodes or other content output methods that result in a sort-of vendor lock-in for your site.
The truth is that not all sites need to use a page builder. For example, a modern blog, whether it deals with food, fashion, travel or any other subject, rarely needs one. Blogs are meant to focus on content with as few bells and whistles as possible. Blog followers expect quality content, easily accessible that shows up great on all devices. This is something that WordPress excels on, there are myriads of free and premium blogging themes out there which do the job perfectly. No need for fancy landing pages, animations or spinning images.
Consider a theme built for musicians, like Oscillator for example. The theme comes with custom post types for the artist's media, discography, an event management system and WooCommerce integration, all these are built to work closely together to give the best experience possible to the user/owner. This takes away the need for the user to patch things together themselves and lets them deal with what really matters, their craft. Could such a visual result be achieved with a modern page builder? Most likely yes, a WordPress agency could build a similar site using just page builders, but is that viable? Could an inexperienced end user maintain such a site or add new content to it? That is unlikely. Page builders have a learning curve, it's still much easier to create a new post "the old way" and fill in any custom fields, the theme will deal with the rest.
On the other hand, page builders are ideal for business presentation sites, single page sites, virtual CVs etc. Sites where the content is not updated that often are a great opportunity to use a page builder to unleash your creative skills. Go for it.
The new WordPress block editor
WordPress itself has entered the builder battle by overhauling the classic editor to the new, block editor, formerly known as project Gutenberg. Granted the block editor has a long way to go to reach the versatility of most modern page builders, but it sure looks promising. In the 10 months since it was officially launched it has made some significant improvements in terms of usability, we could confidently say that for content creation at least it can pretty much do anything the average blogger might need. Additionally there are plans to make the editor modular so it can be loaded outside post objects and create block areas which are outside the post's content, something like the existing sidebars, where blocks could be used to create complete layouts. If the block editor continues to evolve with its current rhythm it's almost certain that it will impact the user-base of existing page builders a lot. As mentioned earlier the block editor is enough for most content creators and it will only get better, and don't forget that it comes as standard with WordPress.
Conclusion
Hopefully this post can help you decide if your site really needs a page builder, because multi-tools are good but a hammer is always the best tool for nailing things down. What is your opinion on the matter? Do you use a page builder on your site? If yes, what sort of site are you managing? Let us know in the comments below.