Ads are a quick and easy way to start getting some revenue out of your WordPress website. Creating ads and managing ad campaigns might become a taxing task, monitoring impressions and clicks,  generating statistics, making sure expired ads don't appear on your site, and more, there's a lot to take care of. Here's where AdRotate comes in to play.
What is AdRotate
AdRotate is a free WordPress plugin which makes managing ads a breeze. The plugin allows you to create your own ad banners using HTML, CSS, and JavaScript, if needed. Additionally you can use ads from popular ad services such as Media.net, Google AdSense, DFP and others. The plugin's interface integrates seamlessly into the WordPress dashboard making using it very easy. Ads look and work just like a custom post type. Once you create and place the ad on a sidebar or in the content, you can sit back and let the plugin do its job. It will generate detailed statistics of impressions, clicks and CTR.  Let's have a quick look on how to use it.
How to manage your ads
To create an ad you just need to go to AdRotate > Adverts > Add New on your dashboard.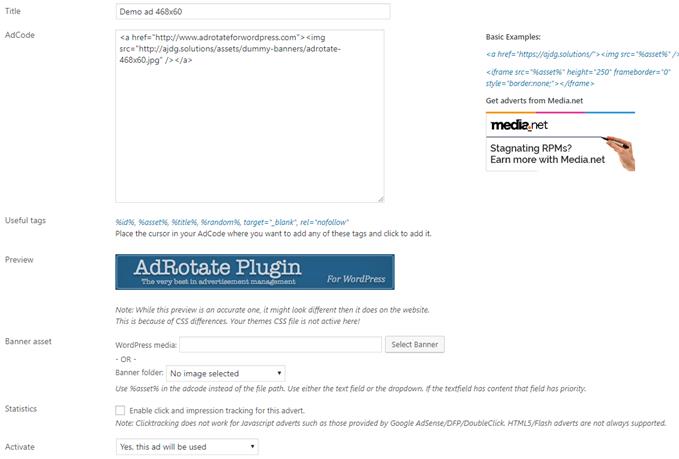 Title your ad and move on to the AdCode itself. You can paste in any code provided by an advertising service or just create your own ad, all popular ad sizes are supported, along with custom ones, including responsive ads.
Running a limited time campaign? No problem, each add can be scheduled, just set the start and end dates and the plugin will handle the ad appearance for you, taking it down when the time comes.
Placing the ad is pretty easy. The plugin provides you with a shortcode which you can use the to place the ad in the content, alternatively you can use the plugin's widget to place the ad on a sidebar. For the more tech savvy the plugin provides template code which you can use to integrate the ad in your theme files to utilize places like headers, footers etc.
Ads can also be grouped. For example you can create a group for your footer ads and have them rotate automatically, either on page refresh or at a preset time, you can even display multiple ads simultaneously. This makes it very easy to manage ads that are either on the same place, or ads of the same niche that are spread throughout the site. Grouping them allows you to control them all at once, quickly and efficiently.
That's pretty much it. Once the ads are created, and grouped if necessary, you can sit back and watch them perform. The plugin offers cumulative statistics under AdRotate > Statistics, there you can see in both plain text and graph form, your total ads, impressions, clicks and CTR. If you want more detailed stats you can see stats for just one group or even one ad. Each item has a stats link next to each title which allows you to get information focused on only one subject.
Price: FREE
Source: https://wordpress.org/plugins/adrotate/