Revamp your business site with Technico
Last Updated On
Our latest premium theme for WordPress is out. Technico is a business theme designed to help you showcase your projects, services and team members in an easy and efficient way.
Let's take a look at the theme's key features below.

Custom post types
The theme comes with five custom post types, Services, Projects, Team, DIY Projects and FAQ. These post types work just like standard WordPress posts but with some extra custom fields and a customized layout that allows you to display your content in an optimal way.
We have also built listing templates for these custom post types. You can use them to display all items of a custom post type in a single page with varied layouts and column numbers.
Customizer ready
As with all our latest themes, Technico is built to utilize WordPress' customizer. You can navigate to Appearance > Customize to fine tune your theme. There are tens of options available for you including but not limited to: Logo modification, menu, content and sidebar color controls, post appearance customization, footer copy modification and more!
Drag & Drop homepage
The theme features a widgetized homepage template, apply it to your front page and drag & drop your widgets in the Homepage sidebar to build it. We have provided you with seven purpose built widgets, utilize them to maximize your front page's potential.
Powerful widgets
We have built twelve custom widgets which will make your life easier when building the site and provide you with flexibility to create unique layouts. Among them, perhaps the most important one, is the Post Type Items widget.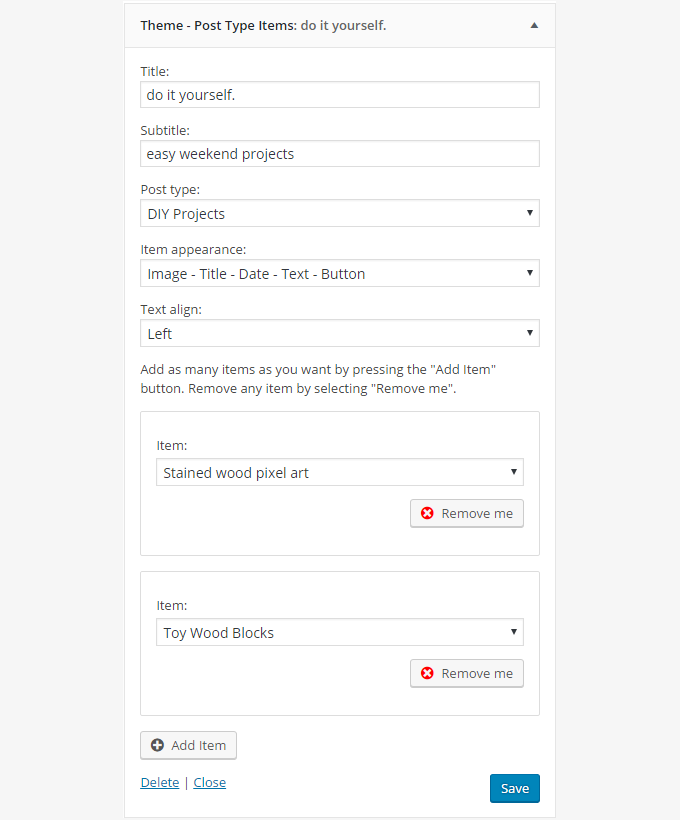 Using this widget you are able to display your content on any widgetized area, whether it is a standard post, a project, a team member etc. Just select the post type you want to pull info from on the Post type drop down, select the layout you want for these items from the Item appearance drop down (different layouts are available for different post types to help optimally deliver information), set the desired text alignment and add your items using the Add item button. Save your widget and you are done.
Bottom line
Download Technico today and give your business' website a well deserved fresh and functional look.