A quick interview with Mario Peshev (DevriX)
Last Updated On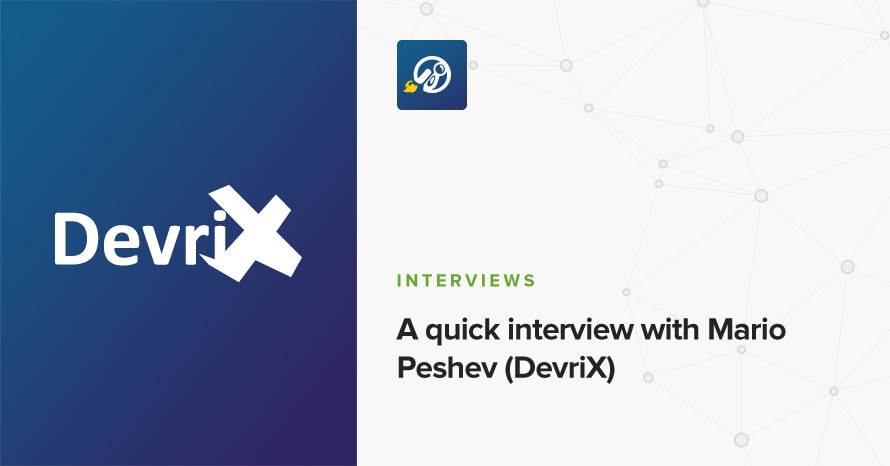 Mario is the founder and WordPress architect over at DevriX. He's been contributing to WordPress core since WordPress 3.7. I haven't had a chance to meet him (as of yet) so I decided to get to know him a bit better through this quick interview.
1. Hi Mario, could you tell us a little about yourself and background?
My name is Mario Peshev, I'm the founder of DevriX – a distributed WordPress company with a team of 25 working on high-end and high-traffic projects for enterprises and fast-paced startups. We do provide tech and business retainer services for clients and partners around the world, and build some innovative ventures such as My Store Locator Plus and DX Sales CRM.
My background is in enterprise software engineering and technical training, and over the past few years I've been dealing with a lot of management and business strategy, among other things.
2. When did you first stumble upon WordPress?
Back in 2005-2006 as the media agency I was working for was building a blogging platform. I helped with R&D and found WordPress, which I'd noticed before during research while administering a couple of forums.
The first WordPress site I built was in 2007 and required a lot of custom development, which allowed me to get acquainted with the platform before some goodies were introduced in WordPress 3.0.
3. What product / website of yours are you most proud of and why?
We've built plenty of challenging projects over the years, and solved performance-related problems through business process automation for different industries (including a couple of banks, one of the leading automotive manufacturers, the aviation industry).
Right now the two main products we're focusing on are MySLP – a WordPress-based Software as a Service platform providing flexible and extensible locator services in any web platform, and DX Sales CRM – our freemium CRM solution for SMB owners. We have spent thousands of hours for each of those projects, and the reason I love them is that they solve problems for a large percentage of the population – as compared to niche and specific solutions.
4. Have you had any epic fails so far that you'd like to share with us?
Of course – failures are a part of the learning process for each entrepreneur.
A while ago I tried to start a business building a Java-based CMS for my clients (I am Java certified and built a prototype as a course project first). Soon thereafter I did the math and realized that development will be way slower, far more expensive, servers are hard to find and 10 times the cost of a shared PHP one.
With DevriX there was a lot of crash and burn at first with hiring, poor project management and communication, inefficient marketing planning and so on. This has allowed us to learn from our mistakes and improve our processes as we go.
Solve actual business problems and focus on usability. Make sure that there's a target market for your solution and tailor your UI, documentation, and workflow around your potential customers.
5. In your opinion, is the premium themes / plugins market saturated? Are there any opportunities out there?
There is a huge demand for high quality and niche premium themes. Most solutions on the market do embed 5 different sliders loaded on every page, custom visual builders, plenty of shortcodes that impact the stability and speed of the website. Focusing more on niche themes solving specific problems and lighter themes in general would allow for good and affordable design with a stable base.
Plugins are in a certain spot between WordPress.org which doesn't allow premium solutions, and no high-traffic alternatives other than Code Canyon which doesn't comply with GPL. The expectation of very low prices for both plugins and themes prevents the majority of the professional developers from spending time and money in high-quality solutions.
I'm certain that both markets will continue shifting for the next 2-3 years.
6. What's your advice to new theme / plugin authors?
Solve actual business problems and focus on usability. Make sure that there's a target market for your solution and tailor your UI, documentation, and workflow around your potential customers.
From a technical standpoint follow the WordPress coding standards, turn on all debugging/profiling tools and test with a ton of data and traffic whenever possible. Even the worst plugin or theme will work flawlessly with 5 visitors per month or 5 pages on the site, but would that be the same with 10,000 users and 500,000 posts and pages?
7. If you had the chance to add a single feature in WordPress core, what would it be?
Instead of adding, I would decouple the Core as much as possible. Ideally I would love for the Core to be a pure framework, and components such as Comments, Media, multilingual support become add-ons.
8. Is the inclusion of the REST API a decision in the right direction and why?
Yes, it will allow for building non-WordPress applications interacting with a WP-based platform (including mobile and SPA), as well as aggregators and other networks pulling and storing data between a large number of websites.
9. What's your current hardware / software setup. Any apps you can't live without?
I use a ThinkPad T460p, 6th gen i7 quadcore CPU, 16GB of RAM, SSD drive, Nvidia GF 940MX 2GB running Fedora Core 24 Linux – battery lasts for 8-9 hours and the 14" size is both portable, and large enough for work. Due to commute and travels I use actively LG G3 (with a massive battery) and G5 for work, plus a smart watch for notifications.
At work we can use whatever works best for each team member, but the few mandatory apps are Asana for project management, HipChat for team communication and Google Docs for collaboration.
10. What's your typical day like?
I wake up around 10am, catch up on urgent emails and pending chats and quickly check with the team in case of emergencies or in case I need to spend more time assisting someone for the day. Then I walk out our dog and grab a coffee, then head to the office or a hookah bar for cofficing for a few hours. I head back home or stick around at the office, skipping traffic.
In the evening I usually have calls or email convos with clients, or clean up some pending tech or marketing tasks. My daily activities vary quite a lot as I wear many hats and focus on whatever is being a priority for the week.