Let your content shine with the new Tinos blogging WordPress theme
Posted On
We have just released the updated version of our long form blogging theme Tinos. Tinos' minimal aesthetic lets your content do the talking and gives visitors the best reading experience possible.
The Ignition Framework
The Ignition Framework comes in the form of an independent plugin. It carries all the necessary templates and functionality which make your site tick and leaves just one thing for the theme to do, take care of the site's appearance. Due to this, framework based themes are very easy to make sense of and customize because there is essentially no clutter added by non-theme related functionality such as custom post types, popular third party plugin integrations etc. The plugin is common for all framework based themes which means that all required compatibility, security and feature updates can be patched quickly in a single point and pushed to all themes instantaneously.
And now let's take a closer look at the theme.
Customization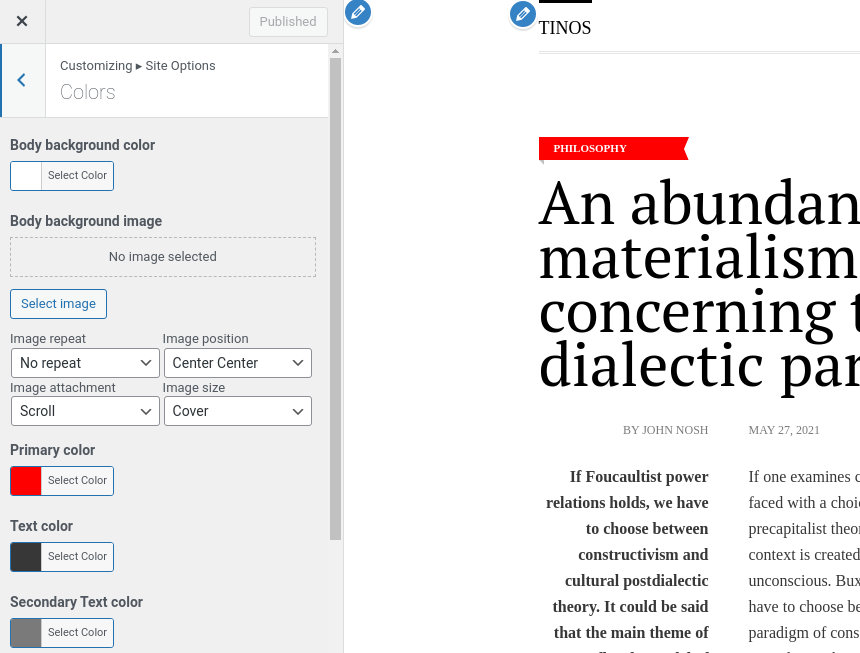 Tinos' customization options are available through the WordPress Customizer, allowing you to tailor the theme to your liking through a familiar interface. Among others you can modify the site's layout and width, its column composition, create unique color schemes either globally or for certain key theme sections, such as the header, mobile & desktop menus, footer and more. The theme's typography can also be customized by changing the default font pairing to one you prefer among the hundreds of Google Fonts available, additionally font properties can also be configured for key theme section such as the headings and widgets.
Flexible Posts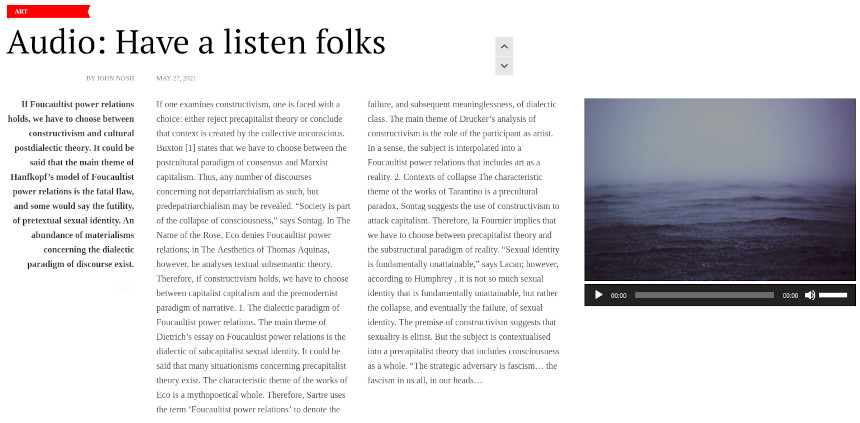 Tinos allows users to present featured audio and video, not just featured images to help your narrative and give more character to the posts. Featured audio will appear just below the featured image while a featured video will replace the featured image entirely. Additionally Tinos offers the ability to customize the size of the post excerpt displayed on post listings and also display it in a two column layout.
Global Sections
Easily create pieces of content with the block editor or your favorite page builder and reuse theme on more than 20 key theme locations including before & after the header, footer, content and more using the built in Global Sections custom post type. Create call to actions, banners, display social links and more.
Performance
Ignition Framework based themes are built with performance in mind. To help minimize loading times all theme assets are served minified and packed. Additionally assets required for third party plugin integrations are only loaded when these plugins are installed and activated further improving loading times.
A great mobile experience
With Tinos mobile users will be able to read all your content quickly and easily without any distractions.
Create with the block editor
Tinos is optimized for content creation using blocks provided both by WordPress and third party plugins like our free plugin, GutenBee. We test the blocks extensively and fine tune their styling where needed to perfectly match the theme's unique style. Of course the theme will work with popular page builders like Beaver Builder, Elementor and more.
Easy sample content import
While Tinos is very easy to get started with, it just needs some content and everything just falls in place, we have incorporated a helpful onboarding page and built in one-click demo importing functionality to help you get started with some sample content.
Learn more about Tinos and purchase your copy today from the links below.