Theme Onboarding
After an Ignition Framework based theme is installed and activated it will automatically forward users to the onboarding page. This page is designed to help them install required and optional plugins, import the theme's sample content and choose their preferred theme variation (if available).
The onboarding page will have three or four tabs, let's take a look at them one by one.
Getting started
This is the first tab users see after activating the theme. Here users will be prompted to install and activate two plugins the required Ignition Framework plugin and the optional (but extensively used in the content creation of our demos) GutenBee. Further more a lot of very useful resources can be accessed via the onboarding page, like the theme's documentation, our knowledge base and our support hub are all just a click away.
Installing and activating plugins via the onboarding page
This is a two button click procedure. If a plugin is not installed click the Install button and then the Activate one, that's it. If a plugin is already installed but not activate you will only have to press the Activate button.
Sample content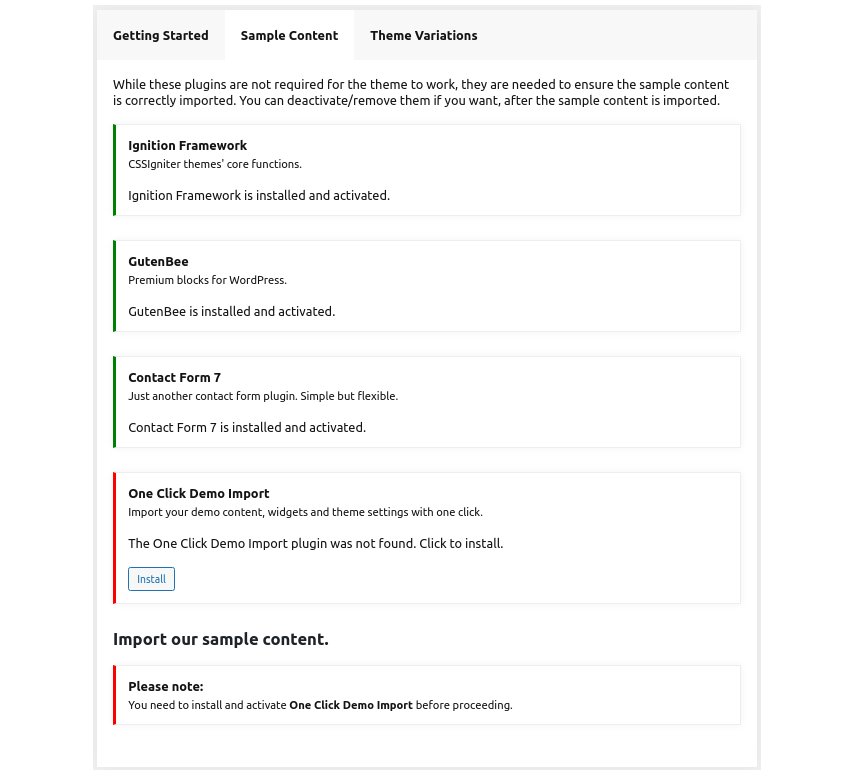 Via this tab users can install and activate all plugins required in order to import the theme's sample content properly. The procedure is very simple. Just install/activate all the plugins presented in the tab and press the Get Started button. In the next page press the Import Demo Data button.
If the theme has style variations there will be an Import Demo button below each variation.
For more information regarding the sample content import procedure check out this article.
Recommended Plugins
Here users can see plugin recommendations which, although they are not required for the theme to function properly, they enhance theme's functionality and user experience.
Also, here you will find our CSSIgniter Connector plugin which helps users receive theme and plugin updates via the WordPress admin.
Theme variations
Currently many of our themes support theme style variations. This feature will be available on more framework based themes in the future. Theme variations offer a different color palette and layout configurations to give the theme a different appearance better matching certain needs. For instance, the Aegean Resort theme offers the Default, the Aegean City and the Olympus Inn variation.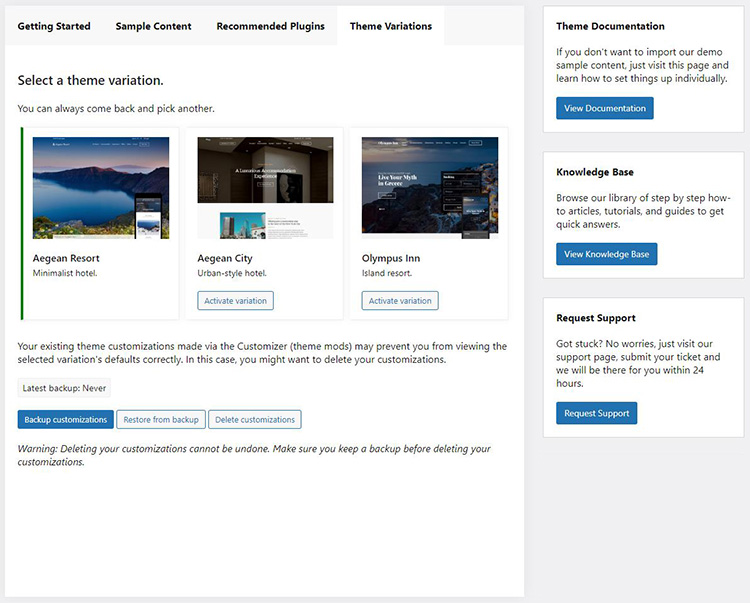 Switching variations can be done via the click of a button in the Theme Variations tab and you can switch back to the original one just as easily.
When switching between variations any changes you have made in the Customizer will be overwritten. To help you avoid having to reapply them we have built in a customization backup system. Before switching customizations make sure you create a backup by pressing the Backup customizations button, this way, once you return back to this variation you will be able to restore all your customizations via the Restore from backup button.
---
The onboarding page can be accessed at any time under Appearance > Theme Options.