Customize your WordPress dashboard using Adminimize
Last Updated On
The WordPress dashboard contains a lot of options that most users won't ever use. In fact the plethora of options can some times be confusing or even dangerous if some of the available options allows an inexperienced user to break their site. WordPress tries to minimize both the clutter and prevent accidents by restricting access to necessary options depending of the user role. What if you want to create a tailor made experience for your clients though? You have a few options, you can use the roles & capabilities API to customize what each user role can do on your site, or even create custom roles for your users, more info on how to do that here. However, for more fine grained dashboard customization there is a purpose built plugin and it's called Adminimize.
Adminimize
After you install and activate the plugin you will find its control panel under Settings > Adminimize. You will be presented with the plugin's MiniMenu.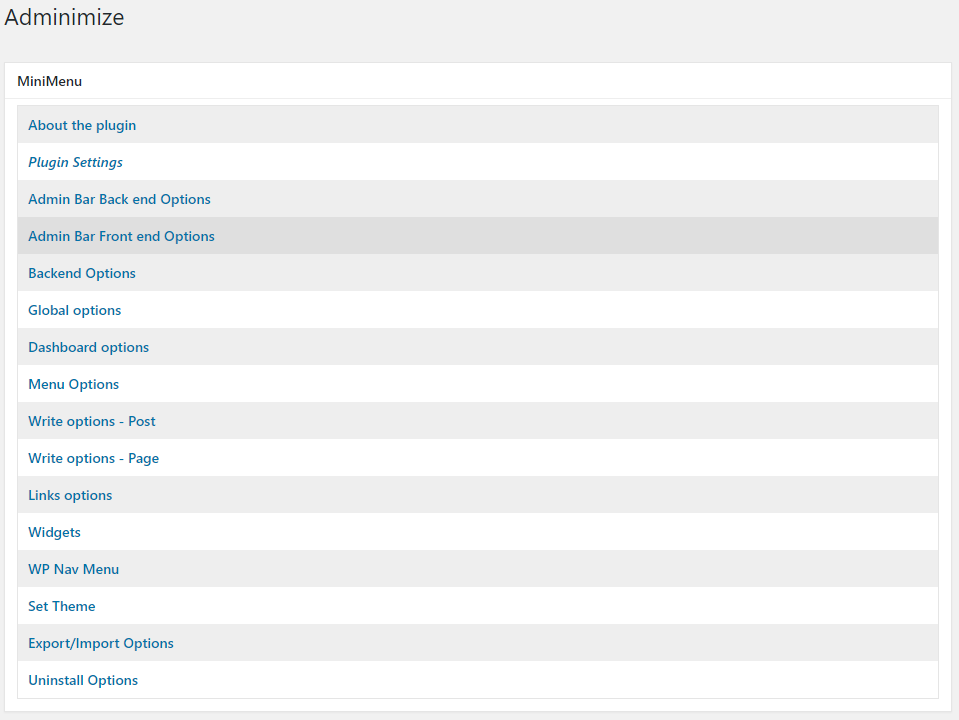 Here you can see all of the available WordPress sections the plugin can help you customize. Just click one, or scroll down to proceed. Let's take a look at one of the available sections, the Admin Bar Back end Options one.
As you can see the layout is pretty straight forward. The rows list the options you can modify and the columns the user roles found on your site. Checking a box will deactivate the selected option for the particular user role, just make sure you always click the Update Options button after any changes so they can be properly applied. 
There are quite a lot of options available as you will be able to see just by scrolling around.  Some of the more interesting that I tend to utilize on sites I work on are the following:
About WordPress Group under Admin Bar Back end Options
Contextual Help under Global Options
Quick Press & At a Glance under Dashboard options
the entire Comments group under Menu Options when working on sites with commenting disabled ( along with Comments under Post & Page write options )
As mentioned above the plugin offers a lot of customization for the dashboard allowing you to create unique experience for your editors, authors and even less experienced administrators. However the amount of options makes it very tedious to repeat and replicate, luckily the plugin supports importing/exporting configurations to make your life easier. If you manage to get the optimal setup, you just have to do it once. You can then use the Export/Import Options panel to transfer the configuration to another WordPress installation.
Removing the plugin
If at some point you decide you no longer need the plugin, disabling and uninstalling it will not remove its entries from the database. To do that you will need to go to the Uninstall Options section, check the box and click the Delete Options button. Then you can uninstall and remove the plugin.
Price: FREE
Source: https://wordpress.org/plugins/adminimize/