5 Backup Plugins For WordPress
Last Updated On
Internet is just as safe as the real world. Accidents and bad things can happen to good people at any time. To avoid these mishaps you need to be prepared for anything. Every year thousands of websites suffer from malicious attacks, data loss, and denial of service attacks. The first step in securing your website against any security threats is to make sure that you always have the most recent backups safely stored at a remote location.
WordPress site owners have a variety of services and tools that they can use to back up their sites. The variety of WordPress backup plugins and services often confuses new users. Each backup plugin and service provider claims to be the best. They all have good reviews, and they all seem OK. How do you know which WordPress backup plugin is perfect for you?
When choosing a backup plugin for your WordPress site, there are a few things that you need to consider first. Pricing, features, and ease-of-use. In this post, we will compare the best WordPress backup solutions according to these factors.
BackWPup comes as a free plugin with a pro version with extra features. The free version is fully functional and can be used on any site as a completely automated backup solution.
It allows you to perform automated-scheduled backups as well as manual backups. Setting up automatic scheduled backups is quite easy. You have the options to choose what you want to backup.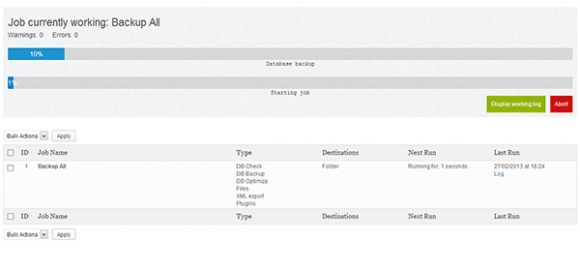 It also allows you to store your backup data on the cloud like Dropbox, Google Drive, Rackspace, Amazone S3, etc. You can also email the backup files to yourself, or store them anywhere using FTP. See our complete tutorial on how to setup cloud WordPress backup with BackWPup plugin.
Price: FREE (Pro version available)
Features: Excellent set of features.
Ease-of-use: Very easy to setup and use.
Updraft Plus is another free and complete WordPress backup plugin. There is a paid version too which comes with some additional features, support, and one year updates. However, the free version is fully capable as well.
In terms of features it allows you to setup automatic backups, manual backups, simple and quick restoration, etc. You can store your backups on the cloud, Updraft Plus supports many cloud storage services out of the box.
The plugin is extremely easy to use and there is inline and on screen instructions for every step. This makes it an ideal choice for beginners who have never setup a backup plugin before.
Price: FREE (Pro version available)
Features: Excellent set of features.
Ease-of-use: easy to setup and use.
Another free option is BackupWordPress plugin. It comes with all the usual set of features like automated backup scheduling, multiple backup routines, and remote storage of your backup files.
The free version of the plugin only allows you to store your backups on your hard disk or email. If you want to store your backups on Google Drive or Dropbox, then you will need to purchase an addon plugin which costs $99.
Pricing: FREE (Paid version available)
Features: Basic set of features
Ease-of-use: easy to setup and use.
BackupBuddy is one of the most popular WordPress backup plugin on the market. It is a premium plugin with different licensing options starting from $80 per year. It is extremely easy to use with a simple wizard that helps you quickly setup your automatic backups.
It comes with a very user-friendly interface that keeps the clutter out of the view and you only see the options most relevant to you. However, it is an extremely powerful plugins with lots of advance options that you can configure. It has backup profiles, which allows you to set up multiple backup options and automate all of them.
It can automatically store your backups on different locations like Dropbox, Amazon S3, Rackspace, FTP, email, etc. It even comes with 1GB free storage service called Stash provided by the same company behind the plugin.
Pricing: Starting from $80
Features: Excellent set of features
Ease of use: Incredibly easy to setup and use
VaultPress is a completely automated WordPress backup service offered by Automattic, the company behind WordPress.com. VaultPress is the most reliable WordPress backup solution in the market.
All your backups are safely stored on their own cloud. You can restore your site from the backup with just one click. All you need to is install VaultPress plugin on your site and you can view your backups and restore them if needed.
Apart from backups, VaultPress also scans your site daily for potential security threats and malicious code. It can automatically fix most common security issues and can even remove malicious code.
For its ease of use, incredible support and reliability, VaultPress is the best backup solution for any WordPress site.
Pricing: Starting from $5 per month
Features: Incredible set of features
Ease-of-use: Incredibly easy to setup.
WordPress Security and Backup Best Practices
While a backup plugin can provide peace of mind, but in some cases setting up a backup plugin alone is not enough. You can protect your WordPress site by using some common best practices. Here is what you need to do to make sure that your WordPress backups are actually working.
Once you setup a WordPress backup plugin, make sure that it is working as expected. Download a backup file to your computer and try to restore it on local host. For your file backups you can simply extract the backup file and see if it has all your media files, plugins, themes, etc.
Automatic backups can save you from worrying about backing up your site. But from time to time, you should create your own manual backups. If something bad happens to your site and you find out that your automatic backups were not working, then you will still have manual backups to restore your site.
Most users setup automatic backups and never even think about how they would restore their sites from those backups. Make sure that you understand how your WordPress backups can be restored and what is the easiest way to do that. Many of the plugins and tools mentioned in this post provide their own scripts that provide a guided restoration process. Invest some time on learning how to restore your site from backup.
Storing your WordPress backups on the same server is not recommended at all. Make sure that you are storing your WordPress backups on multiple cloud locations. We recommend you to store your backups on cloud, hard disk on your computer, and email. Most backup plugins in the list can run multiple backup schedules and you can even set them to store your database on one location and files on another location.
Conclusion
Data recovery is a multi million dollar industry. Each year many site owners loose their data to accidents, hack attempts, and malicious code. It is better to be safe than sorry. Install an automated WordPress backup plugin on your site right away to ensure your site's safety.
Nick Anderson operates Dailyhosting which provides wordpress web hosting , and offers numerous tools