Top WordPress newsletters, podcasts & YouTube channels you should follow
Last Updated On
The WordPress ecosystem and community are steadily growing, while this is good for anyone in the business, it makes it hard for anyone to keep up with current events and/or learn new stuff in time. Don't fret, we have compiled a list of essential newsletters, podcasts and YouTube channels for you to follow in order to stay up-to-date. Let's take a look!
Newsletters
Newsletters can be annoying, we'll give you that, but rest assured the few we have selected before are not. None of them is sent more than once a week, making sure that they won't clutter your inbox, and they all contain high quality information, including but not limited to news, articles, tutorials and more.

wpMail.me is a weekly newsletter curated by Cristian Antohe and Bianca Petroiu of cozmoslabs.com. Each issue contains a handpicked selection of news & articles, interesting plugin and theme suggestions, various tutorials, podcasts and videos. The newsletter is currently at issue #372 which you can check out here to find out if it's the right match for you.
MasterWP is another weekly newsletter brought to you by Alex Denning and Ben Gillbanks. This one is more developer oriented. The newsletter highlights current hot topics in the WordPress development world, for example currently it focuses a lot, as expected, on project Gutenberg. But that's not all, you will also read about important WordPress news, and find interesting tutorials that will help you sharpen your skills.
WPBeginner is, well, WPBeginner. It is most likely the most comprehensive and popular resource for WordPress related tutorials out there, and best of all, everything is free and readily accessible. With over than 600 thousand readers, WPBeginner is an invaluable resource. Subscribe to their newsletter to get a run down of the past week's articles, tips and tutorials published on wpbeginner.com, along with some handpicked courses, software, and some vetted premium resources.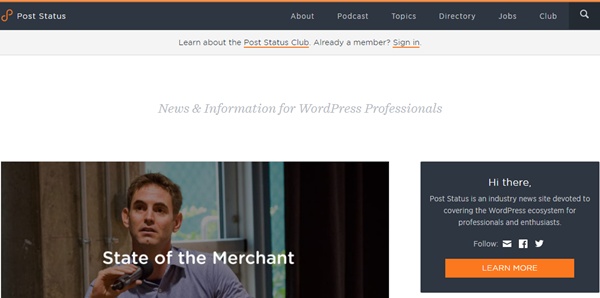 Post Status was created by Brian Krogsgard as a link sharing blog trying to aggregate the most interesting WordPress related news from around the web, to a single place so readers could easily access them. It has since evolved to one of the most prominent information sources for WordPress professionals and enthusiasts alike. Their newsletter is personally written by the editor, giving it a more intimate perspective when discussing current matters in the WordPress ecosystem.
Podcasts
Do you prefer to get your WordPress fix via the means of audio? Don't have time for reading? Do you multitask by listening to news while working? We've got you covered with these awesome WordPress related podcasts.
We start off with two podcasts under the WPwatercooler umbrella. WPwatercooler is a weekly podcast where people of the WordPress community get together to lightheartedly discuss everything about WordPress and its effects on our lives as WordPress professionals. WPblab is a social media marketing show which focuses on exploring ways to utilize WordPress in social media marketing.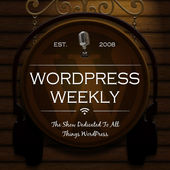 WordPress weekly is a weekly show that talks about all things WordPress. It specializes in covering the news throughout the WordPress community, and also brings you great interviews with key people in the WordPress ecosystem.
Another double entry, geared towards helping you expand your online store and monetize your WordPress site. BobWP is a podcast about everything related to WordPress and eCommerce, it features interviews with various WordPress professionals offering tips and insight on how to better monetize your content, grow your WordPress eCommerce site and more. Do the Woo is podcast mostly focused on eCommerce and especially everything related to WooCommerce, if you are looking to improve your WooCommerce based online store, this is the podcast to follow.
Matt Medeiros and his guests spent their time talking about online business, eCommerce, WordPress development and more. If you are a WordPress oriented freelancer, content creator, or agency owner, this is a podcast you should keep an eye on.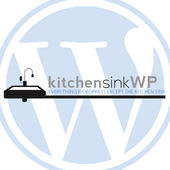 As the title suggests, this podcast has a little bit of everything. Interviews with many interesting WordPress people, news, tips and tricks, listener Q& A and much more. It's definitely worth a listen.
Are you an online educator working with WordPress, or are you thinking of doing so? Then this is the podcast for you. Follow the host, Chris Badgett, in a journey that will allow you to grow your WordPress based education business, by creating better courses, promoting your learning platform, and more.
Mastermind.fm is brought to you by members of the WP Mayor team and is all about successful WordPress entrepreneurs sharing their insight with the listeners. Tune in and learn from the successes, failures and experience of some of the best out there.
This is the podcast part of Post Status, here either the Brians discuss everything WordPress related, with a focus on topics that interest WordPress professionals, or Brian conducts interviews with established WordPress professionals providing insight to their work and views on important WordPress related matters.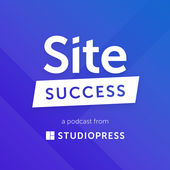 Jerod Morris and the team from StudioPress and Copyblogger provide insight on key aspects of a successful WordPress site, content, design, technology and strategy.
YouTube Channels
Finally we'll take a look at some popular WordPress related YouTube channels. These will mostly contain tutorial videos to help you get the most out of your WordPress site.
WPBeginner's team has compiled an excellent resource in this YouTube channel. Here you will find videos on how to do many cool stuff on your WordPress site, everything ranging from pretty basic stuff, like installing a plugin, to more advanced, like moving a local WordPress installation to a live server. Dig in!

WPCrafter builds simple to follow tutorials on many WordPress subjects, both for beginners and for experienced developers. In this channel you will find extensive guides on how to set up a WordPress site, how to translate one, SEO related tips, plugin overviews, deal reviews and many more. Don't miss it.

Another great channel with a lot of tutorials for everyone. Whether you are a beginner looking to learn how to use WooCommerce to create an eCommerce site, or are looking for creative ways to use your favorite page builders to better your site it's all here. The channel is a particularly great resource for those into page builders, housing numerous reviews and tutorials for Elementor, Visual Composer, Divi and others. Additionally you will find a lot of videos for Slider Revolution, the extremely capable and infinitely configurable slider plugin for WordPress.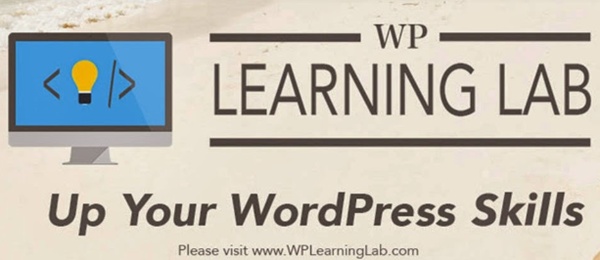 Last, but certainly not least is WPLearningLab. WPLearningLabs features tutorials about pretty much everything you might need to get your WordPress site up and running. There are reviews, setup and use guides on many popular plugins for SEO, contact forms, analytics, WooCommerce, page builders and many many more!
Signing out
That was it for our list of WordPress resources out there, whether they are in written, audio or visual form. We think it's a pretty good one, what do you think? Did we miss anything? Do you have a suggestion you think we should check out? Let us know in the comments below!