Thinking Of Buying A Premium WordPress Theme?
Last Updated On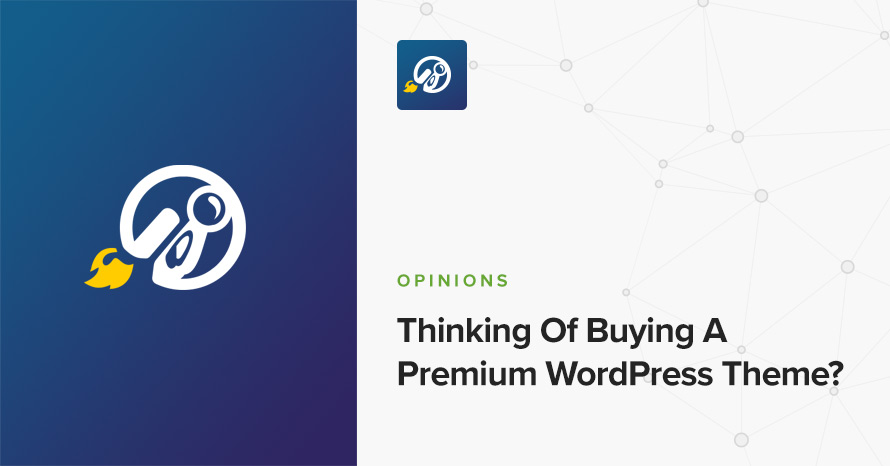 The web is awash with WordPress themes, free and of course premium themes. Perhaps you're using a free WordPress theme at the moment and want to take the plunge and go for a premium one.
In this post, I will share some top tips and things to look out for when purchasing a premium WordPress theme. Hopefully saving you time and money in the long run, let's get to it!
Freemium WordPress themes
The freemium model is an excellent way for you to evaluate a WordPress theme; some developers offer this as a way to get you to upgrade the theme to a premium version.
Take, for example, our themes, such as Nozama Lite, Blockchain Lite, Public Opinion Lite, Britany Light, Olsen Light and of course True North.
All are available in a light version, meaning you can download and install, play around with them, and if they fit your needs, you can upgrade for more features.
You don't have to upgrade you understand, but the freemium model works.
You get to evaluate the theme, learn it, and if it takes you and you like the sound of additional functionality, then you have the choice to upgrade or not.
Wherever possible lookout on a developers website for the "light" version of a WordPress theme, it's an excellent way to assess a product.
WordPress theme demos
Be wary of demos of themes. Sure they're a great way to showcase how the product works. Layouts, functionality. Etc use caution and remember one thing:
Just because the demo looks impressive, don't get sucked in by the visuals. Your content and associated imagery will invariably make it look quite different.
Wherever possible picture your content in the theme itself, it may sound a little silly, but try to visualise your content and of course your style/branding.
Trust me; I've made the mistake of purchasing a theme based on a demo when I added my content, it looked awful!!!
Theme support
Support is an incredibly important factor when purchasing a WordPress theme. You will no doubt at some point, get stuck with your new purchase.
A theme providers support needs to be on point; here are some things to look out for when checking out a theme companies support section.
Support forums (if a theme provider has one!) take a moment a browse through the forum. Check to see how long it takes for the developer to answer queries if you find a question that hasn't been answered for months, well, that says it all. Move on.
If the developer has answered questions, kept up the forum and is active, that's a great sign. It means they care about your business and value it.
If possible, look out for presales subjects in forums, it's where people will ask questions about the theme before they make that all-important step to buy. You never know you might find an answer to a question you're thinking of asking!
Theme Documentation
I cannot begin to tell you how important it is to read through theme documentation before you make your purchase. You need to assess how complicated/easy the theme could be.
Remember, every premium WordPress theme has a learning curve, theme docs are there to serve as an instructional guide on how to implement the theme, deal with layouts and other nuances.
Where possible, take a good look through the docs, any theme company worth their salt will know that documentation can cut support time down considerably, with detailed and well-written theme documentation.
Theme testimonials
You will no doubt see testimonials on a theme developers website, which is a good thing, don't get me wrong. Remember, no theme developer is going to post a lousy testimonial! So try and read between the lines.
CSSIgniter's testimonials section has some great recommendations from some top-flight WordPress users, as well as real-world users.
Now, this leads me on to something I started doing a while ago, and I still do it to this very day.
When looking at testimonials, you may find (I know CSSIgniter does!) links to the testimonial providers website. Now, this is an excellent way to find out more about themes usage and how it looks.
Take a moment and look at the websites mentioned in testimonials; see how they are using the theme. If you'd like to do a little more research (again I've done this) send them an email through their contact page something like the below:
Hi,

Sorry to bother you and apologies for the out of the blue contact! I wondered if you could help me?

I'm thinking of buying the **** WordPress theme, and I see you're using it on www.website.com (excellent site BTW!) and wanted to know how you find using the theme?

Kind regards

Your name
Feel free to cut and paste the above :)
It doesn't have to be any more complicated than that, keep it short and friendly, you will get a response from them.
This method will give you more insight into how others already using the theme think of it.
Rinse and repeat with a few other sites, and you should now be armed with enough intel as to whether the theme is right for you.
Theme compatibility
Chances are you will already be using a specific plugin in your existing theme, whether it's a booking plugin, eCommerce plugin, the list goes on.
Don't be afraid of asking a question of the theme developer, is your theme compatible with XYZ plugin? Better to get the answers you need upfront than to find out at a later date.
Responsive
There is no excuse these days for having a non-responsive website. With mobile phones accounting for a vast amount of traffic daily, your website will need to be responsive.
When looking at a theme demo, many theme developers will have an icon to view the theme in its responsive state. Do just that, how does it look? Does the responsive version tick all your boxes?
If a developer doesn't have a responsive version of the theme (I can't imagine in this day and age they wouldn't have one!) avoid it.
Check out this useful article if you want to learn how to check theme responsiveness yourself.
Updates & Changelogs
Another essential factor, check to see how many updates have been made to the theme in question. If an item hasn't had any updates for years, probably best to give it a swerve!
Especially as WordPress itself is updated regularly, it makes sense that a theme developer keeps up with the times and makes updates.
A good idea is to look at the theme's changelog. A changelog details all the changes that have been made in each update.
These can contain bug fixes, compatibility updates and of course new features, so if a changelog is available, take a look through it.
It might not make sense to you, but a well-written changelog will give you an overview of the theme and the amendments contained therein.
CSSIgniter always offer changelogs/updates in their themes, so you can get a complete overview of how the theme is progressing.
The pricing structure of WordPress themes
Don't get caught out with pricing. I've run afoul of this before, so always check the pricing structure of a theme.
By this, I mean check the individual item pricing, how many licenses does the theme offer?
Many theme companies limit the usage of a theme to one site, or you can pay extra and use it on more than one website.
CSSIgniter allows unlimited usage, so you can use the theme you've purchased on more than one install of WordPress, which is handy if you've learned the theme and need to implement it on a different domain.
Always read about what you are paying for, does the theme include premium support and regular updates, how do renewals work? Check out the theme developers pricing page, would it make more sense to pay a little extra and access all the themes/plugins that are on offer?
The sales page of a theme
Make no mistake, it's a page geared towards selling you the idea of the theme. It's also more than that.
A well-written informative sales page is a good thing with details on the features, compatibility, testimonials, and the link to a demo. For me, you can tell how much the developer values your potential business.
Keeping it simple, detailing the features and benefits of the product and giving you an overview of how it all works. If a themes sales page is not abundantly clear, it's time to move on!
Baked-in functionality
I've had this more times than I can remember. It's a pain no two ways about it. Be wary of a theme that has baked-in functionality; trust me, you will thank me in the long run.
Baked-in functionality essentially means the product will come with a custom-coded function within the theme itself.
The issue with this is if you want to change your WordPress theme at a later date (which will happen) you could lose a lot of the core functionality you have grown accustomed to via the baked-in solutions.
As deactivating the theme could see a slew of custom post types gone and much more besides. Nowadays, theme developers tend not to do this as much.
Many rely on existing plugins, which is excellent, it means when you change your theme, you won't lose the data associated with the plugin and have to start from scratch.
Over-reliance on page builders
There are lots and lots of themes which rely solely on page builders. Page builder plugins are great don't get me wrong. However, over-reliance on them is a bad thing.
The theme will not look like the demo that caught your eye unless you use a specific page builder. With some WordPress themes, you will need to have the premium version of a particular page builder plugin to get it looking anywhere near the demo.
That's an additional cost to you, so be wary of themes that rely solely on them.
Page builder compatibility
Some prefer the page builder method, CSSIgniter is aware of that, their themes are compatible with the likes of Elementor, Beaver Builder and Divi.
That doesn't mean you need them to get a theme working like the demo or indeed need to rely on one. CSSIgniter supports page builder plugins, as many users love working with them. It's a choice.
If you're using a specific page builder, make sure to ask the theme provider if it's compatible.
One-click demo import
It's a great way to get you started with a premium WordPress theme. Starting with a blank slate, you can import the demo content and see how the site will function.
As I mentioned earlier, every WordPress theme has a learning curve. By using the one-click import, you'll see first hand how the site will work, in terms of layout, customisation and more besides.
Thankfully CSSIgniter has just that, check with your potential theme provider if they offer such a thing, it's very useful indeed!
Theme Showcases
Think of a showcase like a gallery, and it's another excellent way to get a feel for the potential of a WordPress theme. Especially if the gallery section mentions the specific WordPress theme in use (CSSIgniter does lol).
Viewing other customers websites using a specific theme should give you a better idea of what is possible.
Multi-purpose WordPress themes
Another top tip, again I've fallen for this. Multi-purpose WordPress themes are kind of like a one size fits all. The problem with these is they invariably end up being a monster.
With so many options available, they can be overwhelming, and the result could leave your site looking awful.
It's better to go with a niche-specific theme, one that does one thing very, very well. Need a WordPress theme for your hotel business? Well, CSSIgniter (at current count) 13 of them.
The beauty of niche-specific themes is they are built around a specific need, and they evolve around that need, each update provides more functionality or includes features niche-specific users request.
It means that the end product is a good fit for a sector, instead of buying a theme and trying to make it fit. You'll save time, resources and of course money by using a niche-specific theme.
In summary
The findings above are all based on my experiences as a consumer. Take my advice and ensure your money is put to good use and make the right choice based on your needs.