Space9 is our second next-gen business theme for WordPress after Business3ree, and just like Business3ree it also features the same powerful options for homepage creation via highly customizable widgets. Let's look at an overview of Space9's most important features.
In Space9 you will find 6 custom post types: Portfolio, Features, Services, Team, Testimonials and Partners. The theme also comes with WooCommerce support which means that one more custom post type is supported, products. 
Each post type except the slideshow has its own listing page templates (all of them contain at least 2 templates, with multiple column options, and the Portfolio post type includes an isotope filtering system for filtering your items in a cool way.
Space9's homepage is consisted of a header area containing the logo, the main navigation bar and the slider. The slider is another custom post type and you can tweak its settings through our custom options panel and the actual post itself, for each slide. Every other piece of information under the slider and header is a widget dropped in a predefined widgetized area called "Front page widgets".
CI Items widget
Here's an animated gif showing the CI Items widget in action. This multipurpose widget is specially designed to display your content in the fullwidth areas of your website like the Homepage (but it also works great on sidebars if you wish to display content in your inner pages) and it comes with a variety of options which include: Column selection (split your content into 1, 2,3 or 4 columns), text color, background color and image and a parallax effect. You simply select the content you need to show, configure its appearance if you need to, and hit save. Easy as that.
Displaying a "Feature" or custom content using the CI Split Content widget
As you can see in our demo under the services there's a section with a title, a bit of text (titled "Space9 is not just another theme"), and a call to action button. You can create this kind of content using the Split Content widget, selecting your custom post type and again, display as many items as you want on your homepage like this. Watch it in action:

Testimonials
For the testimonials we've prepared a separate widget which includes all the same appearance options as the two demonstrated above. Take a look at the following screenshot and check its settings.
Call to action section and the CI Hero widget
Every website needs a call to action and Space9 takes care of it. The following screenshot shows all available settings found in the CI Hero custom widget.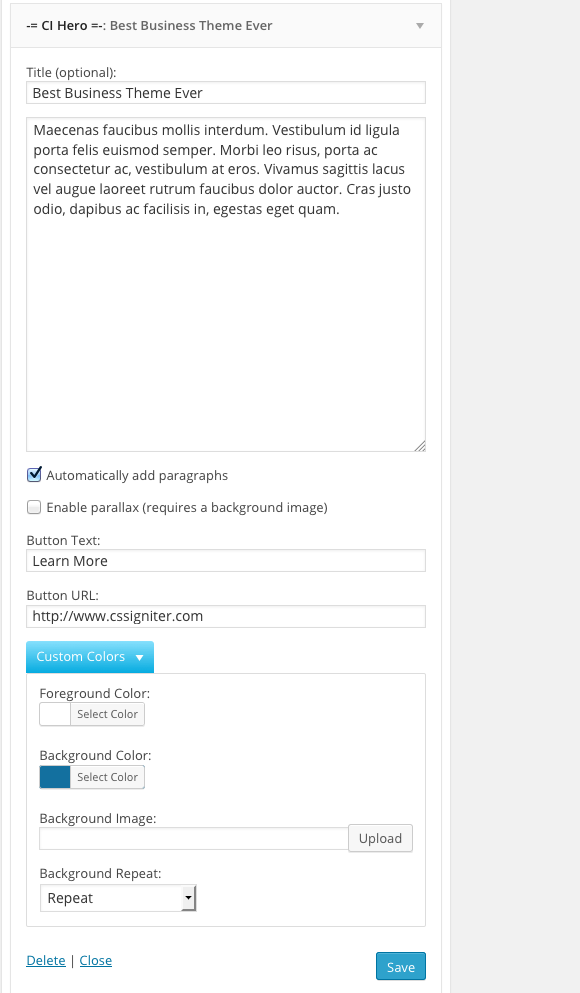 Portfolio
Space9 can be used as a standalone Portfolio theme so we took extra care of the Portfolio content type. Here are some of the powerful options each portfolio item has for different layouts.
Along with the portfolio, each custom post type has its own details, like social media buttons for each Team Member, or custom text and links for the Slideshow item, and multiple layouts for their listing pages (2, 3, 4 columns or a sidebar listing version). We've also included many templates, like fullwidth pages or contact page templates amounting to a complete solution for any business or portfolio website.