ATTENTION:
This documentation is about the new version of Spencer, if you are using the legacy version please visit its documentation page
here
Server Requirements
If you already have WordPress installed, it means that you meet the minimum server requirements and you can perfectly install this theme without any issues. To get the most out of your website though, you should get in touch with your web host and ask them if they meet the following criteria:
PHP version 7.4 or greater.
MySQL version 5.6 or greater OR MariaDB version 10.1 or greater.
HTTPS support.
Prerequisites
Ignition Framework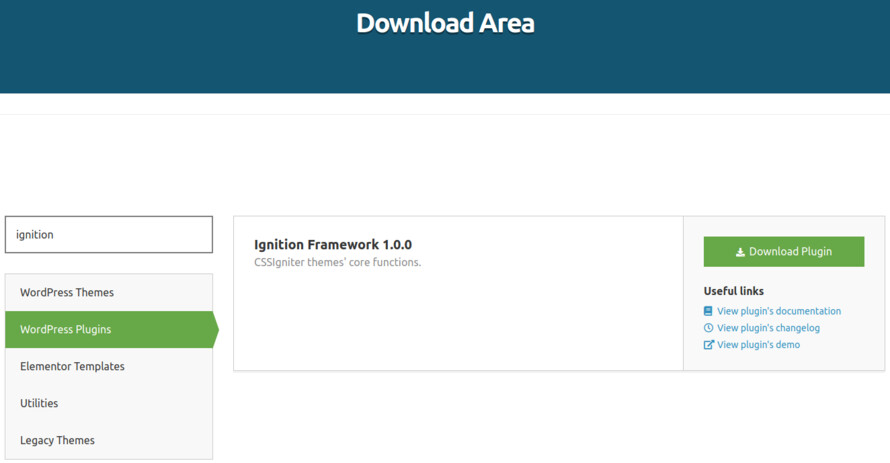 This theme requires our free Ignition framework plugin to be installed. Simply visit the Downloads area, download the Ignition Framework plugin, upload it through your Dashboard → Plugins → Add new and Activate it.

It really doesn't matter if you install the theme or the plugin first. Just make sure to install it in order to get the whole functionality.
GutenBee
GutenBee is a collection of elegant WordPress blocks enhancing your editing experience in the block editor and vastly extending the potential of the new editor experience.
If you want to replicate our demo website you need to install it. Simply visit Plugins → Add new and search for "GutenBee". Click on Install Now and then Activate it.
WooCommerce (Optional)
Spencer supports WooCommerce by default. Sample content includes custom products and WooCommerce pages to get your started.
If you don't have WooCommerce active you might get some warnings from One Click Import plugin. Please ignore them.
Contact Form 7 (Optional)
Contact Form 7 is a popular contact form plugin, installing it will ensure the contact form will appear when importing sample content. You can use any other third party plugin you wish though.
AudioIgniter (Optional)
AudioIgniter lets you create music playlists and embed them in your WordPress posts, pages or custom post types. By using the standard WordPress media upload functionality, you can create new audio playlists in minutes. Oh, you can use AudioIgniter to stream your radio show too!
Breadcrumbs
In order to have Breadcrumb functionality you will need to use any of these plugins:
Breadcrumb NavXT. This plugin will provide breadcrumb trails for your WordPress powered blog or website.
WooCommerce. WooCommerce provides some basic breadcrumb functionality for products and your shop page.
Theme installation
Installing the theme is a very simple process. Go to your WordPress dashboard → Appearance → Themes → Add new and upload the zip file. Once uploaded just click on the Activate button. That's it! You can now start creating pages.
You can check our article here for a more detailed guide.
How to import the sample content
If you like what you see in our demo website you can simply import the sample content. This means that an exact replica of our demo website will be imported in your WordPress installation. Now all you have to do is simply replace the content of these pages with your content.
Here's how to do it:
In your WordPress dashboard visit Appearance → Theme Options → Sample Content.
Click Install and then Activate for each of the required plugins.
Click the Get Started button and in the next screen the Import Demo Data button.
Please note: Due to the nature of the import mechanism some links may link back to our demo website. If you are not sure how to update / change these links simply
get in touch
and we'll help you out.
Image sizes
Web page loading times are greatly affected by the size of your images. For best results make sure to use images with the recommended dimensions as described below:
Main post thumbnail: 770x513px
Item: 555x755px
Large Item:1170x780px
Article Media: 510x510px
Mini-cart items: 160x160px
Please note: If for any reason you want to change the dimensions of any of the predefined image sizes you have to use a plugin. This
guide
describes this process.
Please not: All image sizes are the minimum recommended, adding larger image sizes will result in cropping them to fit these sizes
Setting up the global sections of your website
It's considered a good practice to set up the areas of your website that you won't be editing a lot in the future, like the header and the footer.
Header
As you can see in our demo website most of our pages have a Transparent page header featuring a background image and 3 main components:
1. Top Bar
2. Logo
3. Main Menu
Top Bar
In your WordPress dashboard click on Appearance → Customize → Top Bar. Here you have 3 content areas available for simple text or shortcodes. Please refer to the shortcodes section below for information regarding the shortcodes available.
In Spencer you can add in the first column area your phone details like this
and on the third column you can add your Social icons shortcode and your language switcher (your will need to have WPML or Polylang for the switcher to work)
Logo
The recommended maximum logo size 116x23px. To upload your logo visit the Customizer through your WordPress dashboard → Appearance → Customize → Site Identity. As you can see you can upload 2 logos. In this case we need to use the Alternative Logo upload field because we are currently using a Transparent header as set in the Customizer → Header → Layout → Header Type option. Spencer uses text as a logo which you can change or remove from Customize → Site Identity.
Main Menu
In your WordPress dashboard click on Appearance → Menus. In the Menu structure section enter a Menu name (It can be anything you like) and click on the Create Menu button. From the Add menu items section on the left select the pages that you want to add in your menu and click on the Add to Menu button. Now all you have to do is assign this menu to a Display location. In the Menu Settings section click on the Main Menu checkbox. Your navigation menu should be now visible on your website.
You can create a special button-like menu item by setting a certain class for to it. The class name is nav-button and you can set it under Appearance→Menus for the item you want. First enable this section from Screen Options.

Before you start working with your menus check this article
To add a search functionality (or any other shortcode) after the main menu, navigate to Appearance→Header→Content and add
in the Content area.
Header Background image
While Spencer does have this section globally disabled, you can set a common background image for every page on your website through Appearance → Customize → Page title. Under the Colors section you can set a background color, a background image, an overlay color and also set the primary text color and the secondary text color.
Let's see an example. Create or edit a page. On the right sidebar locate the Page title image field. Upload a new image and preview this page. As you can see we have successfully overridden the image set in the Customizer settings.
Please note: The purpose of the Transparent header option is to have your main header components (Top bar, Logo & Main Menu) on top of a background image or background color which means that you have to set on in the Customize → Page title → Color section.
General Site Options
You can change your general site options globally from Appearance→Customize→Site Options. Under Layout section you can control your Site and blog layout, as well as the main width of your content and the ratio between sidebar and content. Under the Colors tab you can select the basic color palette for your installation and add a background image. Finally under Typography you can select from a full list of Google Fonts for each element in mobile mobile/desktop views, or you can just disable Google Fonts altogether.
Footer
The footer area is a standard 4-column widgetized area that can be populated with widgets through Appearance → Widgets. You can also remove the credits at the very bottom of this area by visiting Appearance → Customize → Footer → Content section. You can also adjust the colors by setting a background color & image and also modify the border, title and text colors.
Under the Content (Customize→Footer) area you can add your copyright information and use any of the shortcodes included in the ignition framework
Lightbox
You can select to disable the default theme Lightbox from Appearance→Utilities→Lightbox
Block editor Dark Mode
When you have a dark background it's quite hard to read text when editing the block editor. Under Appearance→Utilities→Block Editor you can enable this feature to help you edit your content better.
Weather
You can choose to have the weather appear using the weather shortcode anywhere inside your installation. First you will need to setup the weather from Utilities→Weather. You will need to create an API key first here
Setting up the pages
Homepage
First create a new Global Section from Global Section→Add new. Here add a GutenBee Container block with one column and Enable theme grid option checked. Set the height of the container to 750px and the vertical alignment of content to bottom and horizontal alignment to left.
Under the blocks Appearance section set a background image and a background overlay color with some opacity. Finally to add some space set the top and bottom padding of the block to 140px.
Inside the GutenBee container block, add a GutenBee heading with a GutenBee paragraph and a GutenBee button.
Next, add another GutenBee container block with two columns this time and a background color under Block Appearance. This block must have under Advanced tab the homepage-newsletter class. In the first column add some content like a GutenBee heading and a GutenBee paragraph and in the other column add a shortcode block with a simple Contact Form 7 shortcode inside. Learn how to create Contact Form 7 contact forms here.
Finally, add a GutenBee container block with a background color and inside add a GutenBee heading and a GutenBee paragraph following a GutenBee post types block. Select under Post type dropdown Posts and set the style to Default.
This Global section must appear in the frontpage before any other content. You can set this up from Global section settings
Create a new page from Pages → Add New, then select from the right side under Page Attributes the Default template. Then from Page Settings set the Show title and Subtitle to hide.
Add a GutenBee Post types block and select to show only one post under Post per page option, and set Columns to one. Select the Posts under the Custom post type dropdown, and set the style to Alternative.
Next, add a new GutenBee Post types block and select to show 6 posts under Post per page option, and two columns. Again, select the Posts under the Custom post type dropdown, and set the style to Alternative.
Selecting the default page template means, that in the frontpage you will get another Sidebar column. There you can add Widgets from Appearance→Widgets, or Appearance→Customize→Widgets. In Spencer we have a simple html/text widget with some HTML code that will display some basic information about you. This HTML code should look like this
Then you can add a Search widget, followed by a Categories widget and a simple text widget that renders your social icons using this shortcode:
Blog page
This is you main blog page. You can Create a new page and set it as your blog page under Settings→Reading. You can customize it from Customize→Blog under the Archive section.
Contact Page
Create a new Page under Pages→Add New. Leave the default Page template and set Show Normal Page Title and Show Normal Page Subtitle to hide. Add a GutenBee Heading and a GutenBee paragraph with your content and next a Shortcode block with a Contact Form 7 shortcode inside.
Courses Page
Create a new Page under Pages→Add New. Select the Full width boxed under Page Attributes and set Show Normal Page Title and Show Normal Page Subtitle to hide. First create a new GutenBee Container block with three columns. First and last column will have a 45% width, while the middle one is a blank with a 10% width. In the first column add a GutenBee Heading and a GutenBee paragraph while in the last one add a simple Image block.
Following next, add a GutenBee Container with three columns. You will need to add a background color under Block Appearance, and add a padding of 30px. Then in each column add a GutenBee Icon block with a GutenBee heading and a GutenBee paragraph inside.
Finally add a GutenBee post types block and select it to have 3 Posts Per Page in 3 columns. Set the style to default.
Shortcodes
Create a Custom menu from Appearance→Menus, then use this shortcode to display it in any location you want. Primary used to display Social icons in the top bar.
Create New Menu instead from Appearance→Customize→Menus.
To add a social media link to the menu, click + Add Items.
Next, select the Custom Links menu item type.
Add the address for one of your social media profiles in the URL field. For example, if the link to your Facebook profile is https://www.facebook.com/cssigniter, you would copy that into the URL field.
You can also enter a name for the social media profile in the Link Text field. Once you're ready, click Add to Menu.
Repeat the above steps until all the social media profiles you wish to use have been added to the menu.
Finally, click Publish.
Simple site search field, you can use it under any content area in the Customizer.
Supported attributes are:
format (optional): The date format, by default follows the one set under Settings → General.
Use this shortcode in any Customizer content area to display today's date.
Supported attributes are:
id (optional): The id of the location to display the weather from, default is the one set under the Customizer Weather options.
units (optional): C or F units to display.
This will display the weather inside any content area in Customizer. You will need to setup the API first from Customize→Utilities→Weather. The location ID number can be found by visiting OpenWeatherMap.org and searching for your city. Leave this blank and the default ID from Customize→Utilities→Weather will appear.
This shortcode will display the minicart. Use it under Customize→Top Bar in any content field you wish.
Supported attributes are:
display (optional): accepted values are flags, text or both
type (optional): accepted values are dropdown or menu
untranslated (optional): accepted values are hide or home
We support WPML and Polylang. You can either use their default language switcher or our shortcode one.
Creating Global Sections
Global Sections are small layout sections you can attach automatically in any predefined location (hook) you want. We are using this method to show the main featured content area in our demo frontpage, but feel free to use it depending on your needs. You can see a visual map of the available theme hooks by appending ?show_hooks in any URL. Under Condition tab you can also include/exclude the pages you want this section to appear.
Also you can create custom shortcode from a Global Section that you can add inside your post/page or in a widget.
Page templates
Theme provides several page templates you can select from Page Attributes. Depending on your scenario you can select:
Default template: This is the main template, you can start building anything using this one
Content / Sidebar: This page will always have the sidebar on the right (Same as default page template)
Sidebar / Content: This page will have the content always on the left
Full width: This will make your page Full width, covering from one side of the screen to another
Full width boxed: This will have the page Full width but inside the container scope. You can control the scope from Customize→Site Options→Layout options
Full width narrow: This is the same as Full width boxed, but it will add some padding making the content area a bit narrower
All pages have a generic set of options. These can be changed under the Page Settings section when editing each page.
Remove top/bottom content padding: This will allow the content to have or not some extra padding from header and footer
Disable featured image for this Page: You can select to hide the featured image in this single page. Featured image will appear in your listings though
Header Type: Select transparent or opaque header type. You can control the color settings for the normal and transparent one from Customize→Header→Colors
Show Page Title with Background: This will show or not the hero section with the page title and a background
Show Normal Page Title: Hide or show the normal page title
Show Normal Page Subtitle: Hide or show the normal page subtitle (if any)
Show Breadcrumbs: Show or hide breadcrumbs for this page.
All settings are inherited from Customizer. So you can actually set some global settings and if you wish change certain pages to have different behaviour
WooCommerce
This theme supports WooCommerce, so you can create an eCommerce experience for your visitors.
Having WooCommerce installed is not mandatory to use the theme.
Shop page
Assign a Shop page
Before any other step you will need to create a new page from Pages→Add new and then select it as your Shop page.
Customize the Shop page
You can control the Shop listing page and product categories from Customize→Woocommerce→Product Catalog. Here you can select whether you want to show categories as items in your shop and product category pages as well as the column and row number for each page.
You can also set a second image to appear when hovering over your product. The first – default one will be the featured image, while the second will be the first image item from your product gallery.
Here you can also modify the shop layout to have a sidebar, and the position of that sidebar in relation to the content.
Single product
You can hide or show the related product section under Customize→Woocommerce→Single Product. There you can also control the number or upsells and related products you want to display.
Widget areas
The theme provides special widget areas for your Blog posts and archives, pages and shop. You can use a plugin/module like Jetpack's widget visibility to hide or show widgets for certain pages or posts or products.
Support
If you need help during the initial installation and setup of this theme, feel free to get in touch and we will be right there for you within 24 hours to help
Theme installation service
If time is of essence, we offer a theme installation fee for an one-off low fee of $69. Contact us here