Check out the latest version of Andros, our premium hotel theme for WordPress
Posted On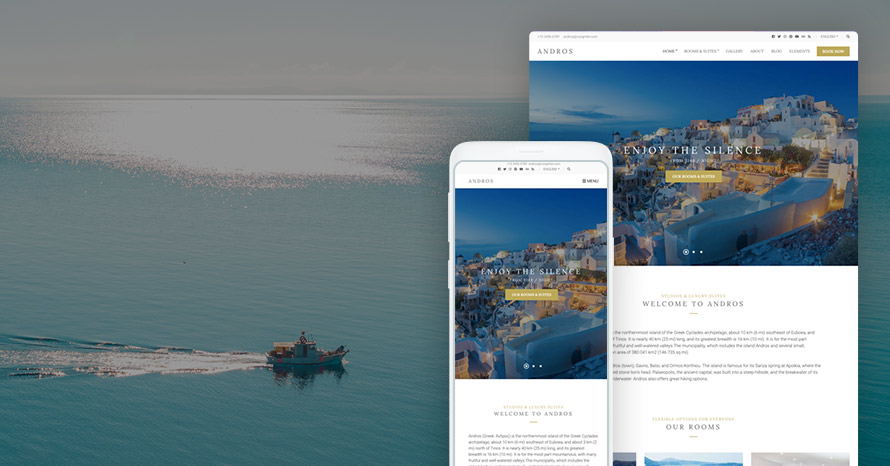 A few days ago we have an updated version of our stylish hotel theme Andros. As usual with these updates there were many improvements to the theme, both visual and under the hood, and of course there are a few new goodies as well. Let's take a closer look.
Changes and fixes
Every file of Andros has been checked and updated where necessary to make sure the theme is up to par with modern coding standards and is as fast and safe as possible. Most notably we have improved the Customizer experience by ironing out any glitches with the theme's custom widgets and by adding default colors to the theme's color options thus giving you a handy reference point and an easy way to go back to the default color scheme. Furthermore we have improved the performance of the sticky menu and its appearance for logged in users. Finally we have updated FontAwesome to version 5 to make sure you get the latest and greatest icons for all your icon needs.
New features
Of course we won't leave you without new features to mess around with. This update brings to Andros a custom Elementor module which gives you the ability to create awesome landing pages and display your rooms, or any other post type, in various columned layouts. Speaking of rooms, the room post type has been upgraded with two new important features. First, we have added amenity custom fields so you can offer more details for your rooms in a clean and aesthetically pleasing manner. Secondly the room offer text is now customizable per room allowing you to better communicate to your clients different offers on different rooms.
And more
These are some of the key changes in the latest version of Andros, for a detailed view you can check out the theme's changelog here.
Learn more, see the theme in action and grab your copy today in the links below.