Documentation for CSSIgniter Quick View for WooCommerce
CSSIgniter Quick View for WooCommerce is a high-performance product quick view plugin for WooCommerce.
Installing the plugin
To install the plugin simply navigate to Plugins > Add New in your WordPress dashboard and search for CSSIgniter Quick View.
Next, click the Install Now button and wait for the plugin to be installed. Once the plugin is installed you can click the Activate button.
Activating the plugin
Once you activate the plugin you can quickly navigate to WooCommerce→Settings and head over to the Quick View tab. Here you can control your product quick view behavior and style. On the Button tab you can: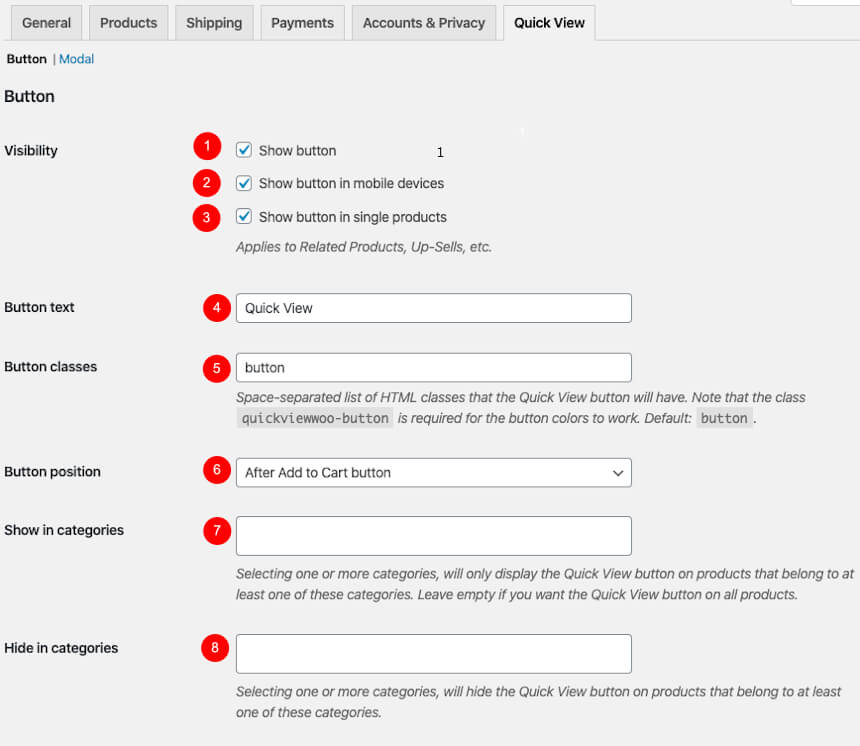 Show or hide the Quick View button
Show the button in mobile
Show in single products in related, upsells etc posts
Set the button's text
Set the button's class. This comes prefilled, but you might have a different button class that matches your themes
Select where exactly you want to show it
[PRO] Show in certain categories
[PRO] Hide in certain categories
Also in the PRO version you can change button colors for normal and hover state

Set the Background color
Set the text color
Set the button color
Set the hover background color
Set the hover text color
Set the hover border color
In the modal tab you can control all necessary colors
Change the overlay color of the modal
Change all content related colors
Change all button colors
Additionally you can modify the modal's appearance.
Modal width in desktop
[PRO] Change the image width related to the content width (%)
[PRO] Change the content width related to the image width (%)
[PRO] Adjust visibility for various content elements
Feel free to contact us directly if you experience any issues using the plugin, or if you have any suggestions and feedback, through our support hub.